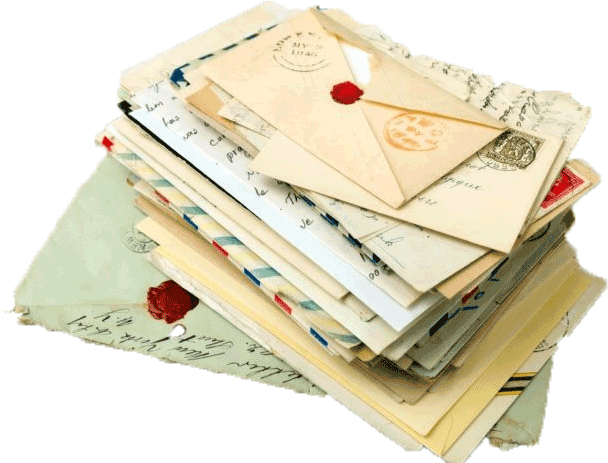 David Beard's archives - 1945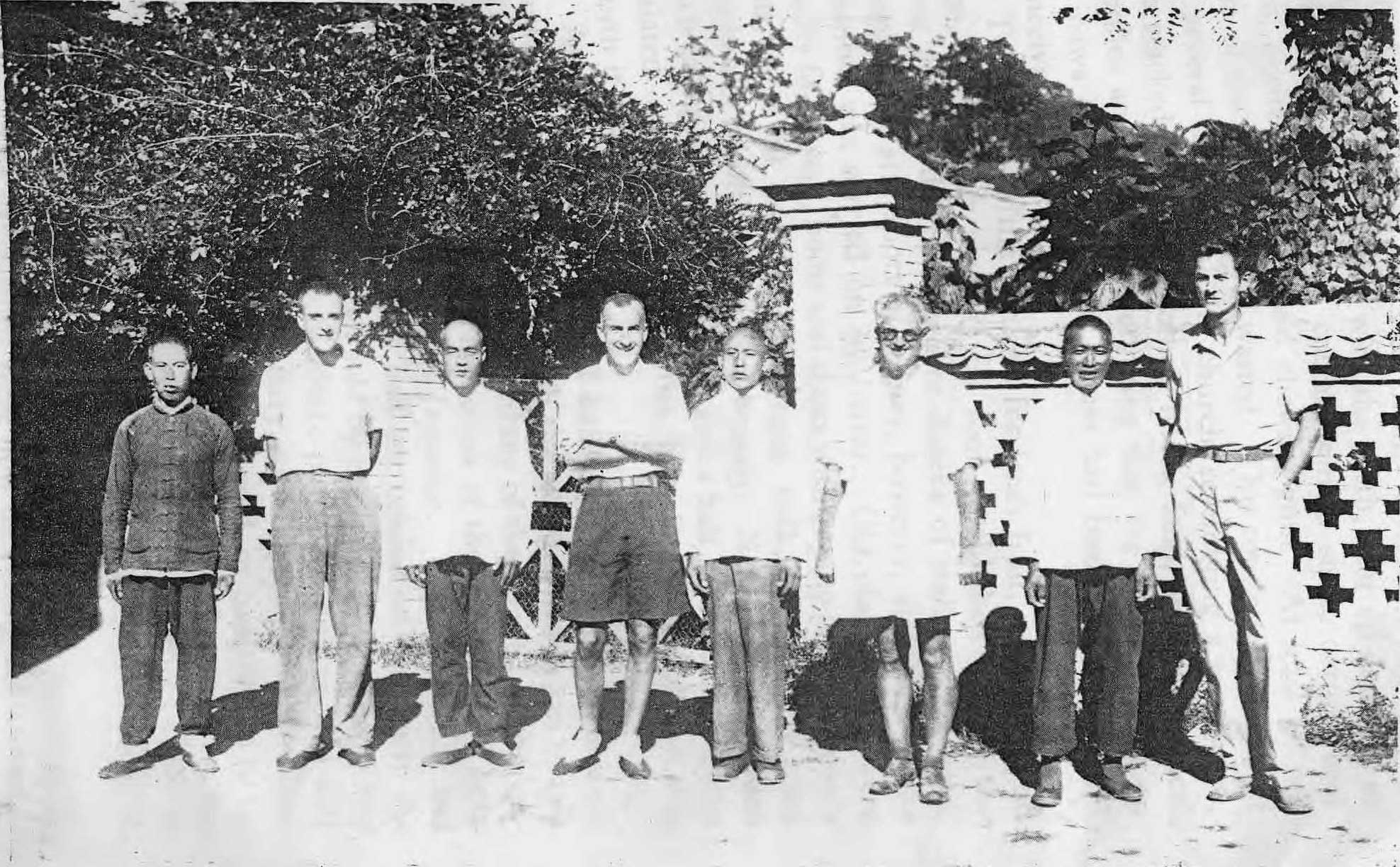 'Escapees return to Camp'
from left to right ---
-?-, Arthur Hummel, -?-, Laurie Tipton, -?-, Father Raymond deJaegher, Zhang Xihong's father and --- Roy Tchoo.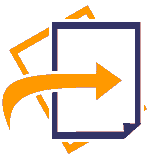 "Photo from 'Chinese Escapade' (1949) by Laurence Tipton, p. 232. The Chinese man third from the left, in between Hummel and Tipton, is Zhang Xingtai, night soil coolie, who did such a sterling job in bringing secret messages into CAC Weihsien. The same picture appears on p.39 of 'Flying Peace', the commemorative book given to those of us who attended the 60th Anniversary of the Liberation of Weihsien Camp, 17 August, 2005. In that reproduction, he is identified. Zhang Xingtai was in fact performing the same role in Ledao Yuan prior to 1943, being listed amongst the staff of the Ledao Yuan Presbyterian Chinese Bible School. "
'Qingdao Railway Station, Sept 25 1945'
'Following Liberation Day, Aug 17th, 1945, the American forces planned to evacuate the camp residents by rail to both Tianjin and Qingdao, but were frustrated by the constant blowing up of the railway lines and bridges by Communist forces, who were trying to stop the movement of Nationalist forces from their southern bases to the north. Special arrangements had to be made for a temporary truce to allow repairs to be made, following which a trial train with baggage was dispatched and the following day, September 25, some 600 ex-internees left for Qingdao. The following night the track was again blown up and a large bridge demolished. All subsequent evacuations were made two weeks later by relays of C-54s to Beijing and Tianjin.' Photo shows some of the Chefoo Schools contingent: foreground- P.A. Bruce, headmaster; r. to left, Haakon Torjeson; Gordon Welch, teacher; Jimmy Bruce; Mrs Lack; Mr Chalkley,teacher.'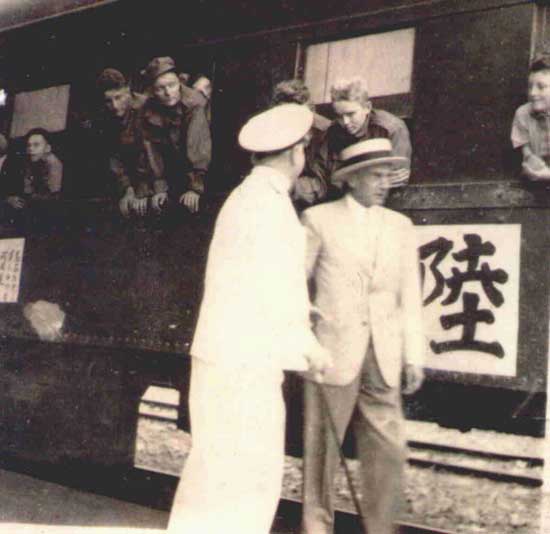 'Qingdao Railway Station, Sept 25 1945 --- The Swiss Consul'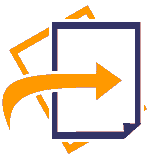 "On arrival at Qingdao Railway Station, Sept 25, 1945, we were met in style by a contingent of British naval troops in white summer uniform and by the Swiss consul, Mr Egger. The 3rd class railway carriage is No 6, according to the Chinese character, which is used as an alternative to the usual one.

It has some of the Chefoo School contingent - Douglas Sadler and al."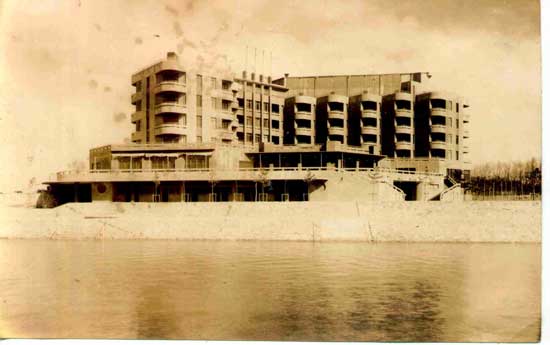 'Edgewater Mansions'Hotel, Sept 1945'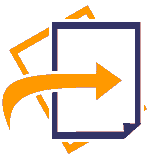 "After arrival in Qingdao, we were quartered in the Edgewater Mansions' Hotel for several days prior to being taken by sea to Hong Kong. It was luxurious, in stark contrast to Weihsien CAC conditions - table napkins and silver cutlery, table service and wonderful food, as well as the latest Mickey Rooney films!"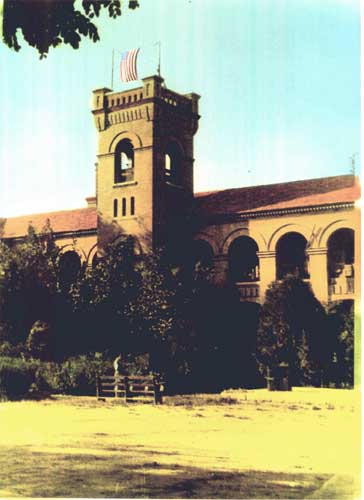 1945 - American flag over Bloc-23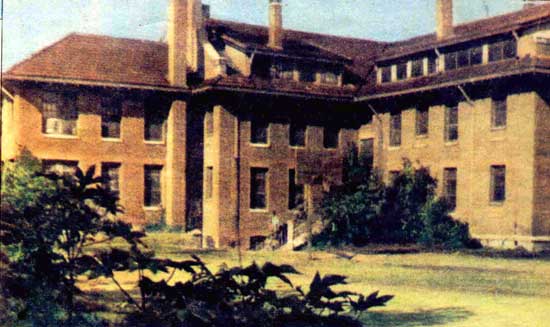 1945 - Shadyside Hospital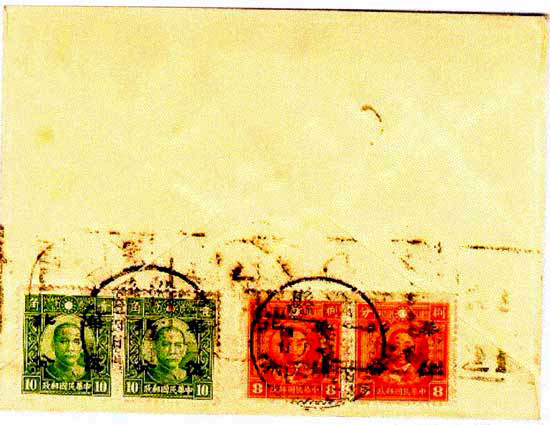 Rare envelope cover 1943-1945
Weihsien Civil Assembly Centre
Shandong, CHINA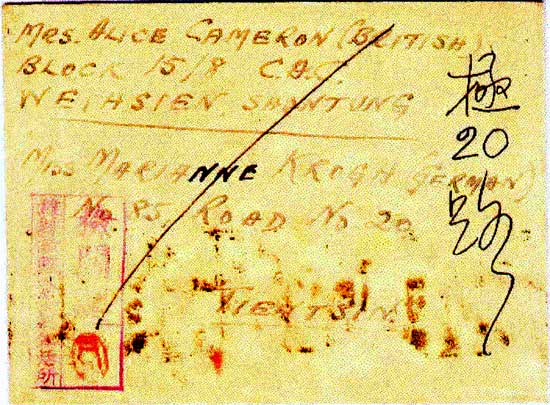 Rare envelope cover 1943-1945
Weihsien Civil Assembly Centre
Shandong, CHINA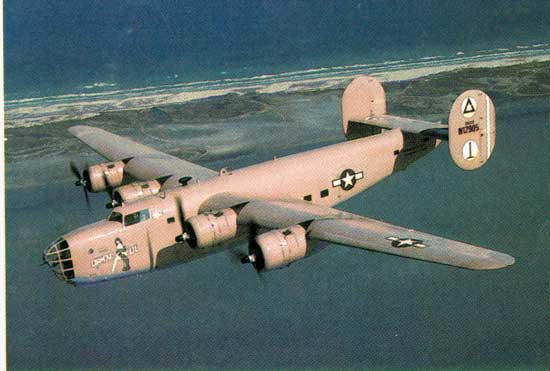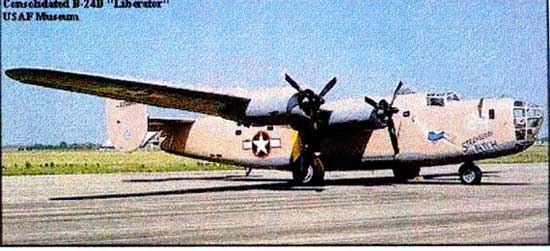 1945 - B24 Liberator
The B-24 was employed in operations in every combat theater during World War 2. Because of it's great range, it was particularly suited for such missions as the famous raid from North Africa against the oil industry at Ploesti, Rumania on August 1, 1943. This feature made the airplane suitable for long over-water missions in the Pacific Theater, and for long overland flights across China from the US war-time base in Chongqing (Chungking) in W.China to the eastern seaboard in order to liberate civilian internees held there in Japanese internment camps.



One such flight, code-named 'Duck Mission', was made on Friday, 17th August 1945, literally bringing rescue from the skies for the 1500 internees held in Civil Assembly Centre, Weihsien, Shandong. After several low flying passes to identify their goal, seven US parachutists tumbled out of the low-flying , silver-bodied B24 "Liberator", landing in the gaoliang fields nearby.

Their brave action was successful in bringing the priceless gift of freedom to us. We remember them with gratitude.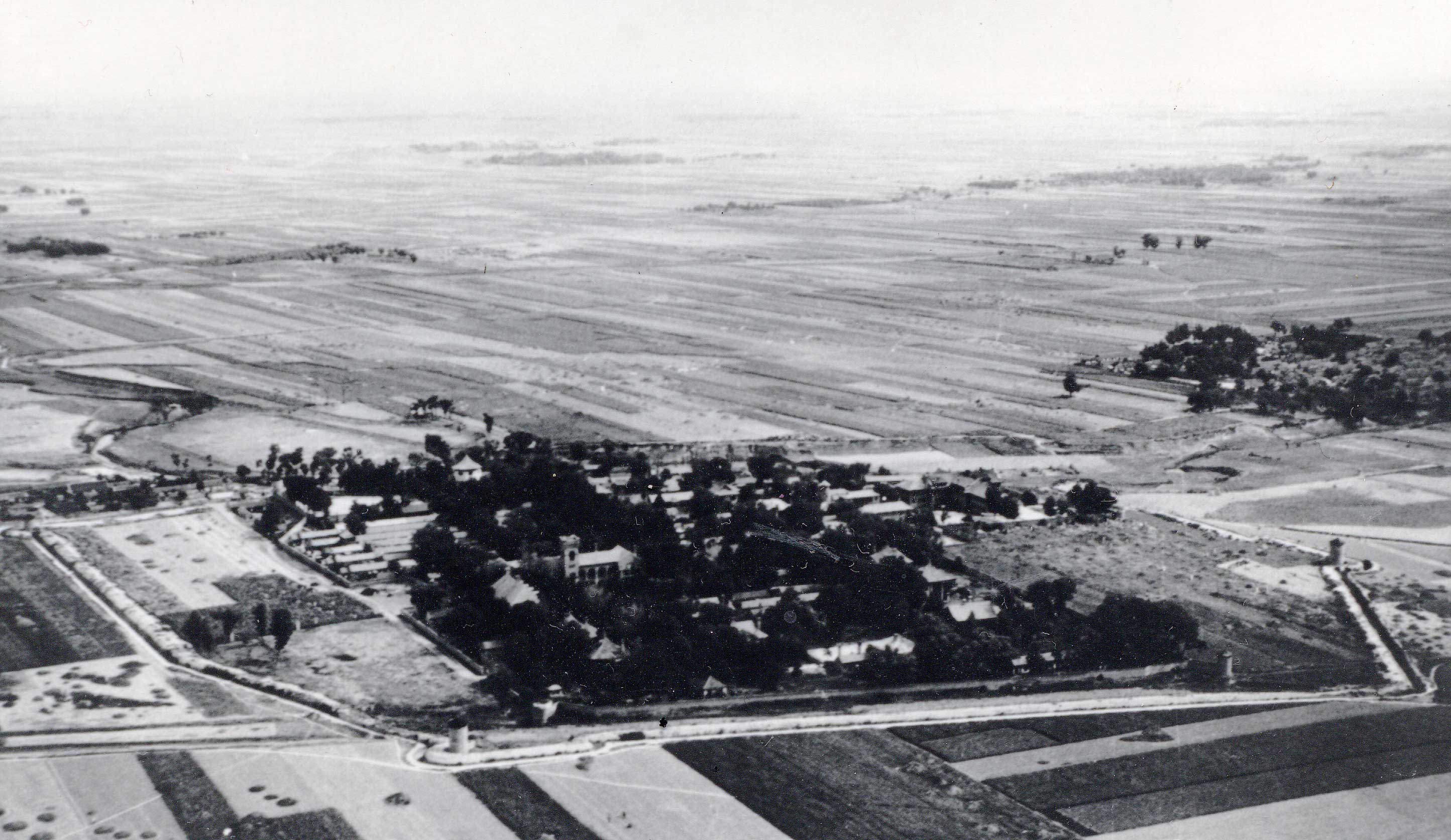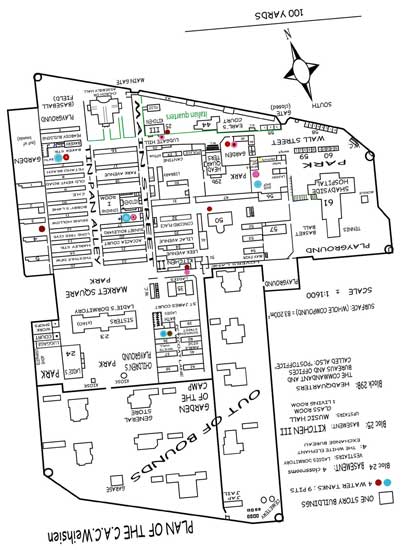 1945 - view of the Camp from above ...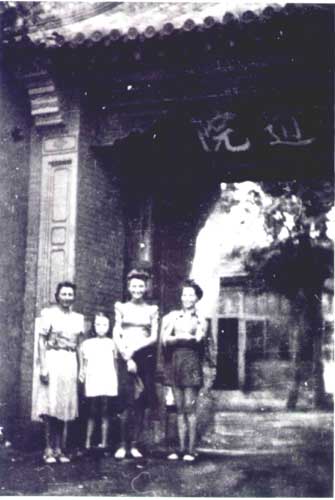 September 1945 - Weihsien Camp - Main gate
The photographer was - most probably: Roy Tchoo. The little girl and her mother are identified as: Sylvia Walker-Tchoo and Lillian Tchoo. The two ladies at either end = ?
2011 frrom the Topica messages:
"No 20 shows 4 unidentified persons... I am the little girl Sylvia Tchoo and my mother is next to me with hands crossed in front of her, Lillian Tchoo."
More from Topica:
"Oh! yes, to answer to your question: I was 4 years old when we were liberated in 1945. I hardly remember anything from those days. All rubbed out of my memory I guess ! I was a but older than you so remember a fair bit.... Two of us kids got polio in camp, the other was a boy. I also remember being in the hospital with chicken pox . Our room backed onto the moon gate and as I had the top bunk where there was a window could see all the parachutes piled up on the verandah. Should I tell you this ..... I got a licking from my mother when a friend came in telling Mum that I was out and about giving all the kids balloons !!!!! They turned out to be condoms which Dad had brought with him. Of course Dad got a terrific ribbing about bringing these important items instead of say food... and poor Mum was so embarrared. I also remember in our little room, Dad and George Wallis making "hooch" with some sort of drip apparatus our of sweet potatoes or whatever peels they could get. George apparently got pretty tight one night and started climbing a lampost and serenading Trudy, his girlfriend !!! Also remember being bitten by a scorpion after night roll call.... the things one remembers !!!"
Best regards, and to you too Leopold
Sylvia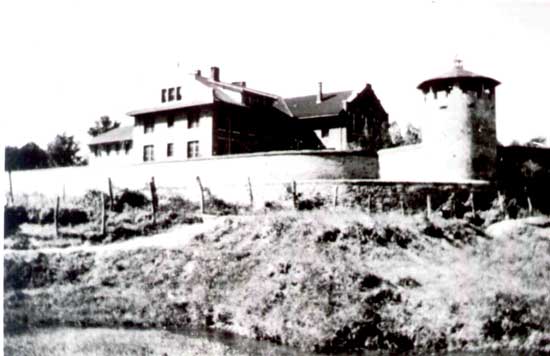 September 1945 - Weihsien Camp - The Hospital and a Guard Tower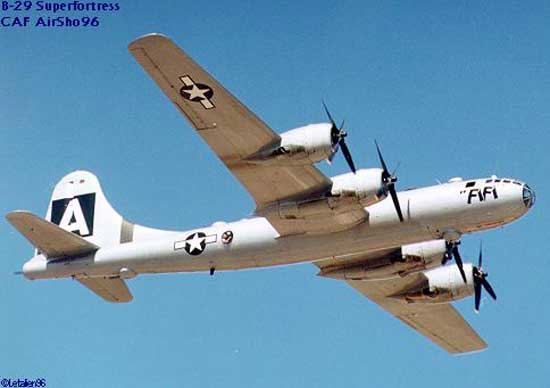 the "Superfortress" B-29
The Boeing B-29 was planned in the 1930s, the first making it's maiden flight in September 1942. The B-29 was reserved for the war in the Pacific area, where its great range of 3,700+ miles made it particularly suited for the long over-water flights required to attack the Japanese homeland from bases in China. It's flight ceiling was 33,600 ft, cruising speed 220 mph.

The B-29s undoubtedly hastened the end of WW2 in the Pacific.

On August 6th, 1945, the B-29 nicknamed 'Enola Gay' dropped the first atomic bomb, on Hiroshima, and three days later, B-29 'Bockscar' dropped the second, on Nagasaki. On the very next day, the Emperor of Japan announced unconditional surrender.

After the liberation of Weihsien Civil Asembly Centre, Shandong on 17 August, 1945, it was B-29s which flew frequent sorties from the US base on Okinawa to make parachute drops of vital food supplies for the camp.

As former camp internees will remember, it was truly scarey if you were in the middle of the drop site when a B-29 with bomb racks open roared overhead!
Weihsien, May '1945 Block-56, The Priest's Shack
From David Beard:

"I put my art lessons in watercolour painting to good use and did a number of paintings of Weihsien Camp during 1943-45. All the others, including one of the 'tingzi' (summer house) in front of Block 23, I think it was, have been lost, but this survived because I had given it to Stanley Nordmo as an illustration to go to publishers with a book draft he prepared after the war on Weihsien Camp. I gather Stanley couldn't get a publisher to take it on , but thanks to him, the picture has survived."