a visit to Weifang
January 2006 ...
... so, as I was saying, we left the Weihsien compound -- cold, numb and hungry. Our admirable host, Mr. Sui ShuDe, took us to yet another restaurant in Weifang where we restored ourselves with excellent Shandong dishes of all sorts in a well heated VIP-room and in good company.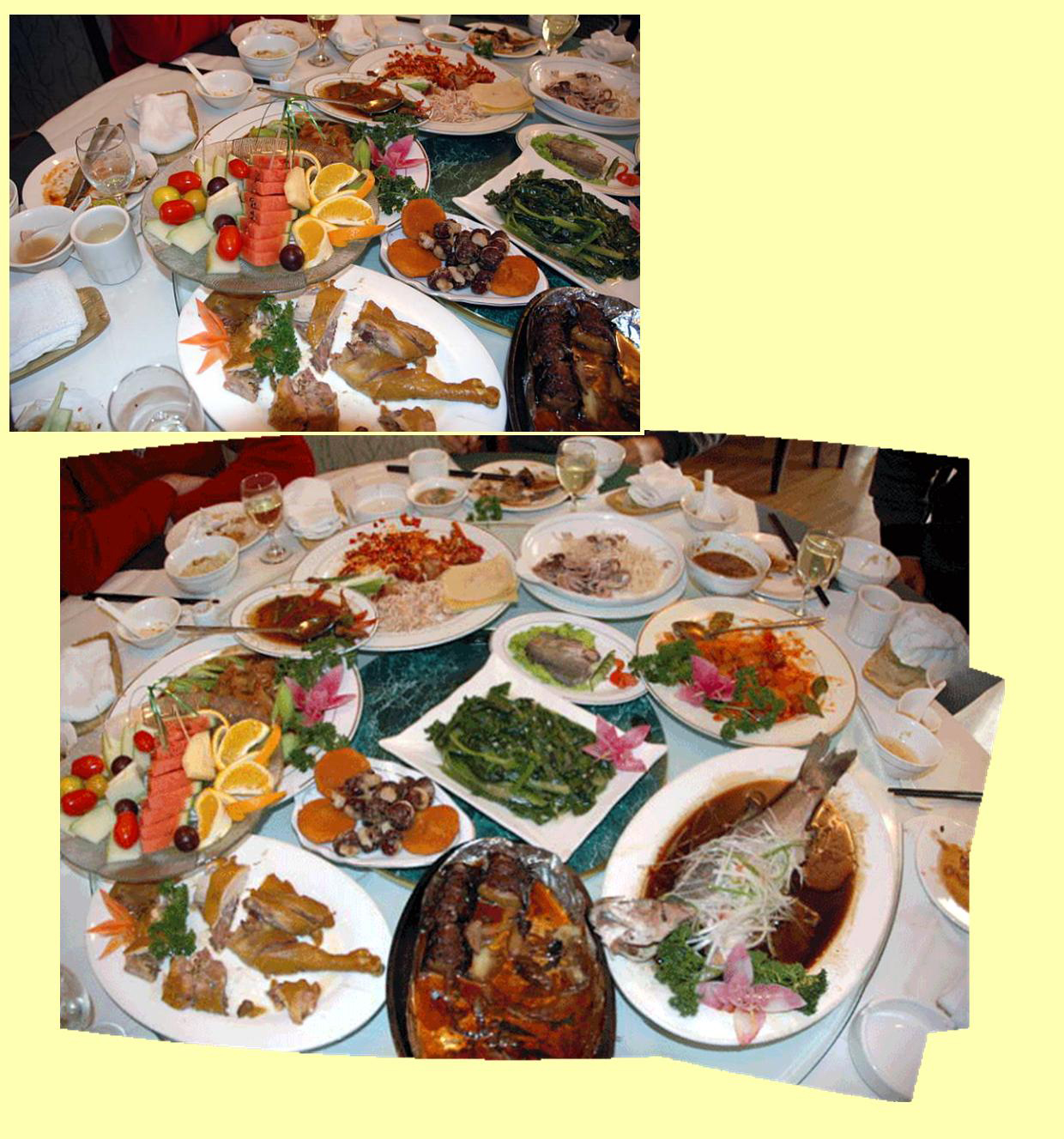 ... finally, thoroughly restored, we then went to visit the Weifang Kite Museum, a magnificent exposition of all sorts of Chinese kites.
No heating ... we had to keep our coats on !
THE KITE MUSEUM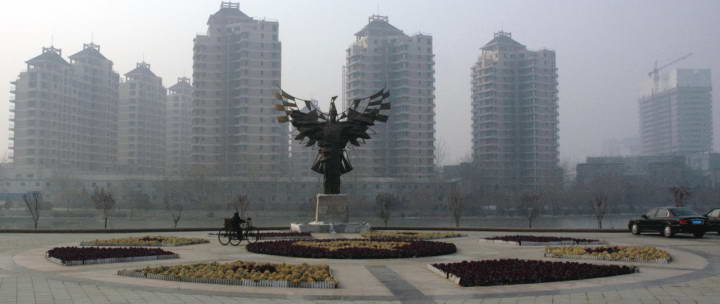 ... mid-January in the Kite Museum, we were the only visitors ! After the visit, we went to a place full of tourists (so we were told), to buy kites and all sorts of souvenirs ---
Speaking of "tourists", we were the only ones that day !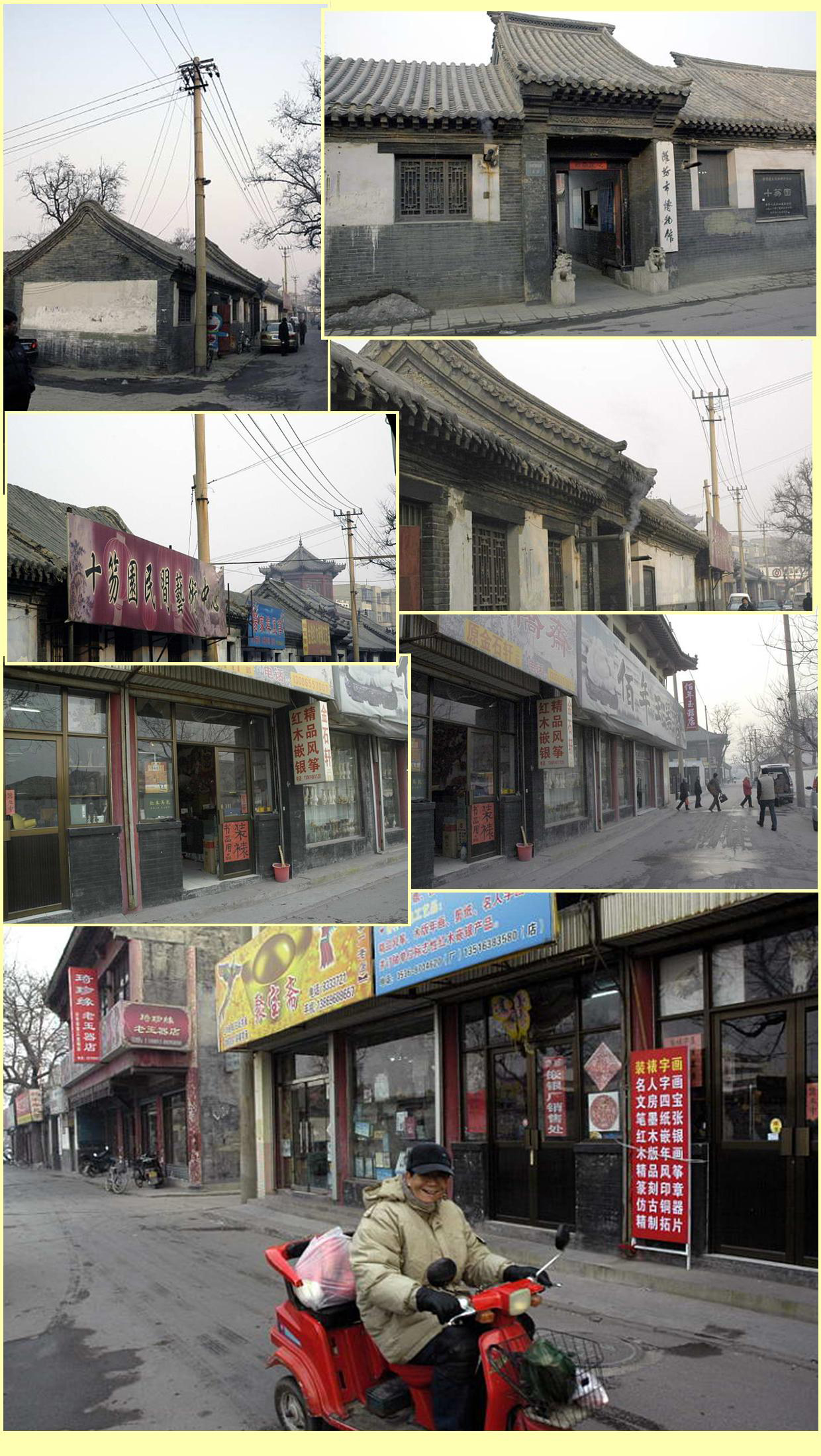 ... we still had time to spare, so Mr. Sui showed us to a large park or very big square or place ... where many locals flew kites. Kites fly especially during weel-ends. Mr. Sui told us that he was also an amateur kite-flyer ...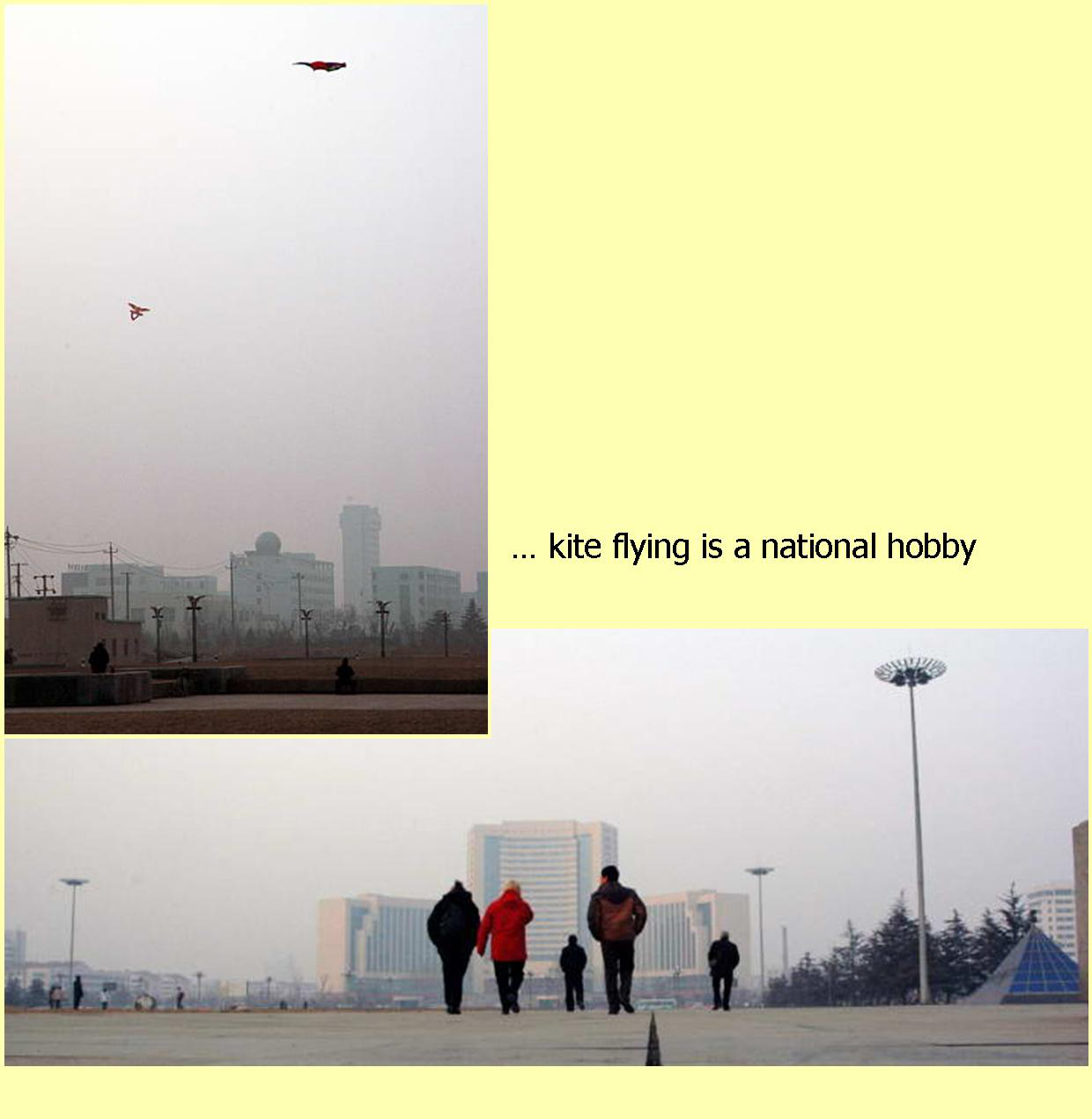 ... in the background can be seen, in the winter smog, the Weifang administrative building ... as well as kites in the Winter sky.
Notice that there are no electic wires passing across to enable the kites to fly freely.
HOT POT
--- before leaving for Quindao, wa all had a hot-pot --- in yet another restaurant ---
The "Hot Pot" was a discovery for us.

We arrived in this restaurant with many, many tables. Hundreds of tables! Large round tables with big holes in the middle.

Mr. Sui had reserved a table in a V.I.P. section with a table in the middle of the room - just as the others: with a big hole in its centre.

A big cooking pot full of boiling liquid was delicately introduced in the empty space of the table and a gas heater was lighted underneath the metal cooking pot. It was "soup". Two compartiments. Ordinary soup on the left and spicy on the other side. Then came many dishes of all sorts of food: vegetables, meat, seafood, dumplins, etc. etc.

Mr. Sui showed us how to use our chopsticks to make the food boil in the soup and how to eat it.

It was a marvellous experience and we all laughed.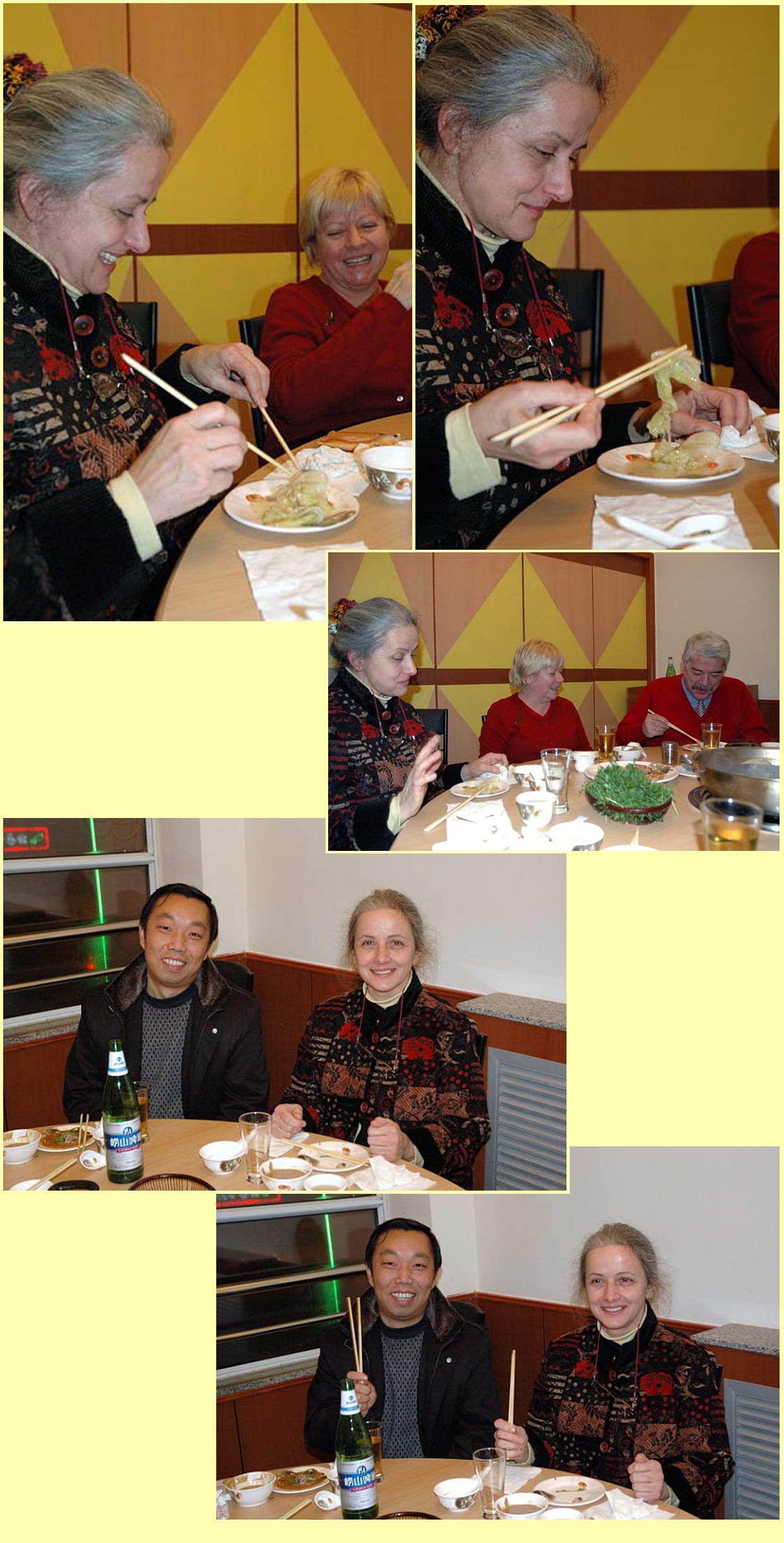 QUINDAO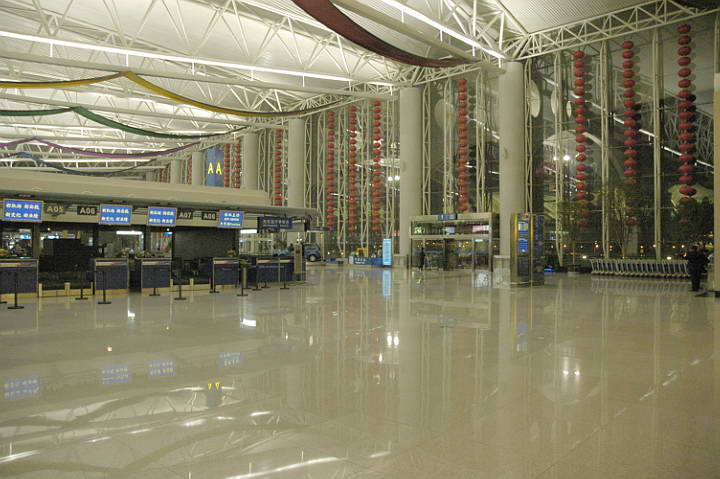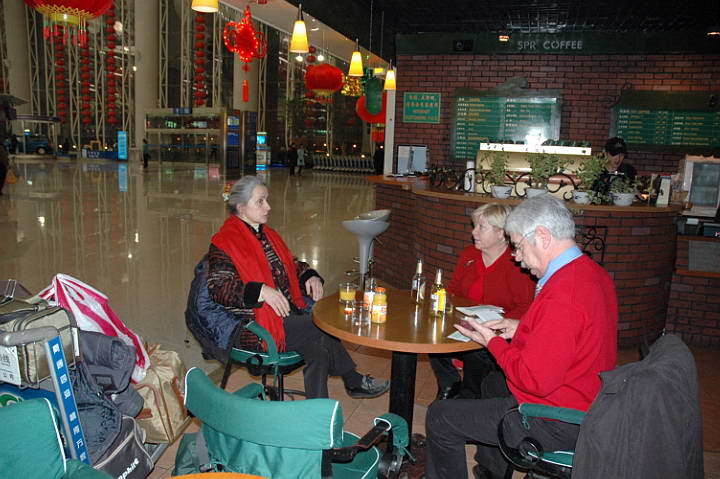 --- All good things have an end --- here, at Quindao airport, waiting to board our plane back to Shanghai ---

and ---- a few days later ---
SHANGHAI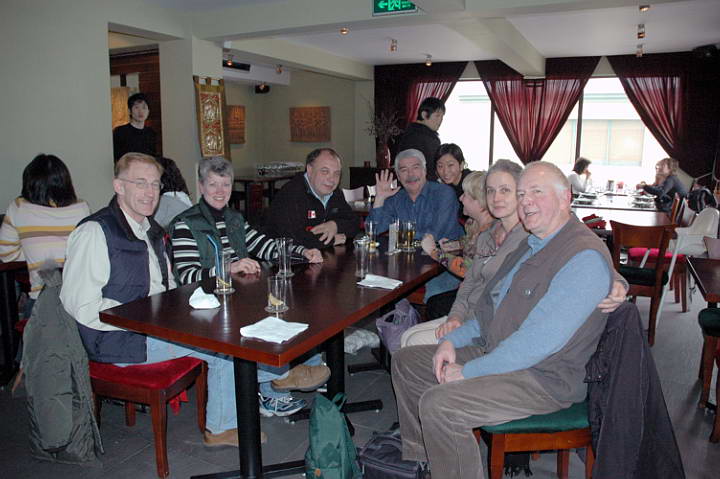 --- we all had lunch with Mark Butcher who's family was interned in Weihsien 61 years ago. Mark was born 2 months after our liberation from Camp. He is now Principal of the Sino-Canadian High School in Jiangsu (http://www.sinocanada.cn) --- not very far away from Shanghai.
From left to right: Larry Sauer, Vice Principal and Math Teacher; Leanne Sauer, Guidance Counselor; Mark Butcher, Principal; Yves, Colette, Nicky and Leopold who got "into" the picture thanks to a benevolent photographer!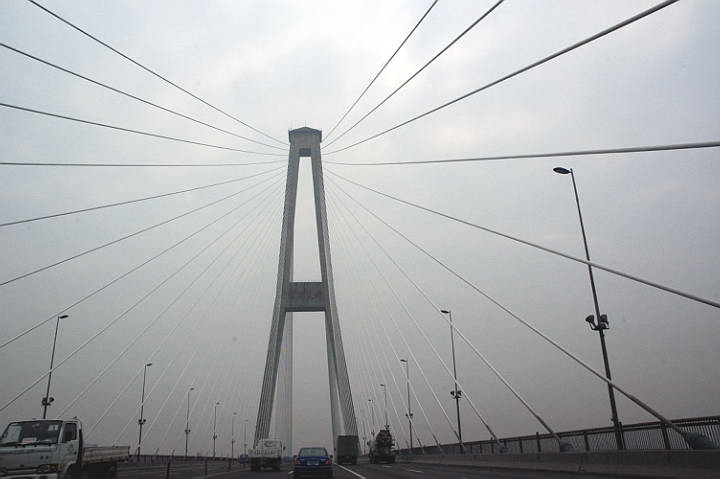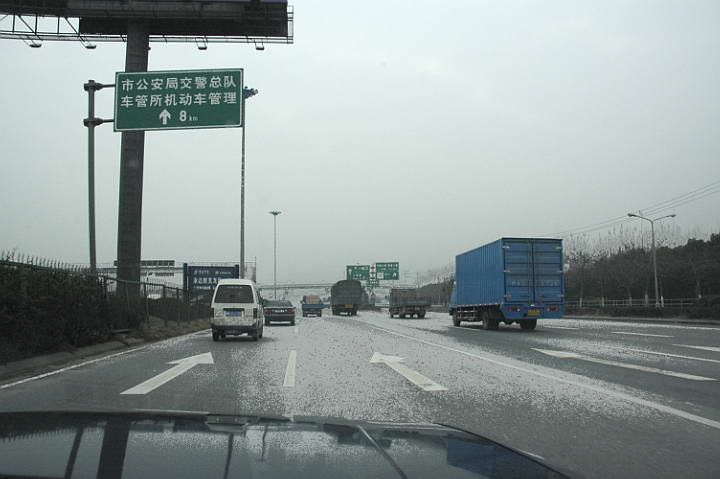 On the 15th, in the early morning we headed for Pu-Dong airport and about 15 hours later, we were back home, ---

"home-sweet-home" ---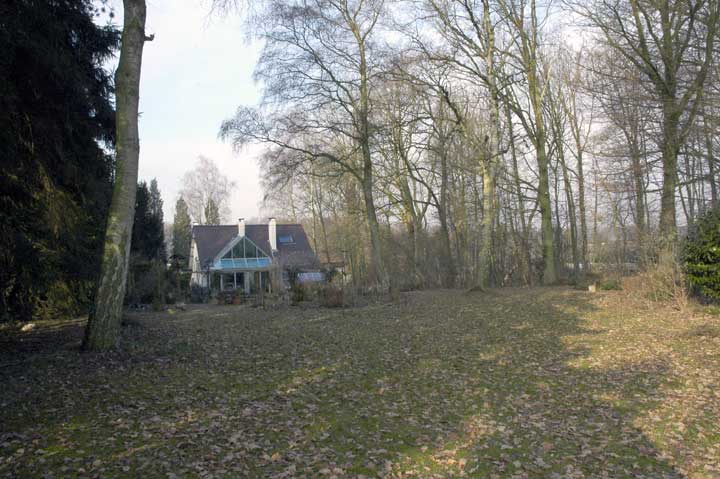 --- it was a marvellous --- "ten-days-abroad" ---

" The End"

#