Betty Dempster ...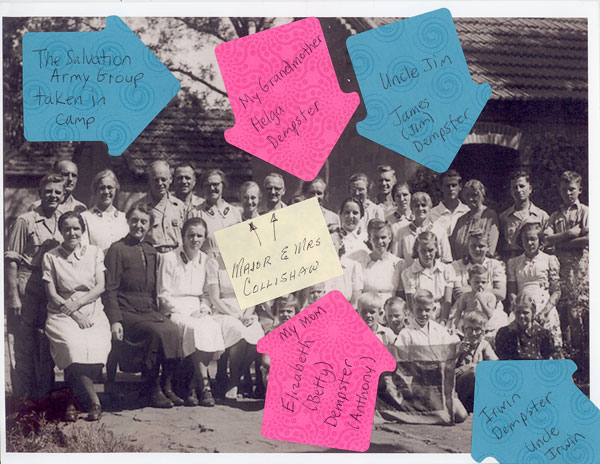 August 1945, the Salvation Army group in Weihsien ---

China
Betty (Dempster) Anthony
By Robert Anthony
(Robert Anthony is Rachel's brother).
Who was it that said, "Variety is the spice of life?" That person must have known Betty (Dempster) Anthony. Few American women have experienced the thrill and uniqueness and suffering of being born and raised in China, spending World War II in a Japanese concentration camp, and living a few years among the natives of India.

Betty Anthony is one of three children born to James and Helga Dempster in China. Helga, a former Finnish citizen, was in a group of missionaries that pioneered Salvation Army work in China in 1917. James and Helga were both Majors in the Salvation Army who were missionaries to China.

Life began for Betty August 27, 1924, in a hospital on Gold Fish Lane in Peking, China. Betty, the oldest of three, was followed in 1927 by a brother, James. Irwin, the youngest brother, was born in 1934.

Most of Betty's education was spent in schools away from home. Up until high school age, she attended a British boarding school in Tientsin. She lived in a hotel ran by the Salvation Army.

"In the hostel, I had a special friend named Erli pronounced "Early." He served the tables, and whenever anything I didn't like was served, he would sneak it off and get rid of it for me."

In 1927, Betty's parents went on a homeland furlough to the States but subsequently were unable to return to their work in China because of political unrest. The family went to India where James began some institutional work among the criminal tribes. A criminal tribe settlement is a tribe that makes its living by stealing from other people. The government wanted to rehabilitate these tribes. It was believed that the people needed the change from within so missionaries were put in charge of the different tribes.

"Conditions were less than ideal in India. The children were sent to a school in the hills early because the heat in the Plains of Madras was too hot to bear. The heat was too intense. My mother almost died. She became almost a living skeleton."

"I remember seeing a snake about thirteen feet long by the fence one day. The snake was approximately three to three and a half inches in diameter. Some men were beating the snake to death with sticks."

The Dempster's family returned to China in 1931 where they were put in charge of The Salvations Army Boys' Home in Peking. They molded the character of "some forty orphans and waifs and strays brought to the Army by the police.

Betty visited the United States for the second time in 1936 when her parents obtained a second furlough. "We went to an American school during our stay in the states. The schools in the states seemed easier. They lacked the discipline found at our schools in China. The one thing that stands out about our trip to the States is that I learned to roller skate. Also in 1936, we went to visit my mother's parents in Finland. That same year we spent Christmas on the high seas abroad the Japanese ship Chichibu Maru."

Japan declared war on China in 1937. Major James Dempster was the business manager for The Salvation Army Hospital in Tienstsin. As the Chinese soldiers retreated, in a letter written to America about this time Major Dempster said, "... as our district is considered safer than two neighboring regional centers. The Salvation Army officers from these areas are staying in our quarters... We have been cut off from the rest of the world for two months.... Mrs. Dempster went to Peking for supplies and arrived back with twenty-three packages.... We are fairly crowded and are short a number of things.... The hospital, a lone medical center for miles, is doing a fine piece of work. Many patients arrived in a deplorable state after horrible treatment by quack Chinese doctors... but I thank God for this opportunity to serve Him and my Chinese friends...."

It was during these turbulent times Betty lost her father. In 1938, some Chinese bandits broke into the hospital and killed Major James Dempster. In a letter written to a friend, Betty told of her father's death. "The bandits came into the hospital grounds twice. They came once in February and then again on April 28th. The first time they came they threatened to take Irwin for ransom, and so my parents sent him to Peking where he stayed at the home of Major and Mrs. Escott. In April, James and I went home for the Easter holidays. Irwin came home too. We had left to go back to school when the bandits came the second time. Mother was beaten rather badly by the bandits. Two bullets entered my father's body, one in the head and one in the abdomen. It seemed as though they came to kill.... Dad loved the Chinese people and he died for them. He could have left his post but he stuck it out for the Lord's sake."

In March 1943, the Dempsters received a notice informing them that they had to report to a Civilian Assembly Center in Weihsien. This center was a Japanese interment camp in which the Dempsters spent two and a half years. Betty said that her mom was her "greatest inspiration because of the unselfishness she showed. My mom used to tell me that I would choke on the food if I didn't share it. We probably enjoyed the food more sent by the American Red Cross than those in the camp who didn't share it."

While in camp Betty's brother, James, graduated from high school. The camp members set up a school for children where Betty taught elementary school children.

Religious services played an important part in camp affairs. Members of all denominations would meet together for a Sunday evening song time. The gatherings provided a time of fellowship and grave encouragement to the Wiehsien compound members.

"About the second year of camp an event happened which provided much needed encouragement. There had been a lot of rain. The camp's front wall had started to crumble from all the rain. Around Independence bay, July 4th, the wall collapsed. All the American camper members stood on the hill overlooking the collapsed wall and sang "God Bless America" and other patriotic songs. The emotion gave a ray of hope. We were warned by the camp guards never to sing patriotic songs again."

On August 16, 1945, the Americans liberated the camp. The camp went wild with joy. "When the Americans came to liberated us, we all went crazy. After someone said it was American planes, we went in one motion towards the gates.

The Japanese soldiers could have shot us, but instead they opened the front gates. The parachuters were like gods. They could do no wrong.

In November 1945, I felt like crying as we went under the Golden Gate Bridge in San Francisco. Whenever I see an American flag, it makes me want to cry. Many people do not know how lucky they are to live in America. I do not think that I would have appreciated America as much if I had not experienced those two and a half years at the Weihsien Camp.

You tend to form a kinship with members of the Weihsien ordeal. Even though you may not know them personally, you feel a close relationship. A song that was written in the camp best expresses this relationship. The words go as follows:

When you are far away will memories throng?
Of Weihsien as you knew in tale and song,
And as you sit imbibing ice cold tea,
Will you remember soup in kitchens three?

And as you motor through the country side,
Think of the garbage cans you dumped outside,
No matter where you go when once you're free,
Weihsien will still be part of you and me."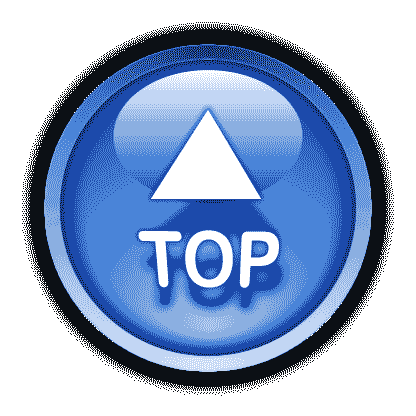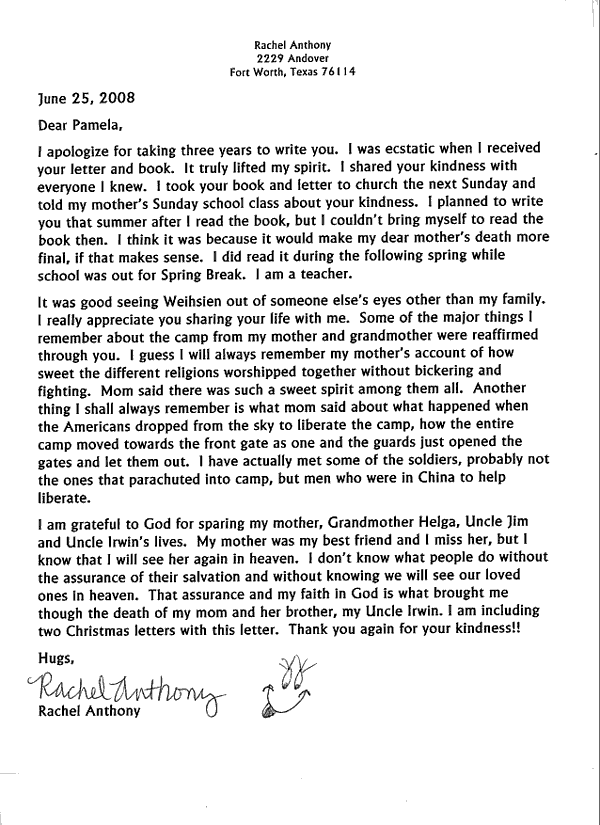 Rachel Anthony
2229 Andover
Fort Worth, Texas 76114
June 25, 2008

Dear Pamela,

I apologize for taking three years to write you. I was ecstatic when I received your letter and book. It truly lifted my spirit. I shared your kindness with everyone I knew. I took your book and letter to church the next Sunday and told my mother's Sunday school class about your kindness. I planned to write you that summer after I read the book, but I couldn't bring myself to read the book then. I think it was because it would make my dear mother's death more final, if that makes sense. I did read it during the following spring while school was out for Spring Break. I am a teacher.

It was good seeing Weihsien out of someone else's eyes other than my family. I really appreciate you sharing your life with me. Some of the major things I remember about the camp from my mother and grandmother were reaffirmed through you. I guess I will always remember my mother's account of how sweet the different religions worshipped together without bickering and fighting. Mom said there was such a sweet spirit among them all. Another thing I shall always remember Is what mom said about what happened when the Americans dropped from the sky to liberate the camp, how the entire camp moved towards the front gate as one and the guards just opened the gates and let them out. I have actually met some of the soldiers, probably not the ones that parachuted into camp, but men who were in China to help liberate.

I am grateful to God for sparing my mother, Grandmother Helga, Uncle Jim and Uncle Irwin's lives. My mother was my best friend and I miss her, but I know that I will see her again in heaven. I don't know what people do without the assurance of their salvation and without knowing we will see our loved ones In heaven. That assurance and my faith In God is what brought me though the death of my mom and her brother, my Uncle Irwin. I am including two Christmas letters with this letter. Thank you again for your kindness!! Hugs,

Rachel Anthony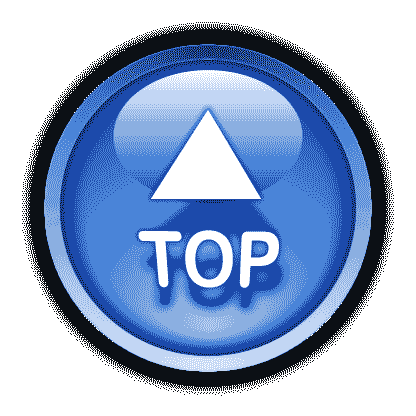 Tuesday Morning, September 18, 1984
OBITUARIES
Helga Dempster

Helga Dempster, 88, who spent - much of her life as a Salvation Army missionary in China and the Far East, died Sunday in a River Oaks nursing home.

Funeral will be at 3:30 p.m. Wednesday at Greenwood Funeral Home chapel with burial in Green-wood Cemetery.

Mrs. Dempster, who was a retired senior major in the Salvation Army, was a native of Finland. She had been with the first group of Salvation Army officers to enter China in 1917. In 1927, she and her husband, the late James Dempster, went to India for five years before returning to China.

Mrs. Dempster's daughter, Betty Anthony of Fort Worth, said the family was imprisoned in a concentration camp for more than two years during World War II when the Japanese occupied China. They re-turned to the United States after World War 11. and Mrs. Dempster continued to serve with the Salvation Army in a number of positions until her retirement in 1965.

She lived in San Bernadino, Calif., before moving to Fort Worth five years ago.

She (Mrs. Dempster) had her 21st birthday in China, but she always acted much older than she really was because the Chinese really revere old age much more than they do youth," Mrs. Anthony said. "So my mother always put on a very serious face. But she really had a very good sense of humor."

In addition to her daughter, Mrs. Dempster is survived by two sons, James Dempster of San Jose, Calif., and Eirwin Dempster of Lawndale, Calif.. a brother, Runar Asterom of Finland: a sister, Mindur Beckman of Finland: four grandsons; a grand-daughter; and a great-grandson.

#
Newark Evening News
Newark Evening News,
Tuesday, May 7, 1946
Camel Stew Bad for Appetite, Says Missionary Japs Once Held
Mrs. James Dempster, Salvation Army missionary, is fond of ham and eggs but she doesn't recommend them immediately after a two-year diet of horse and camel stew. She speaks from personal experience.

Mrs. Dempster, who is visiting in Newark, related her experiences at local headquarters today. She served as a missionary to China for 28 years and was teaching at a boys' school in Peiping when war broke out. In April, 1943, she and her three children were interned at Wei-Shen with other missionaries under Japanese civilian police guard.

The treatment wasn't bad. Mrs. Dempster said, but the food was. "We always had some sort of stew, usually horse or camel." she re-called. "I know, from my years in China, that they never kill a healthy animal so we knew what to expect when meat was served."

Mrs. Dempster's next glimpse of American food came on August 17, 1945, when she and 1.700 other prisoners were released by seven paratroopers. The rescuers brought airborne ham and eggs but the missionaries were unable to eat the dreamed-of food for several days because of their physical condition.

In spite of her wartime experiences in the internment camp and the slaying of her husband by Chinese bandits in 1938. Mrs. Dempster is "just longing to go back and take up my, Salvation Army work there again."

#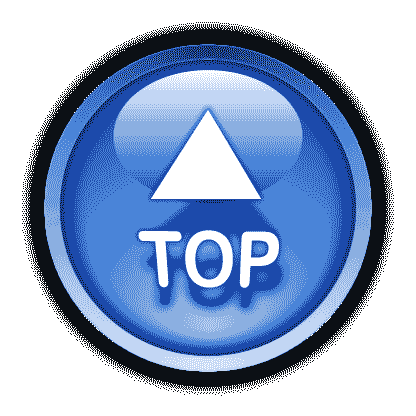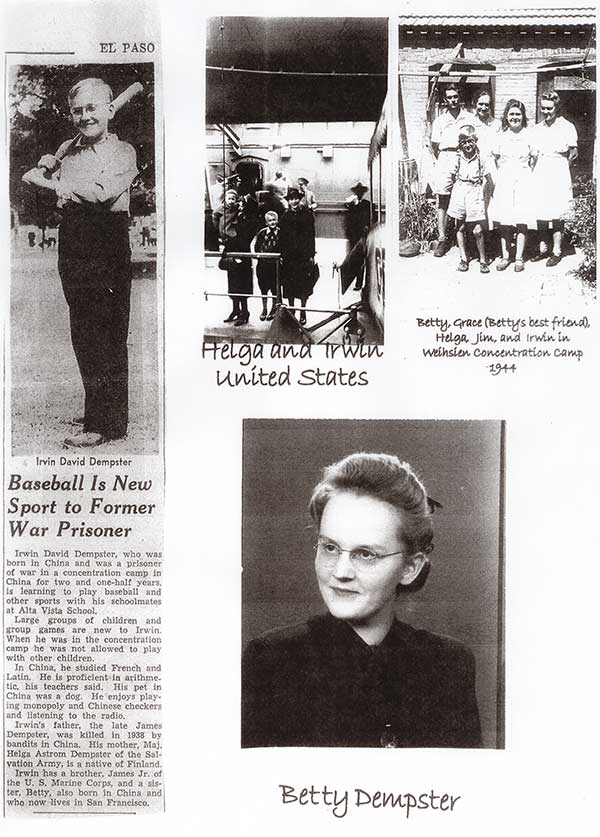 EL PASO
Baseball Is New Sport to Former War Prisoner
Irwin David Dempster, who was born in China and was a prisoner of war in a concentration camp in China for two and one-half years, is learning to play baseball and other sports with his schoolmates at Alta Vista School.

Large groups of children and group games are new to Irwin. When he was in the concentration camp he was not allowed to play with other children.

In China, he studied French and Latin. He is proficient in arithmetic, his teachers said. His pet in China was a dog. He enjoys playing monopoly and Chinese checkers and listening to the radio.

Irwin's father, the late James Dempster, was killed in 1938 by bandits in China. His mother, Maj. Helga Astrom Dempster of the Salvation Army, is a native of Finland.

Irwin has a brother, James Jr. of the U. S. Marine Corps, and a sister, Betty, also born in China and who now lives in San Francisco.

#