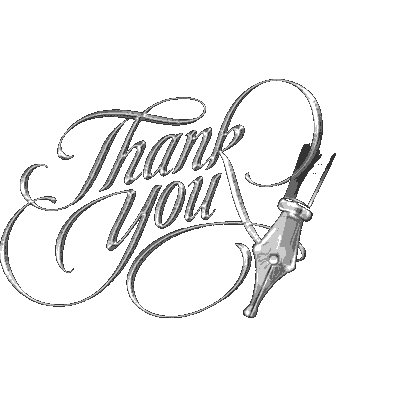 ... Thank you letters ...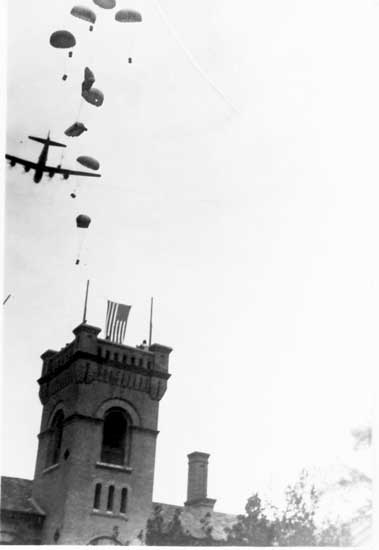 ... from the Weihsien Committee to the Bomber Command: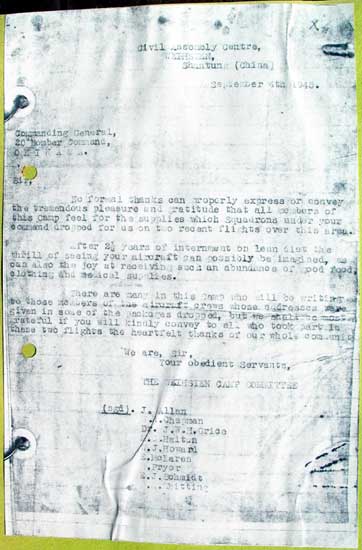 Civil Assembly Centre, WEIHSIEN,
Shantung (China)

September 4th 1945.

Commanding General,
20 Bomber Command
OKINAWA.

Sir,

No formal thanks can properly express or convey the tremendous pleasure and gratitude that all the members of this Camp feel for the supplies which Squadrons under your command dropped for us on two recent flights over this area.

After 2½ years of internment on lean diet the thrill of seeing your aircraft can possibly be imagined, as can also the joy at receiving such an abundance of good food, clothing and medical supplies.

There are many in this Camp who will be writing to those members of the aircraft crews whose addresses were given in some of the packages dropped, but we shall be most grateful if you would kindly convey to all who those two flights the heartfelt thanks of our whole community.

We are, Sir,
Your obedient Servants,

THE WEIHSIEN CAMP COMMITTEE
(sgd).
J. Allan
W.R. Chapman
Dr. J. W. H. Grice
M. C. Halton
W. J. Howard
E. McLaren
M. Pryor
E. J. Schmidt
P. A. Whitting

#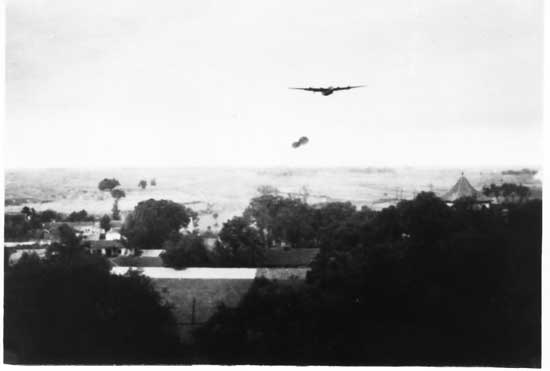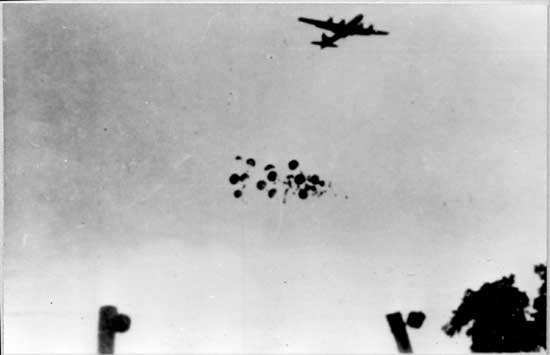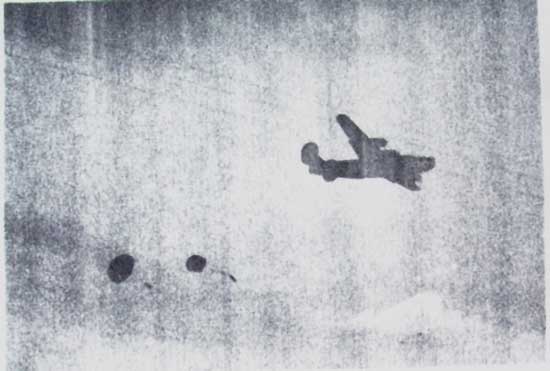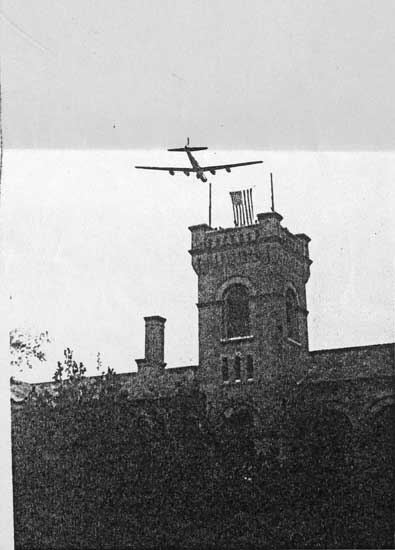 From the Weihsien Committee to Major Staiger ...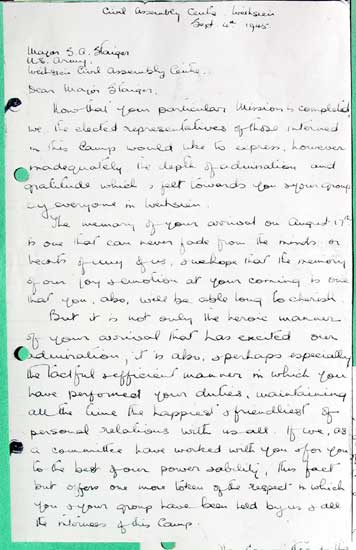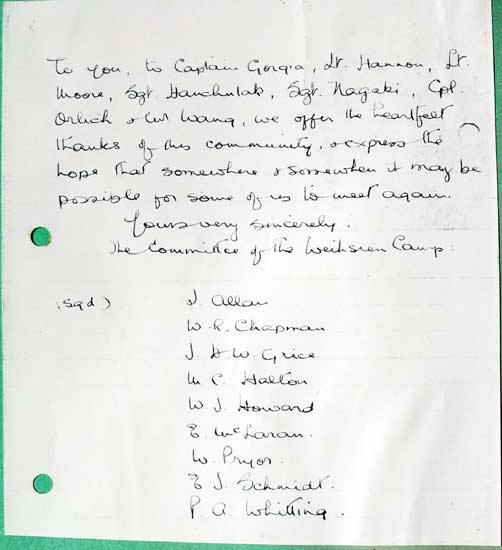 CIVIL ASSEMBLY CENTRE – WEIHSIEN

September 4th 1945

Major S. A. Staiger
U. S. Army
Weihsien Civil Assembly Centre

Dear Major Staiger,

Now that your particular Mission is completed, we, the elected representatives of those interned in this camp would like to express, however inadequately, the depth of admiration and gratitude which is felt towards you and your group by everyone in Weihsien.

The memory of your arrival on August 17th is one that can never fade from the minds or hearts of any of us, and we hope that the memory of our joy and emotion at your coming is one that you, also, will be able long to cherish.

But it is not only the heroic manner of your arrival that has exited our admiration, it is also and perhaps especially the tactful and efficient manner in which you have performed your duties, maintaining all the time the happiest and friendliest of personal relations with us all. If we, as a committee have worked with you to the best of our power and ability, this fact offers one more token of the respect in which you and your group have been held by us and all the internees of this Camp.

To you, to Captain Georgia, Lt. Hannon, Lt. Moore, Sgt. Hanchulak, Sgt. Nagaki, Cpl. Orlich and Ens. Wang, we offer the heartfelt thanks of this community, and express the hope that somewhere and some when it may be possible for some of us to meet again.

Yours very sincerely,
The Committee of the Weihsien Camp
(signed)

- L. Allan
- W. R. Chapman
- J. H. W. Grice
- M. C. Halton
- W. J. Howard
- E. McLaren
- W. Pryor
- E. J. Schmidt
- P. A. Whitting
From Major Staiger to the Committee ...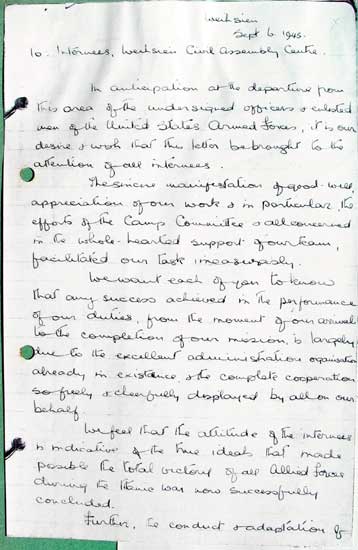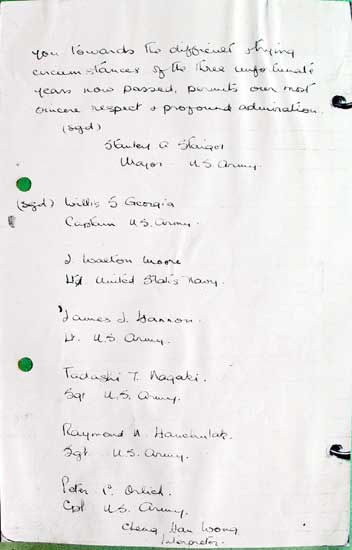 Weihsien
September 6, 1945

To: Internees, Weihsien Civil Assembly Centre.

In anticipation of the departure from this area of the undersigned officers and enlisted men of the United States Armed Forces, it is our desire and wish that this letter be brought to the attention of all internees.

The sincere manifestation of good will, appreciation of our work and in particular, the efforts of the Camp Committee and all concerned in the whole-hearted support of our team, facilitated our task immeasurably.

We want each of you to know that any success achieved in the performance of our duties, from the moment of our arrival to the completion of our mission, is largely due to the excellent administration organisation already in existence and the complete cooperation so freely and cheerfully displayed by all on our behalf.

We feel that the attitude of the internees is indicative of the true ideals that made possible the total victory of all Allied Forces during the titanic war now successfully concluded.

Further, the conduct and adaptation of you towards the difficult and trying circumstances of the three unfortunate years now passed, permits our most sincere respect and profound admiration.

(sgd)
Stanley A. Staiger Major U. S. Army
Willis S. Georgia Captain U. S. Army
J. Walton Moore Lt. United States Navy
James J. Hannon Lt. U. S. Army
Tadashi T. Nagaki Sgt. U. S. Army
Raymond N. Hanchulak Sgt. U. S. Army
Peter P. Orlich Cpl. U. S. Army
Cheng Han Wong Interpreter

#
... and more about ...
From Mary Previte:

The names on this letter include Captain Willis Georgia, who was not a member of the DUCK MISSION. Rescuer Jim Hannon has told me that ... that letter was posted and when he saw the name of Willis Georgia included with the liberators on this letter, Hannon was angry enough to cross the name out. With great disdain, Hannon tells me that Willis Georgia was someone (possibly a publicist) Major Staiger allowed to stay in Weihsien from one of the other American planes that stopped in ... possibly Lt. Colonel Bird's controversial EAGLE MISSION.

Some of the publicity ("Public information") efforts on these missions stirred huge controversy. Colonel Bird was the deputy director of OSS/CHINA. According to THE OSS IN CHINA, Bird -- "ever publicity-conscious and eager to gain fame by 'liberating Korea single-handedly'," violated very specific orders and took along a reporter and photographer when the EAGLE MISSION went to liberate a POW camp in Korea. When Japanese turned Bird and the EAGLE MISSION away from Korea, EAGLE MISSON flew back to Weihsien.

In listening to the stories from men on our team, I get a sense that they believed Colonel Bird wanted to save face from his failure in Korea by taking over the operation at Weihsien.

No way was Major Staiger going to let Bird take over the Weihsien operation -- especially after Bird had failed to liberate the POW camp in Korea. In this little side bar story to our rescue, our DUCK MISSION team of rescuers have no good words for Colonel Bird. Jim Hannon has told me he thinks Col. Bird should have been court martialed for failing to complete his rescue mission in Korea.

Back in Chungking, while Bird was telling General Wedemeyer how dangerous the attempted rescue of prioners in Korea had been, the reporter's story was broadcast worldwide about the first encounter of the Americans with the Japanese in Korea

-- including photographs and information about the Japanese entertaining the Americans with beer and sake. General Wedemeyer was embarrassed and outraged -- especially that Bird took a reporter and a photographer along on the failed rescue mission, but no medical supplies nor food for the POWs.

OSS angrily moved Bird out of the EAGLE team, but Bird was never disciplined.

Mary Previte

#