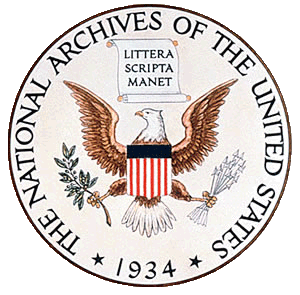 REPRODUCED AT THE NATIONAL ARCHIVES
Issued by the intelligence office Office of Chief of Naval Operations Navy Department
CONFIDENTIAL
INTELLIGENCE REPORT
Received on Foreign Mail Room
1943 MAY 19 PM 3:16

Serial 32/43
FROM: Naval Attache
AT: Chungking
DATE: May 1, 1943

SOURCE: Japanese, Chinese and Foreign
EVALUATION: C-3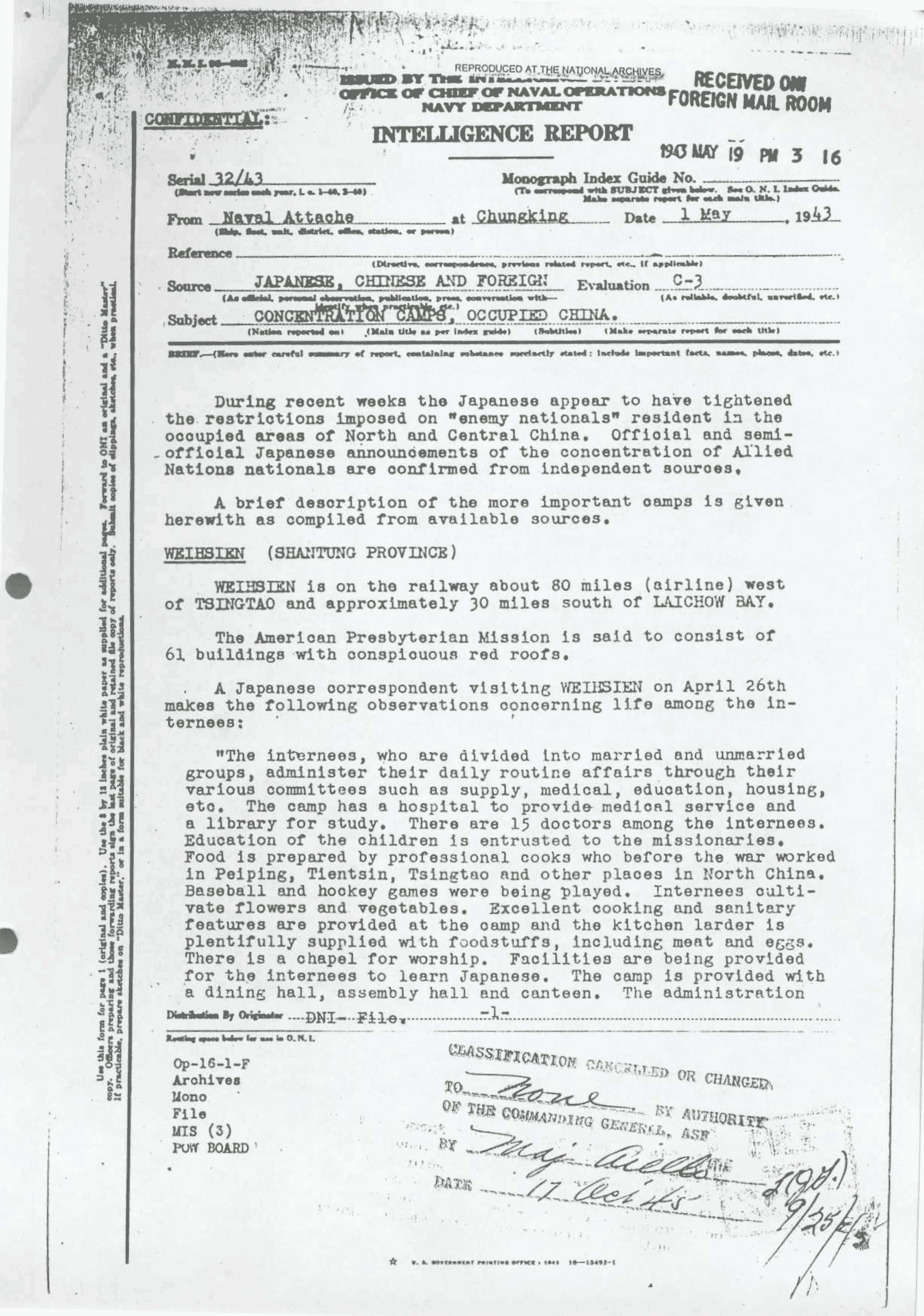 SUBJECT:
CONCENTRATION CAMPS, OCCUPIED CHINA.
During recent weeks the Japanese appear to have tightened the restrictions imposed on "enemy nationals" resident in the occupied areas of North and Central China. Official and semi-official Japanese announcements of the concentration of Allied Nations nationals are confirmed from independent sources.

A brief description of the more important camps is given herewith as compiled from available sources.
WEIHSIEN (SHANTUNG PROVINCE)
WEIHSIEN is on the railway about 80 Miles (airline) west of TSlNGTAO and approximately 30 miles south of LAICHOW BAY.

The American Presbyterian Mission is said to consist of 61 buildings with conspicuous red roofs.

A Japanese correspondent visiting WEIHSIEN on April 26th makes the following observations concerning life among the internees:

"The internees, who are divided into married and unmarried groups, administer their daily routine affairs through their various committees such as supply, medical, education, housing, etc. The camp has a hospital to provide medical service and a library for study. There are 15 doctors among the internees. Education of the children is entrusted to the missionaries. Food is prepared by professional cooks who before the war worked in Peiping, Tientsin, Tsingtao and other places in North China. Baseball and hockey games were being played. Internees cultivate flowers and vegetables. Excellent cooking and sanitary features are provided at the camp and the kitchen larder is plentifully supplied with foodstuffs, including meat and eggs. There is a chapel for worship. Facilities are being provided for the internees to learn Japanese. The camp is provided with a dining hall, assembly hall and canteen. The administration ...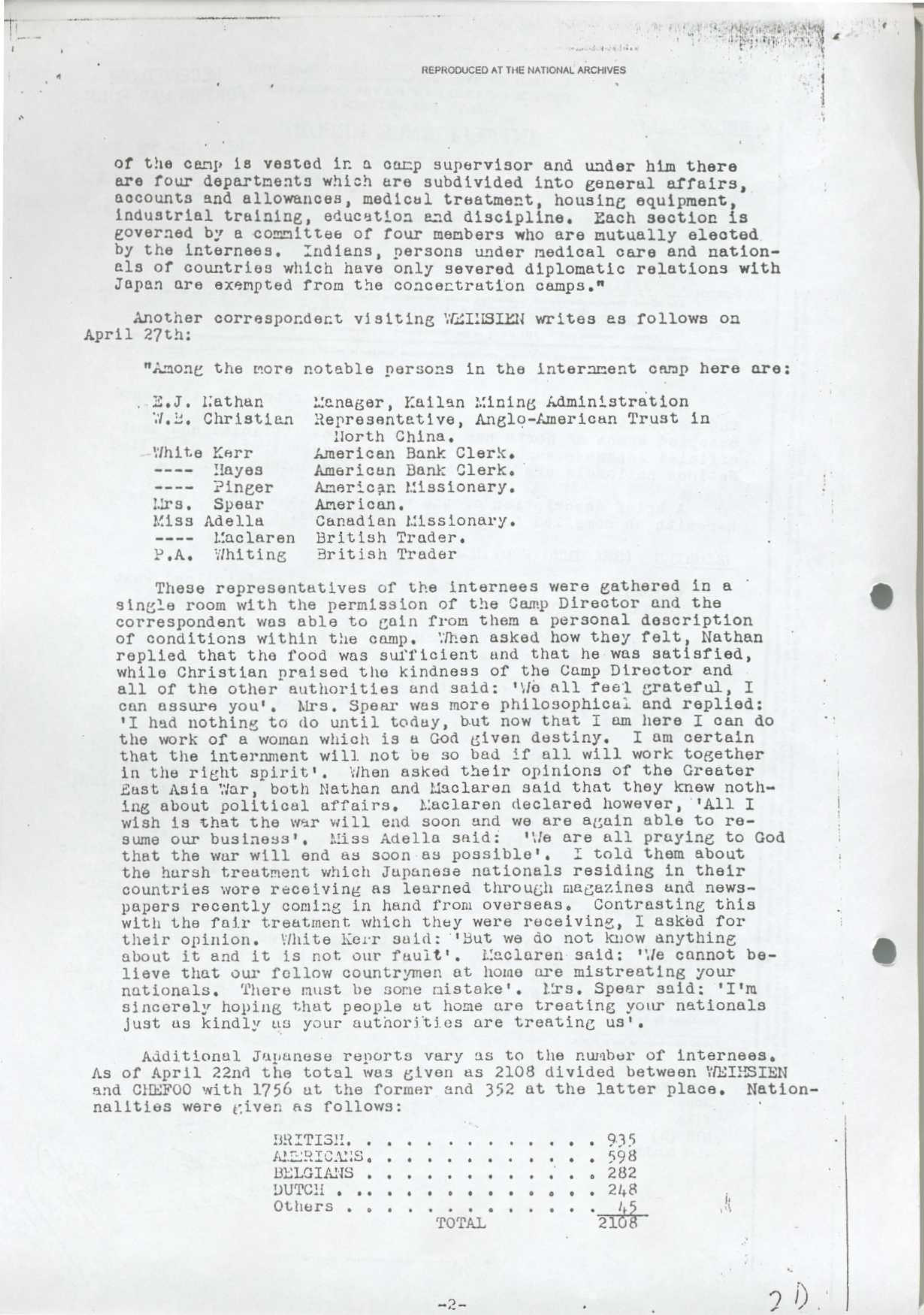 ... of the carp is vested in a camp supervisor and under him there are four departments which are subdivided into general affairs, accounts and allowances, medical treatment, housing equipment, industrial training, education and discipline. Each section is governed by a committee of four members who are mutually elected by the internees. Indians, persons under medical care and nationals of countries which have only severed diplomatic relations with Japan are exempted from the concentration camps."

Another correspondent visiting WEIHSIEN writes as follows on April 27th:

"Among the more notable persons in the internment camp here are:


| | |
| --- | --- |
| E.J. Nathan. | Manager, Kailan Mining Administration |
| W.B. Christian | Representative, Anglo-American Trust in North China. |
| White Kerr | American Bank Clerk. |
| ――― Hayes | American Bank Clerk. |
| ――― Pinger | American Missionary. |
| Mrs, Spear | American. |
| Miss Adella | Canadian Missionary. |
| ――― Maclaren | British Trader. |
| P.A. Whiting | British Trader |

These representatives of the internees were gathered in a single room with the permission of the Camp Director and the correspondent was able to gain from them a personal description of conditions within the camp. When asked how they felt, Nathan replied that the food was sufficient and that he was satisfied, while Christian praised the kindness of the Camp Director and all of the other authorities and said: "We all feel grateful, I can assure you". Mrs. Spear was more philosophical and replied: "I had nothing to do until today, but now that I am here I can do the work of a woman which is a God given destiny. I am certain that the internment will not be so bad if all will work together in the right spirit". When asked their opinions of the Greater East Asia War, both Nathan and Maclaren said that they knew nothing about political affairs. Maclaren declared however, "All I wish is that the war will end soon and we are again able to resume our business", Miss Adella said: "We are all praying to God that the war will end as soon as possible". I told them about the harsh treatment which Japanese nationals residing in their countries wore receiving as learned through magazines and newspapers recently coming in hand from overseas. Contrasting this with the fair treatment which they were receiving, I asked for their opinion. White Kerr said: "But we do not know anything about it and it is not our fault". Maclaren said: "We cannot believe that our fellow countrymen at home are mistreating your nationals. There must be some mistake", Mrs, Spear said: "I'm sincerely hoping that people at home are treating your nationals just us kindly as your authorities are treating us".

Additional Japanese reports vary as to the number of internees.

As of April 22nd the total was given as 2108 divided between WEIHSIEN and CHEFOO with 1756 at the former and 352 at the latter place. Nationalities were given as follows:


| | |
| --- | --- |
| BRITISH: | 935 |
| AMERICANS: | 598 |
| BELGIAINS: | 282 |
| DUTCH: | 248 |
| Others: | 45 |
| TOTAL: | 2108 |


However, on April 26th it was reported that there were 1840 internees at Weihsien of whom 950 were Americans and the remaining 890 were British. It is believed that the figures of the 22nd are more nearly correct.

Independent sources in Peiping indicate that the American and British Nationals in the Peiping area have been well treated by the Japanese. However, on March 14th the Americans were notified by the Swiss representative that they must be prepared to leave Peiping on March 24th for internment in WEIHSIEN. Each individual was allowed to take two suitcases of personal effects and bedding. British subjects were instructed to be ready to proceed to SHANTUNG on March 27th. Although the Chinese in Peiping have not been encouraged or permitted to fraternize with "enemy nationals" many had been punished and reprimanded for doing so. Nevertheless Chinese friends had constantly contacted and assisted foreigners and some of the Americans had turned over their valuables to Chinese friends for safekeeping, It is believed that practically all Americans in Peiping were compelled to go to WEIHSIEN with the possible exception of a few elderly or sick people.

As of March 17th Dr. Leighton Stuart, President of Yenching University, was still kept in Mr, A.C. Henning's residence on Waichiaopu Street, Peiping in company with Mr. Trevor Bowen, Acting Director of Peiping Union Medical College. The property of the Peiping Union Medical College was being used by the Japanese as a military hospital, as was the Presbyterian Hospital in the northern part of the city. Dr. Stuart and his companion had not been permitted to receive visitors but had been permitted to communicate by letter twice a week with other Americans and to receive mail.

The former American Marine Barracks in Peiping now serves as the headquarters of the Japanese Gendarmerie.

CHEFOO
It is believed that the majority of the internees in CHEFOO are children at the China Inland Mission School where they have been held in the cramped quarters of the school compound in the company of their teachers. The adult internees appear to have been quartered apart from the school children. The administration also appears to have been transferred to the Japanese consular authorities and taken out of the hands of the military.

The Japanese give the number of foreign internees at CHEFOO as 352.
YANGCHOW
(In Kiangsu province across the Yangtze River from Chinkiang on the Grand Canal.)

Japanese sources state enemy nationals in Central China (not including Amoy) were grouped in Shanghai and Yangchow.

Foreign sources in late March reported that certain British women from the Shanghai area were being or had been concentrated at Yangchow.
SHANGHAI
The Japanese announced on April 21st that the internment of enemy nationals in the Shanghai area, numbering some 6,000 and composed of Americans, British and Dutch was completed on the 20th. It was stated that camps had been established in POOTUNG, CHAPEl, LUNGHUA and other suburban districts of Shanghai with each camp holding from one to two thousand internees. The Japanese statement said that teachers, religious workers and hospital workers were being allowed to resume their former work, this being highly appreciated by the individuals "as well ―――― (etc.)

End of page & pages missing ...

End of document.

***