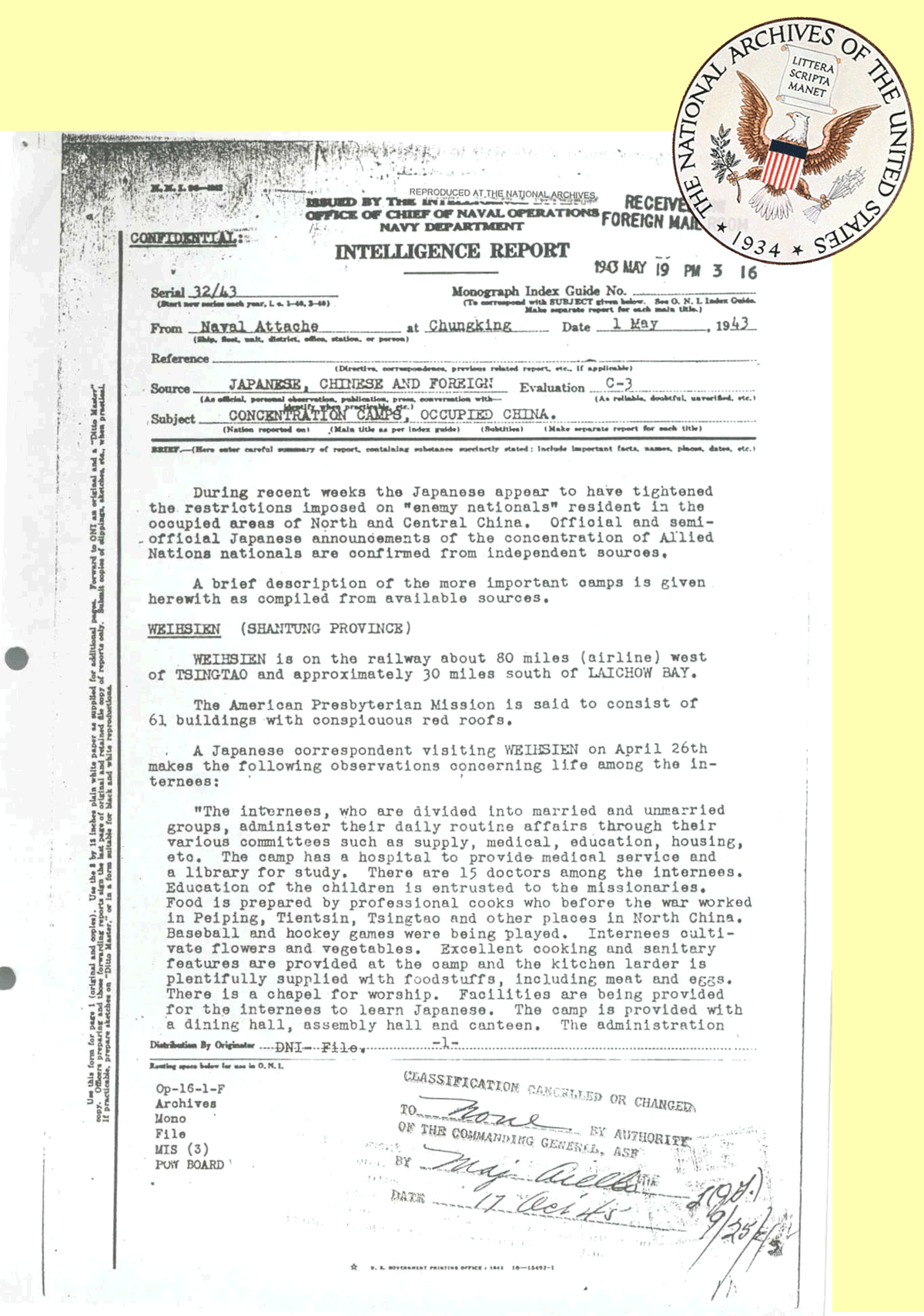 REPRODUCED AT THE NATIONAL ARCHIVES
May 14, 1942
REPORT OF RECENT DEVELOPMENTS IN THE SITUATION OF AMERICANS IN THE ORIENT *
The following information was taken from the reports of the Swiss Minister in Tokyo, and the delegates of the International Red Cross of Tokyo, except where noted.
COMPLIANCE
The Swiss Legation in Tokyo expects to report soon regarding the situation of the Americans interned in Kobe.

A certain number of interned Americans in Japan have been reportedly turned over to the International Red Cross delegate but have not been received in Geneva. The Swiss Legation is making efforts to forward lists of Americans through diplomatic channels.

The International Red Cross delegate in Tokyo cabled May 11, that the approximate number of American prisoners of war taken in the Philippines is ten thousand. Fifteen thousand American prisoners were taken in Singapore and four thousand six hundred in Java. No names were given.

The number of lists and names of Americans interned by Japan and reported to date by the International Red Cross is as follows: total number of lists thirty-four; American civilians, 431 interned, 2 dead. American prisoners of war, 1292 interned 16 dead.

The Department of State continues negotiations for full compliance on the part of Japan in regard to the Treaty of 1929, pointing out the full compliance on the part of the United States Government.

The Swiss Ministry reports that the Japanese authorities still create difficulties in the way of delay in visitation on the part of the Swiss representative to internment camps.

The Foreign Mission Conference of North American reports financial assistance by the State Department reaching Americans except in Hong Kong and Manila.
EXCHANGE
The Swedish-American liner, "Gripsholm", may sail about the middle of June with the first group of Japanese Diplomats and others from North and South America to be exchanged at Laurenco Marque, Portuguese East Africa. It is presumed that the American Diplomatic Corps will sail from Japan about the same time.

Preference is being given to women, children, aged, and sick in selecting Americans to be exchanged on the first steamer.
MAIL
Service between Basel and Tokyo organized by the Universal Postal Union, Bern, goes via Istanbul, Tiflis and Siberia. The International Red Cross is now able to send ordinary Mail for P.O.W. and civilian internees.
(*) Taken from partially complete files of cables in the hands of the Information Bureau. As these matters are in a continual state of change, any portion of this report may become out of date at any time.
(page missing)
REPRODUCED AT THE NATIONAL ARCHIVES
OCCUPIED CHINA
CHEFOO:
China Inland Mission reports all missionaries in occupied territory are safe and well, mostly residing in own homes, able to get out occasionally. We move freely in the settlement (Chefoo). Schools much as usual. Mild rationing. Wardrobes difficult. Free funds sufficient for three months. Seventy-one adults and two hundred and twelve children, mostly in school, are located in Chefoo.
CHENGTU:
Hospital and University discontinued. All allowed freedom of campus and city.
HANGCHOW:
Considerately treated. Living in homes, all well and safe.
HANKOW:
General hospital and central cottage systematically looted by Japanese. It appears that missionaries have considerable freedom of movement although some have been forced to leave their homes.
WUHU:
Missionaries confined to mission compound. Homes all occupied by self-invited guests. "Treated well." Have sufficient funds.
TIENTSIN:
Several missionaries in the International Concession. Funds until May. Frequent visits from friends allowed.
HUPEI PROVINCE:
Through the International Red Cross. Missionaries (church of the Nazarene) are well. Needs provided. Treated well.
PAOTING:
Missionaries report kind and considerate treatment. Given large liberties after routine checking of property. No restrictions on exercise. Plenty of canned goods and coal for winter, abundant supply of milk. Most folks in their own homes. Work going on.
KOREA:
Maryknoll priests, brothers, and nuns safe. Residing on Mission property.
MANCHURIA:
Missionaries, Maryknoll Society, well, in good health, well treated. Limited use of churches permitted. Missionaries assembled in Dairien.
THAILAND:
The Thailand Foreign Office replied to representations that humanitarian principles are being applied to interned Americans. Since the number are few, etc., sees no reason to apply Treaty of 1929. Also military necessity requires representatives of the Protecting Power to follow certain procedure (?) in visiting places of internment or detention. There is no delegate of the International Red Cross in Thailand. Report to Mission Headquarters is that all missionaries are in good health.
INDO-CHINA:
Through Bern. Missionaries are well, funds being received through Swiss representative, effective March 1. - ?
BURMA:
Twelve hundred persons carried out of Burma by air before Japanese occupation. Mostly women and children, but some were British soldiers who had fought without relief for months.
NETHERLANDS EAST INDIES:
Registration of American and European nationals costs $81.00 for men and $43.00 for women. Two Dutchmen condemned to death by a Japanese military court at Batavia, Java, for repeating rumors based on foreign radio reports. There is a ban on listening to foreign broadcasts. Japanese military authorities decree that the Christian calendar should be replaced by the Japanese calendar. Use of term, "Japan" is banned. "Nippon", "Dai Nippon" is required.
(page missing)
REPRODUCED AT THE NATIONAL ARCHIVES
THE FOLLOWING SECTIONS ARE TAKEN FROM THE REPORTS OF THE FOREIGN MISSION CONFERENCE OF NORTH AMERICA
Y.M.C.A. IN JAPAN:
The National Y.M.C.A. in Japan has withdrawn from the world Y.M.C.A. organization, preserving initiative for further cooperation. Y.M.C.A. in Tokyo reports trying to receive permission to work among interned Americans. Also the World Y.M.C.A. is endeavouring through the Swiss Minister in Tokyo and the Japanese Minister, Mintani, Bern, to have this permission granted. To date, there is no information as to the success of these moves.
HONG KONG:
Tokyo broadcasts claim two hundred thousand Hong Kong dollars had been advanced for living expenses of foreign civilian internees.

Lt. Colonel Ride, British, at Chungking, has set up an informal Information Bureau at Kukong. He recently advised people in Victoria, British Columbia, that he would undertake to give them word of Hong Kong friends and relatives if they would send him the reply prepaid radiograms. It is understood that some replies have come back.

Dr. Gordon King reports conditions in Hong Kong as bad. Little food and practically no medical care for the three hundred Americans interned in the wardens' houses in Stanley Prison. He does not believe that half of them can survive six months of such treatment, as much dysentery and other sicknesses are developing. There are many women and children in the group.

Mr. Petro, a French citizen who escaped from Hong Kong February 12, reports as follows, United States diplomatic officers are housed in two consular homes. Personnel allowed occasional visits to the city under guard but are not allowed to communicate with the outside. No food is furnished, but purchases allowed through certain channels. Outside of restrictions, they are "all right". A proposal seems to be afoot to transfer diplomats to Stanley Prison but keep them segregated from the rest of the civilian internees. This, however, had not been done when Mr. Petro left Hong Kong.

Mr. J.F. Marsman, a citizen of the Philippines, who escaped from Hong Kong February 10, makes the following report: Civilians were often threatened. Many losing all their belongings, ladies' handbags looted. Military prisoners bound and gagged even when severely wounded. Japanese officers lecture civilians on being "despicable". "Prisoner shot." Civilians hiked for several hours with no water or food or relief even for women. The Japanese were very nasty. Civilians slapped for not saluting. Even in the early days of captivity, many civilians became sick with dysentery and boils which refused to heal. Appeals rarely denied and nothing was done for the sick. Restrictions in Hong Kong were getting tighter every day while the Japanese officers celebrated in nearby hotels.

Report of Mr. Warrow, naturalized American citizen, who escaped on February 10: Maryknoll Fathers badly treated, tied up and put in a garage with little food for several days. Many British prisoners, including officers were beheaded in their presence. The Fathers were later released and given three truck loads of food. They are now interned In St. Stephens College. The Japanese would ask the British officers to show them where they had hidden their field glasses and revolvers. After they had shown them, the officers were bayoneted.
End of page.