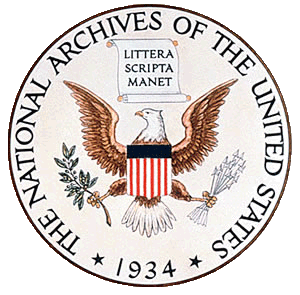 REPRODUCED AT THE NATIONAL ARCHIVES
No. 7227
From the Special War Problems Division
Department of State to: ----
3/4/1944

Tsingtao, July 8th, 1943

British & U.S.A.
Via Air Mail Pouch

Bern, February 1, 1944

Subject:

American Interests – China
Transmission Chefoo Camp
Report No. 1

The American Minister at Bern has the honour to refer to the Department's telegraphic instruction No. 720 of March 20, 1942, regarding the transmission of reports of visits made by Swiss representatives to Camps where Americans are detained.

There is now enclosed for the Department's information and records, a copy of camp report No. 1 on the Assembly Centre of Chefoo where American civilians are detained. This camp was visited during the month of July 1943 by Mr. Egger, a representative of the Swiss Consulate General at Shanghai. This report which is dated July 8, 1943, was received under cover of a note dated January 28, 1944, from the Swiss Foreign Office

In accordance with the Legation's customary practice, a copy of this report has been made available to Mr. Francis B. James, special representative of the American Red Cross at Geneva.

Tsingtao, July 8th, 1943
No. 15
British & USA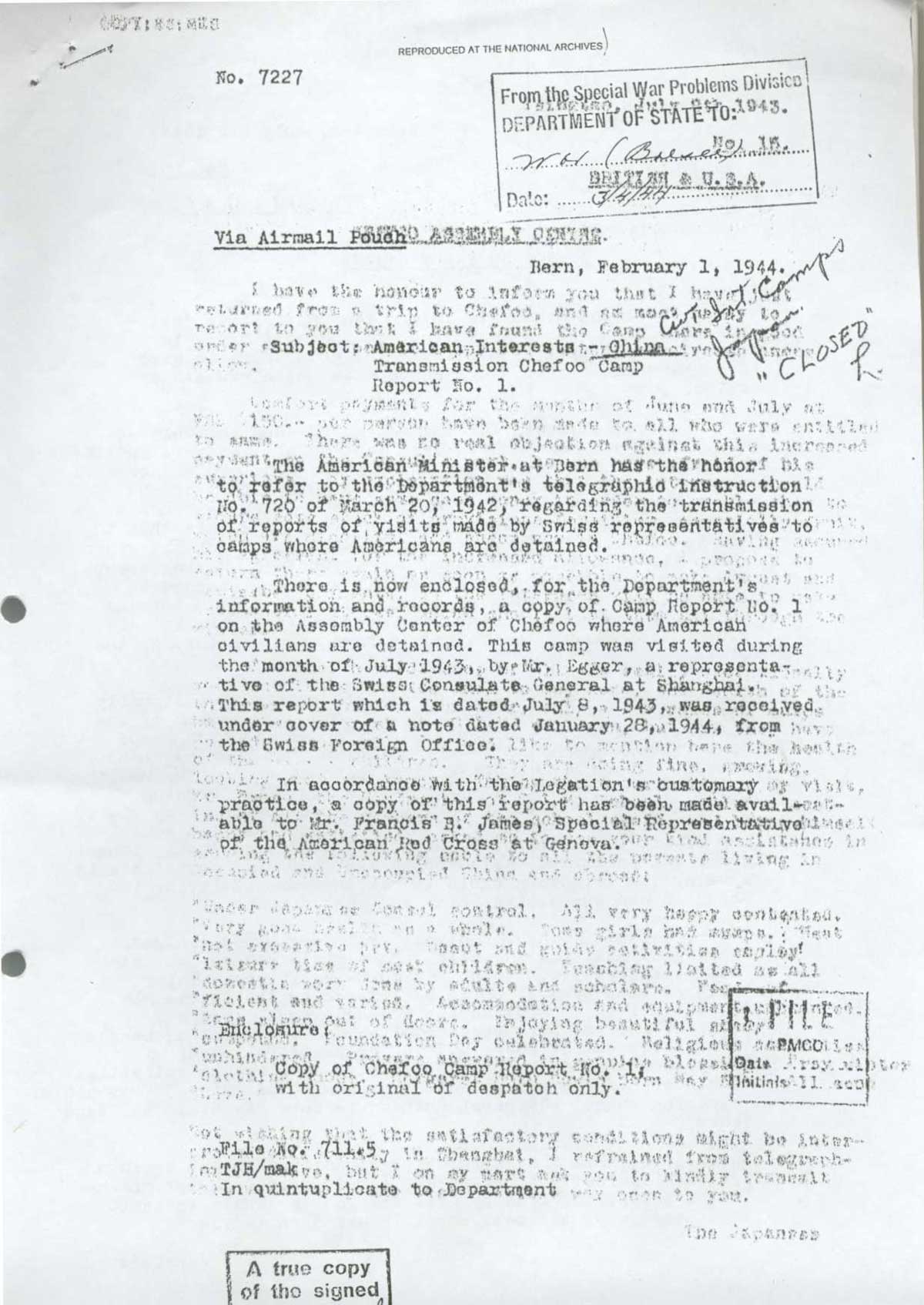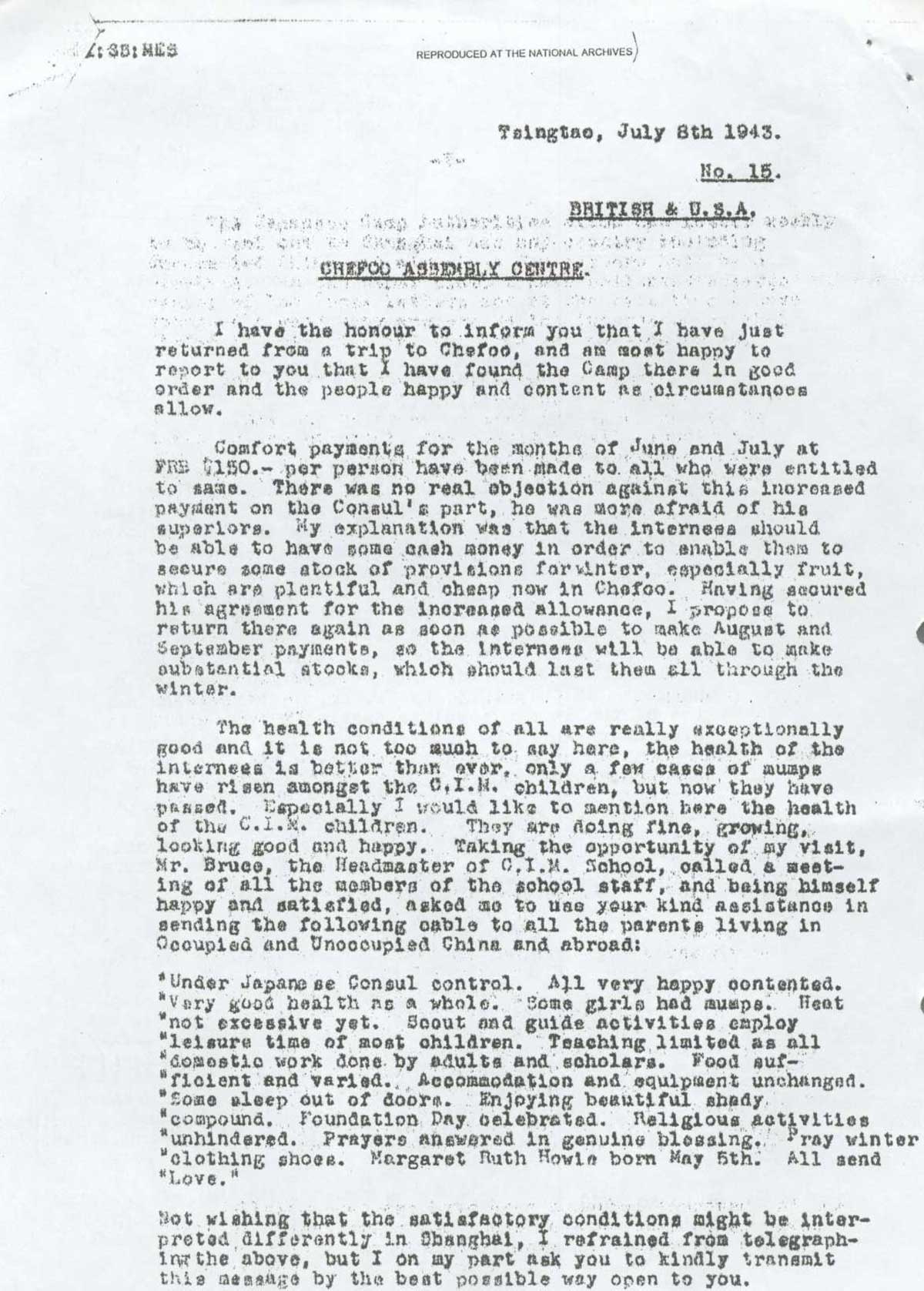 CHEFOO ASSEMBLY CENTRE
I have the honour to inform you that I have just returned from a trip to Chefoo, and am most happy to report to you that I have found the Camp there in good order and the people happy and content as circumstances allow.

Comfort payments for the months of June at FRB$150.—per person have been made to all who were entitled to same. There was no real objection against this increased payment on the Consul's part, he was more afraid of his superiors. My explanation was that the internees should be able to have some cash money in order to enable them to secure some stock of provisions for winter, especially fruit, which are plentiful and cheap now in Chefoo. Having secured his agreement for the increased allowance, I propose to return there again as soon as possible to make August and September payments, so the internees will be able to make substantial stocks, which should last them all through the winter.

The health conditions of all are really exceptionally good and it is not too much to say here, the health of the internees is better than ever, only a few cases of mumps have risen amongst the C.I.M. children, but now they have passed. Especially I would like to mention here the health of the C.I.M. children. They are doing fine, growing, and looking good and happy. Taking the opportunity of my visit, Mr. Bruce, the Headmaster of C.I.M. School, called a meeting of all the members of the school staff, and being himself happy and satisfied, asked me to use your kind assistance in sending the following cable to all the parents living in Occupied and Unoccupied China and abroad:
"Under Japanese Consul control. All very happy contented. Very good health as a whole. Some girls had mumps. Heat not excessive yet. Scout and guide activities employ leisure time of most children. Teaching limited as all domestic work done by adults and scholars. Food sufficient and varied. Accommodation and equipment unchanged. Some sleep out of doors. Enjoying beautiful shady compound. Foundation Day celebrated. Religious activities unhindered. Prayers answered in genuine blessing. Pray winter clothing shoes. Margaret Ruth Howie born May 5th. All send Love."
Not wishing that the satisfactory conditions might be interpreted differently in Shanghai, I refrained from telegraphing the above, but I on my part ask you to kindly transmit this message by the best possible way open to you.




The Japanese Camp Authorities allow one letter weekly to be sent out to Shanghai and any country including Unoccupied China and already a few answers have been received. On the other side, I have collected a large number of Red Cross letters and at the same time I have returned a good many answers to the internees, so that Chefoo is not quite off from the outside world.

Dentist and medical arrangements remain the same and patients are receiving their due and proper treatment. Only one grown-up patient (British) had to be taken to the hospital. The hospital bill amounts to FRB$300. The Japanese Camp Director insisted that the hospital had to be paid by the individual person, but the person having no money, the amount was deducted from the monthly allowance, from each internee his share. The bills for the two C.I.M. children having mumps in the Temple Hill hospital have not yet been collected and I hope that they never will. I have tried to secure the Consul's approval to pay in future all medical bills, including medicines. He seems to be quite willing to do so, provided he gets sanction for doing it from his Peking Authorities. Should it against all expectations not be possible, I shall make payments against a suitable receipt as per your Secretariat Circular letter No. 28, dated June 23rd.

I have previously informed you that the Chefoo Camp management insisted on supplying the internees with food etc. pay FRB$4.-- per person per day for the month. Up to now this amount is quite sufficient and they all seem to be able to get along. The Japanese are obliging the compradors to supply all the required provisions at the Japanese fixed prices and a strict control is kept over them, also the quality they deliver. This explains the reason why such a small amount is still sufficient to keep the people going. Knowing your anxieties for the welfare of the children and your great responsibility, I have asked the two medical doctors in the camp for certificates regarding health, expressing their opinion over the diet and present nourishment and you will see that some are quite satisfactory. These certificates should also relieve parents who are far away from being too worried about their children. The total weight of food supplied seems below the weight given in U.S.A., but is sufficient. Should necessity arise, I shall certainly fight for an increase, always taking care that our comfort allowance is really used for comfort only.

Building quarters have been somewhat improved and the rumour of transferring the whole camp to some other place had died down. The Chefoo climate in summer and winter is quite good, better than in Tsingtao.

The school teaching and church services are going on daily, visits are made from compound to compound twice a month, ...




... in addition of every Sunday for Church services, and since the boy-scout movement was introduced in the Camp, the boys and girls are kept busy with themselves.

I left Chefoo convinced that the internees are in good care.

(Signed)

V.E. Egger
Representative for Shantung.
Report RE: Diet of Chefoo Civil Assembly Centre,
House Nos. 5, 6 & 7,
Under the present arrangements regarding finance and supplies, I feel that the diet of these houses is adequate both in quantity and quality.
(Signed) ...
A.N. Howie

, M.D., Ch.B.
July 1st, 1943
Civil Assembly House No. 4, Chefoo, July 1, 1943.
Report RE: Food
I am of the opinion that while this centre is supplied with the money to purchase the food, we contrive to so balance the diet that the children have not yet had any lack of vitamin or other necessary ingredients in their diet to ensure good health. The children always are our first concern.
(Signed) ...
Helen R. Neve

, M.D., Ch.B.