... the Weihsien Notice Board ...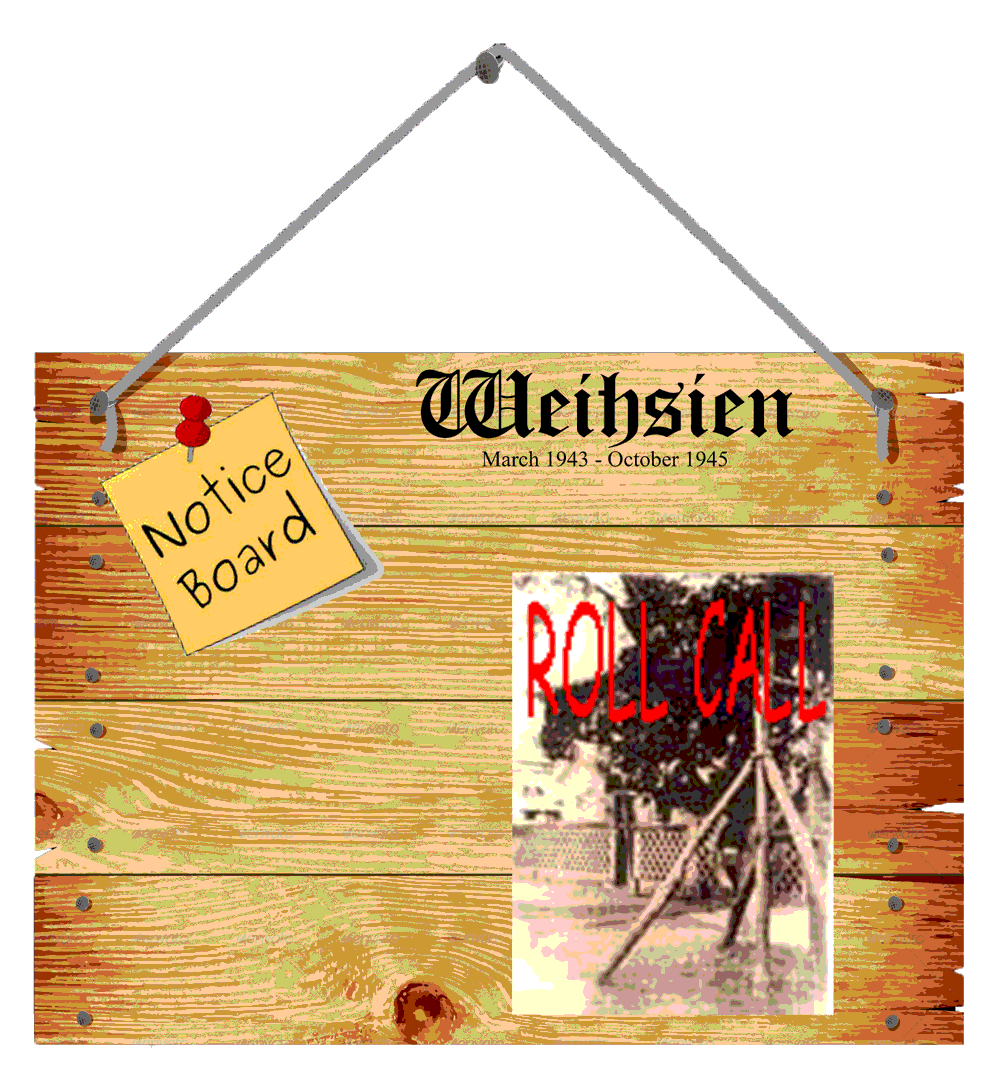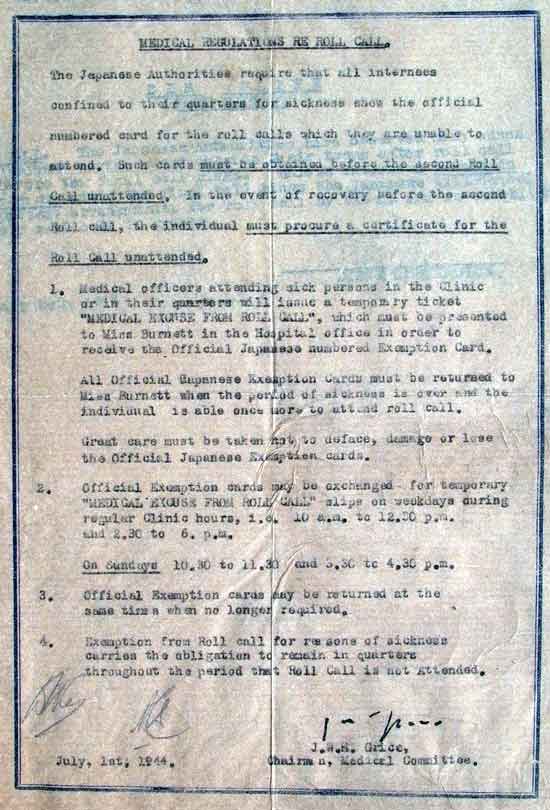 The bell which called the internees to Rollcall twice a day.
The Medical Regulation Re Roll Call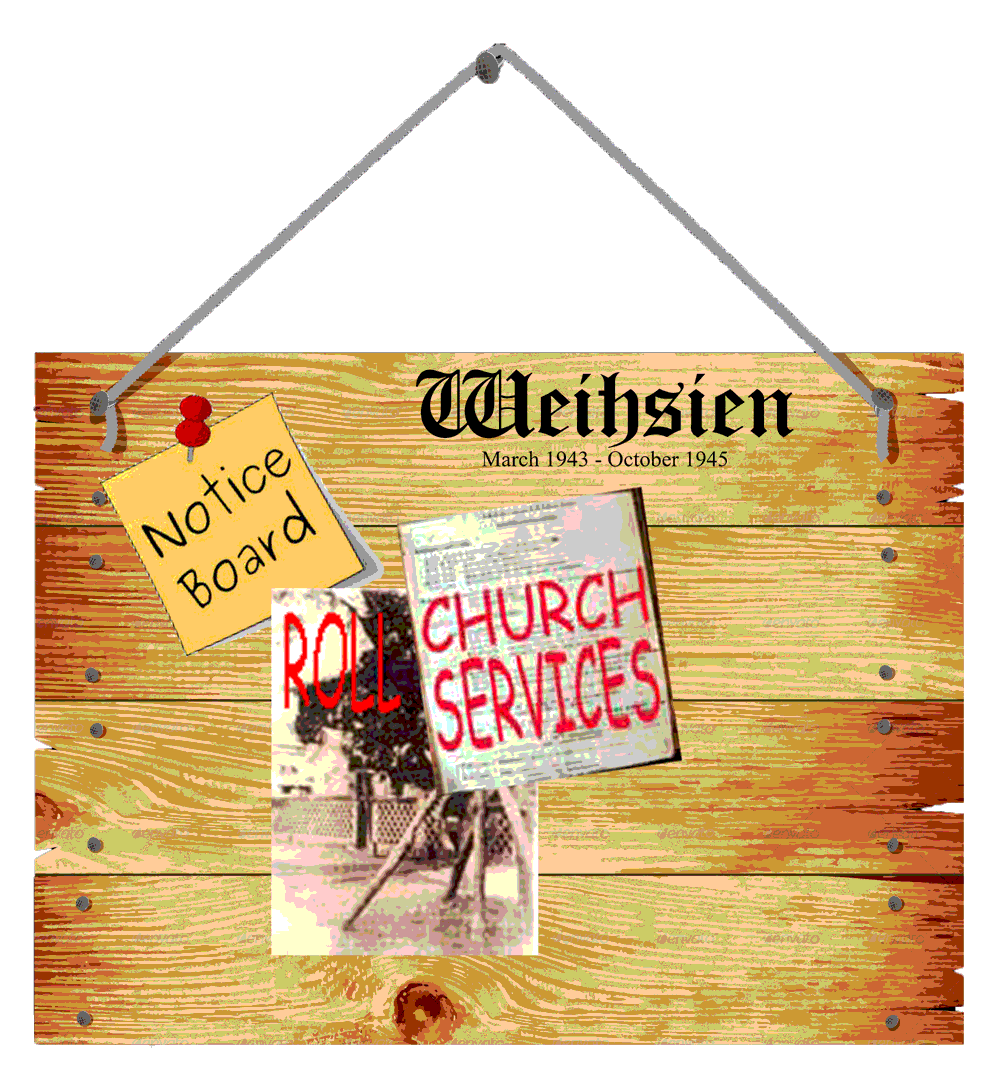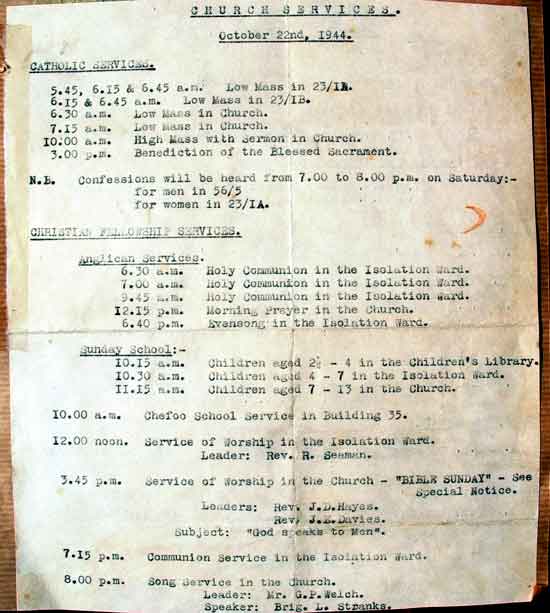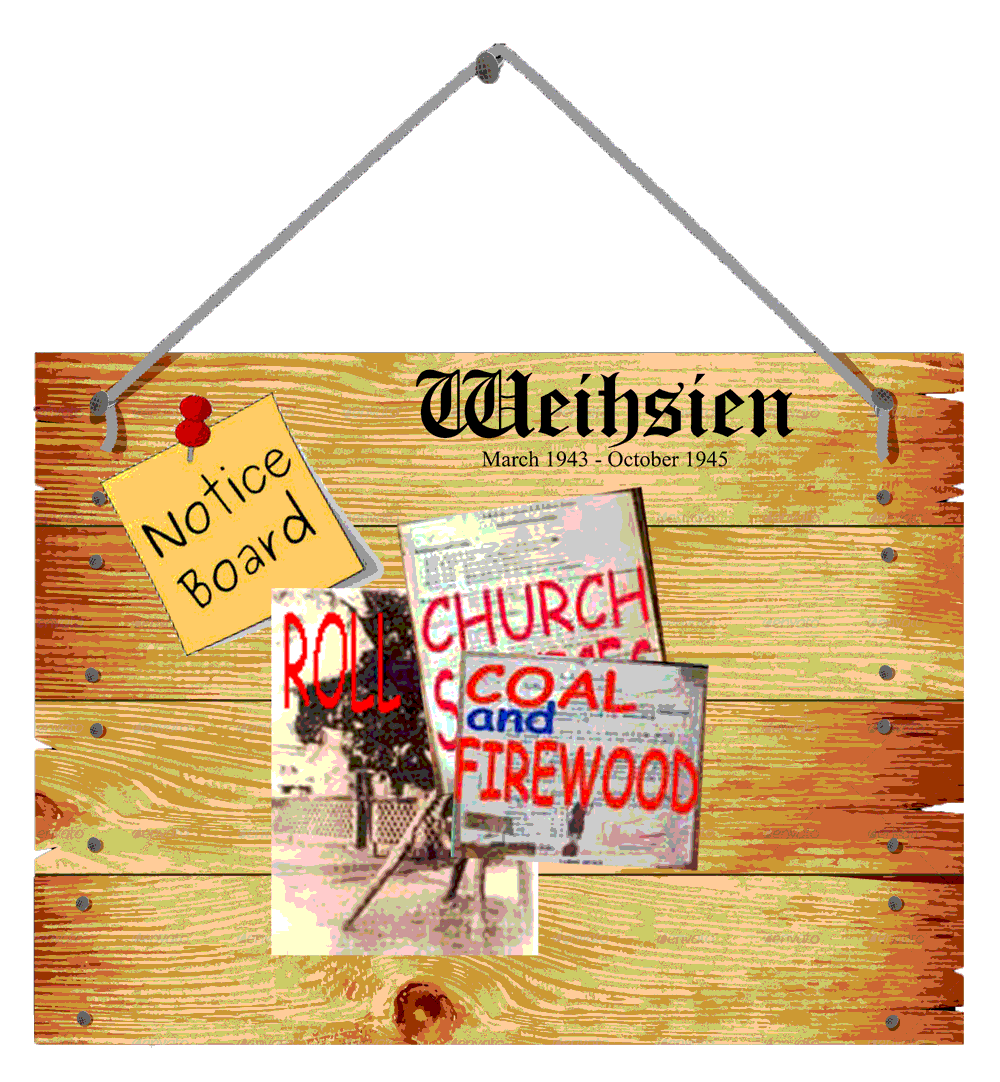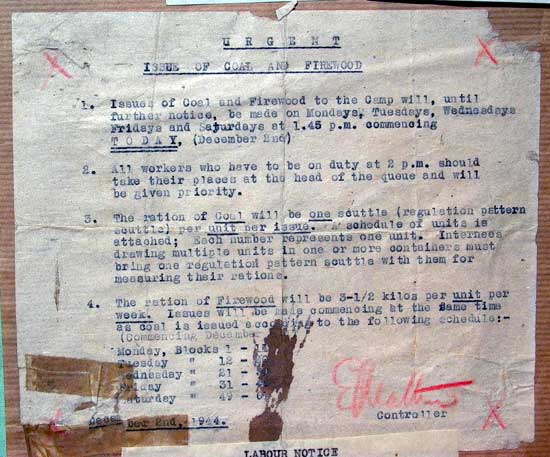 U R G E N T
ISSUES OF COAL AND FIREWOOD
1.
Issues of coal and firewood to the Camp will, until further notice, be made on Mondays, Tuesdays, Weddnesdays, Fridays and Saturdays at 1.45 p.m. commencing T O D A Y, (December 2nd)
2.
All workers who have to be on duty et 2 p.m. should take their places at the head of the queue and will be given priority.
3.
The ration of coal will be one scuttle (regulation patternscuttle) per unit per issue. A schedule of units is attached; each number represents one unit. Internees drawing multiple units in one or mere containers must bring one regulated pattern scuttle with them for measuring their rations.
4.
The ration of Firewood will be 3½ kilos per unitper week. Issues will be made commencing at the same time as coal is issued accordingly to the following schedule: -
Commencing December 2nd.
| | |
| --- | --- |
| Monday, | Blocks 1 - 11 |
| Tuesday, | Blocks 12 - 20 |
| Wednesday, | Blocks 21 - 30 |
| Friday, | Blocks 31 - 48 |
| Saturday, | Blocks 49 - 6[smudge] |
date: December 2nd. 1944
(signed) Controller: E. Halton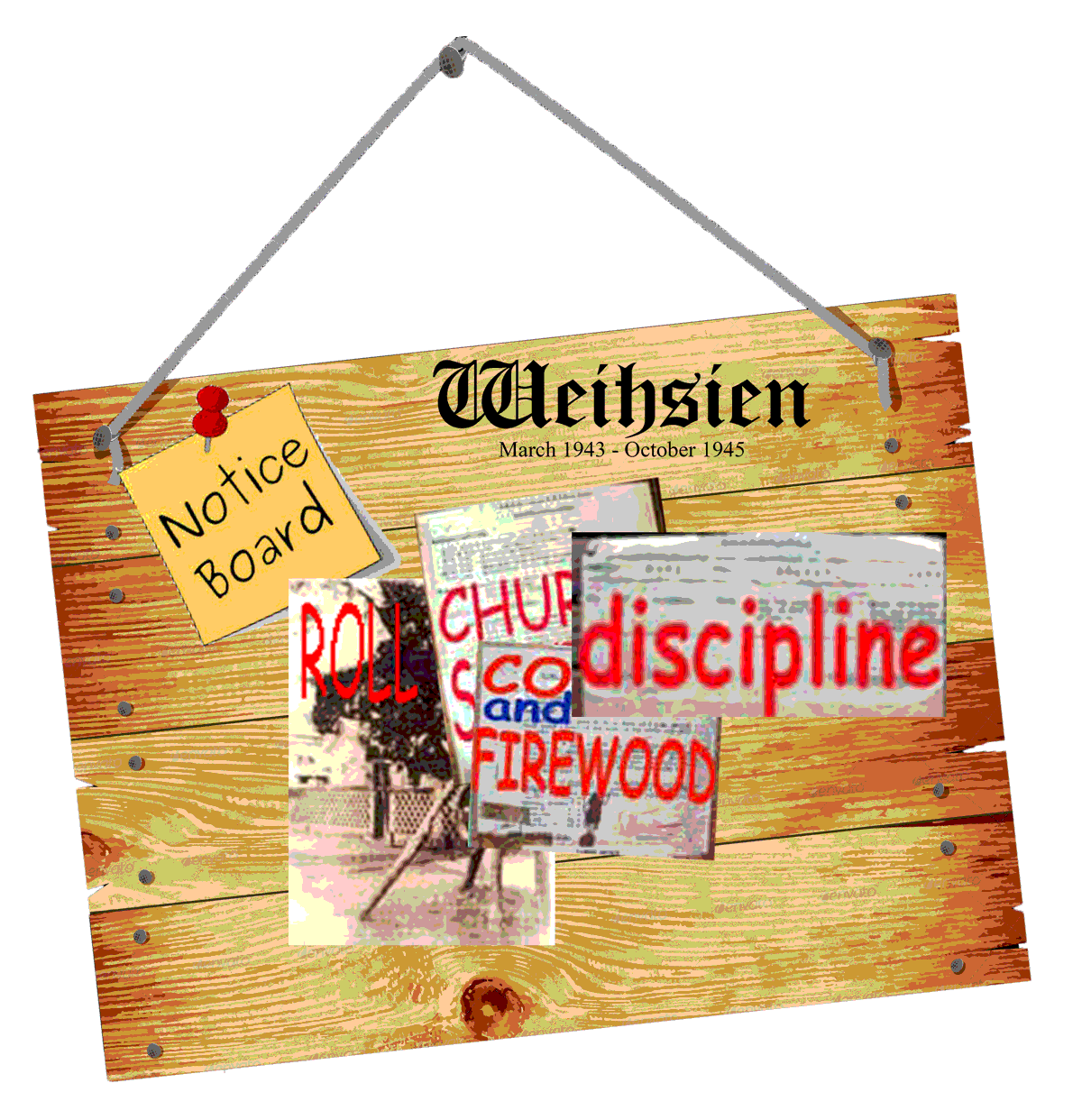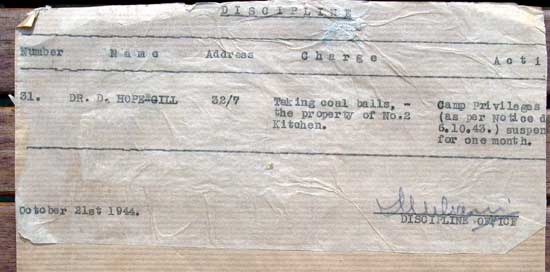 D I C I P L I N E
Prisoner: number 31.
Name: Dr. D. HOPE-GILL
Adress: Block 32/7
Charge: "Taking coal balls, - the property of No.2 Kitchen.
Action: Camp Priviledges ... (as per Notice d... 6/10/43) suspended for one month.
date: October 21st 1944
(signed) ? DICIPLINE OFFICE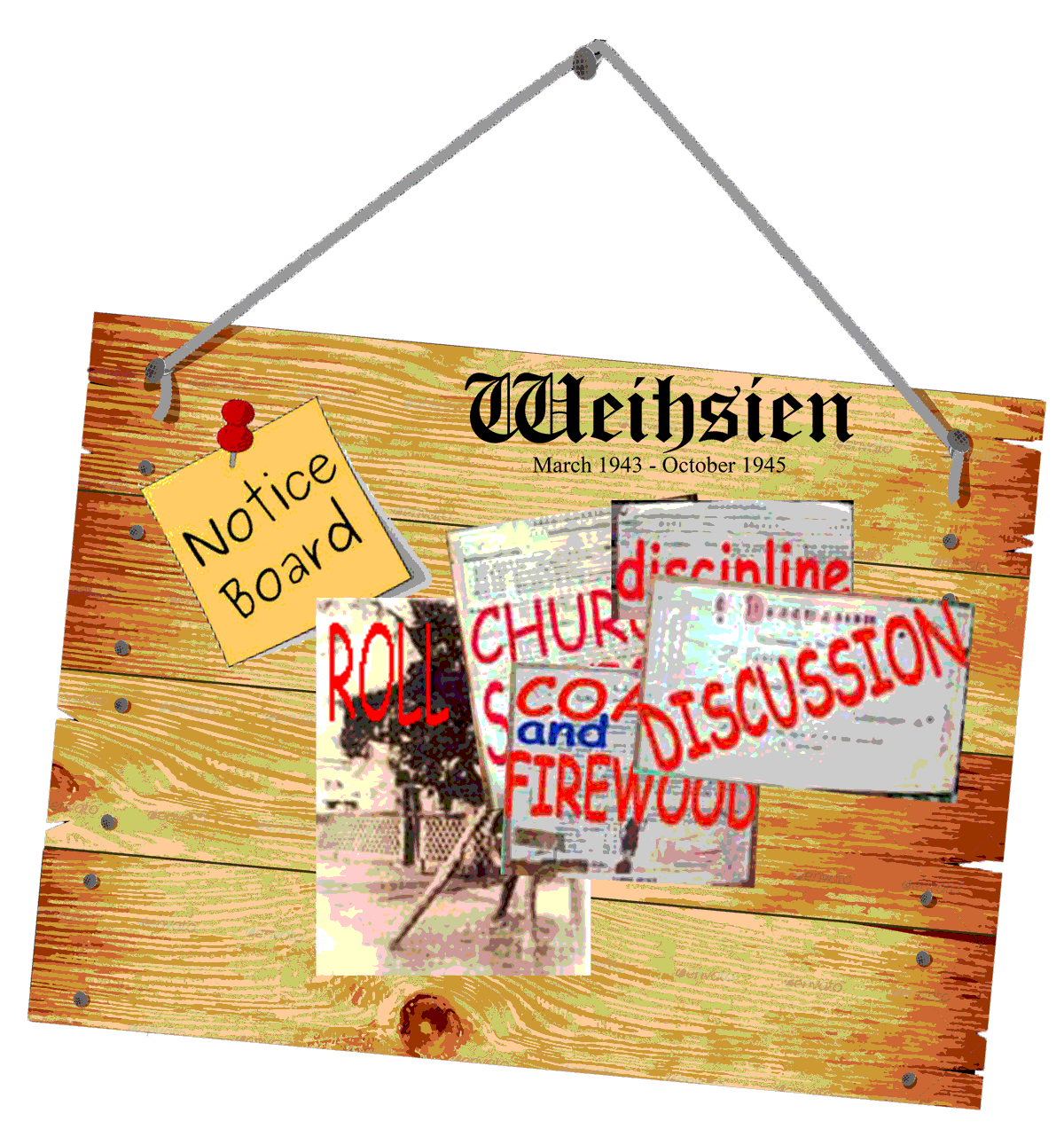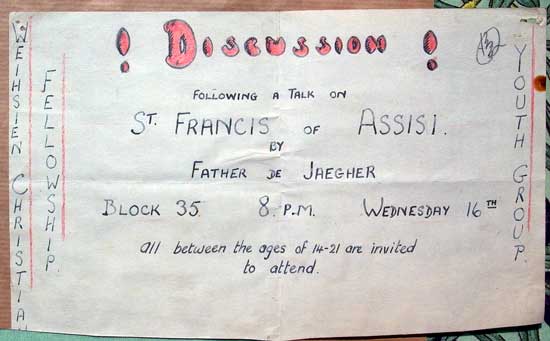 D I S C U S S I O N
WEIHSIEN CHRISTIAN FELLOWSHIP
YOUTH GROUP
Following a talk on Saint Francis of Assisi,
by Father de Jaegher
Block 35
8 P.M. - Wednesday 16th
... all between the ages of 14 - 21 are invited to attend.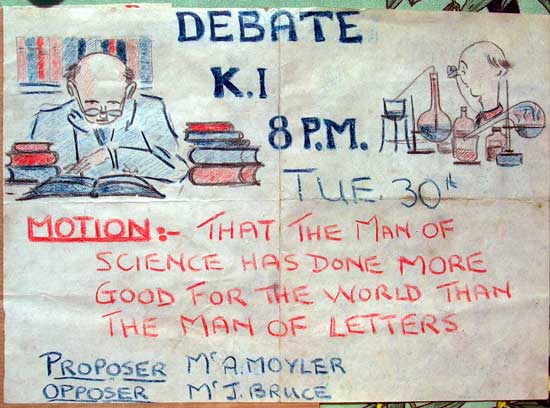 D E B A T E
K. I
8 P.M. Tuesday 30th
MOTION:- Tha the Man of Science has done more Good for the World than the Man of Letters ...
Proposer: Mr. A. MOYLER,
Opposer: Mr. J. Bruce.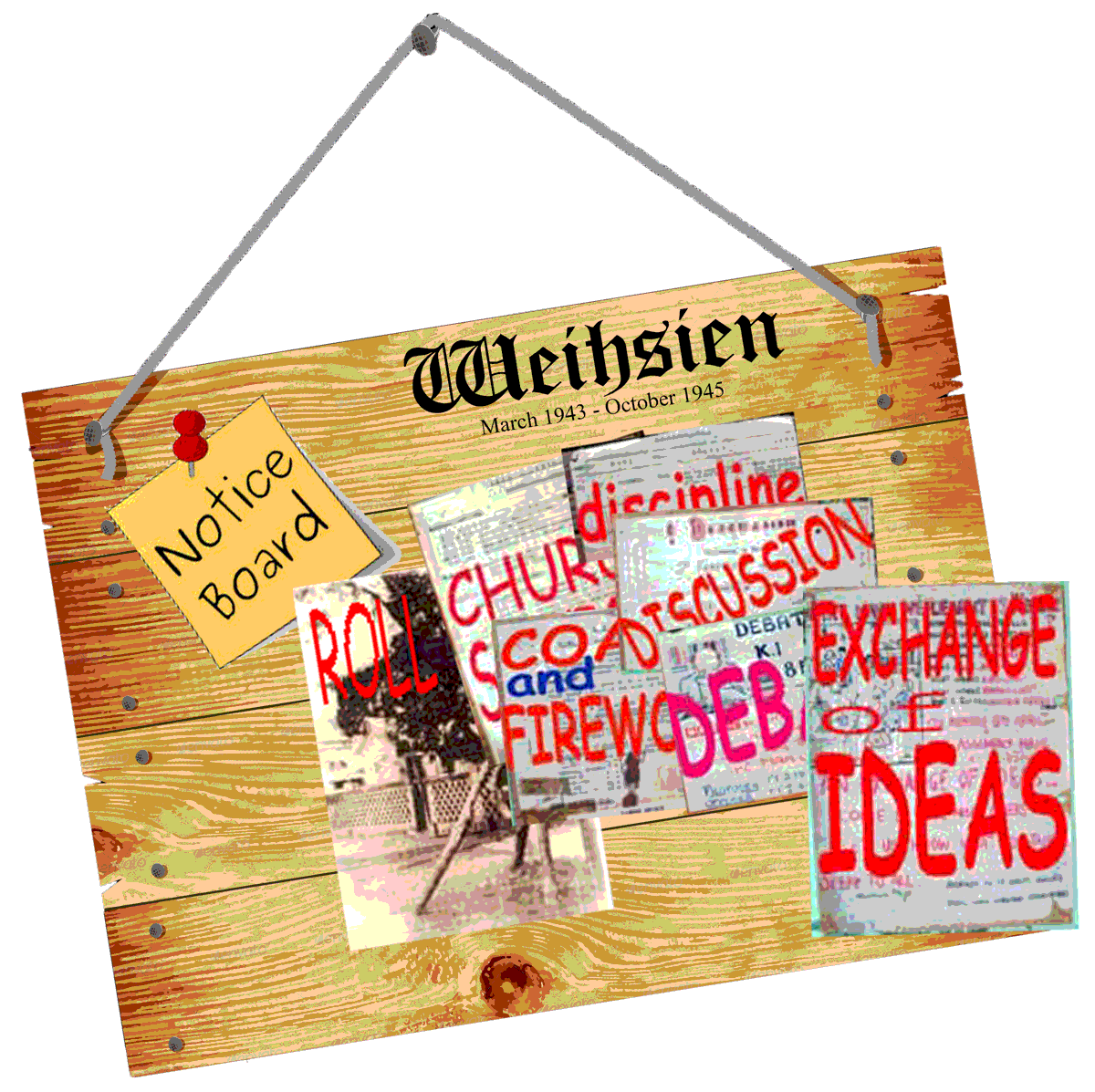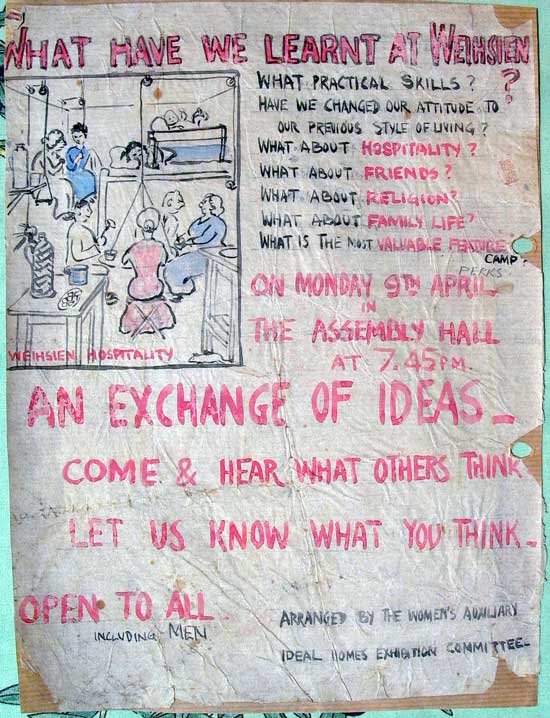 WHAT HAVE WE LEARNT AT WEIHSIEN ?
- What practical skills ?
- Have we changed our attitude to our prvious style of living ?
- What about: HOSPITALITY ?
- What about: FRIENDS ?
- What about: RELIGION ?
- What about: FAMILY LIFE ?
- What is the most: VALUABLE FEATURE ?
Camp Perks ...

On Monday 9th April in the Assembly Hall at 7.45 P.M.

AN EXCHANGE OF IDEAS -

Come & hear what others think ...
Let us know what you think ...

OPEN TO ALL
... including men

Arranged by the Women's auxiliary ideal homes exhibition committee.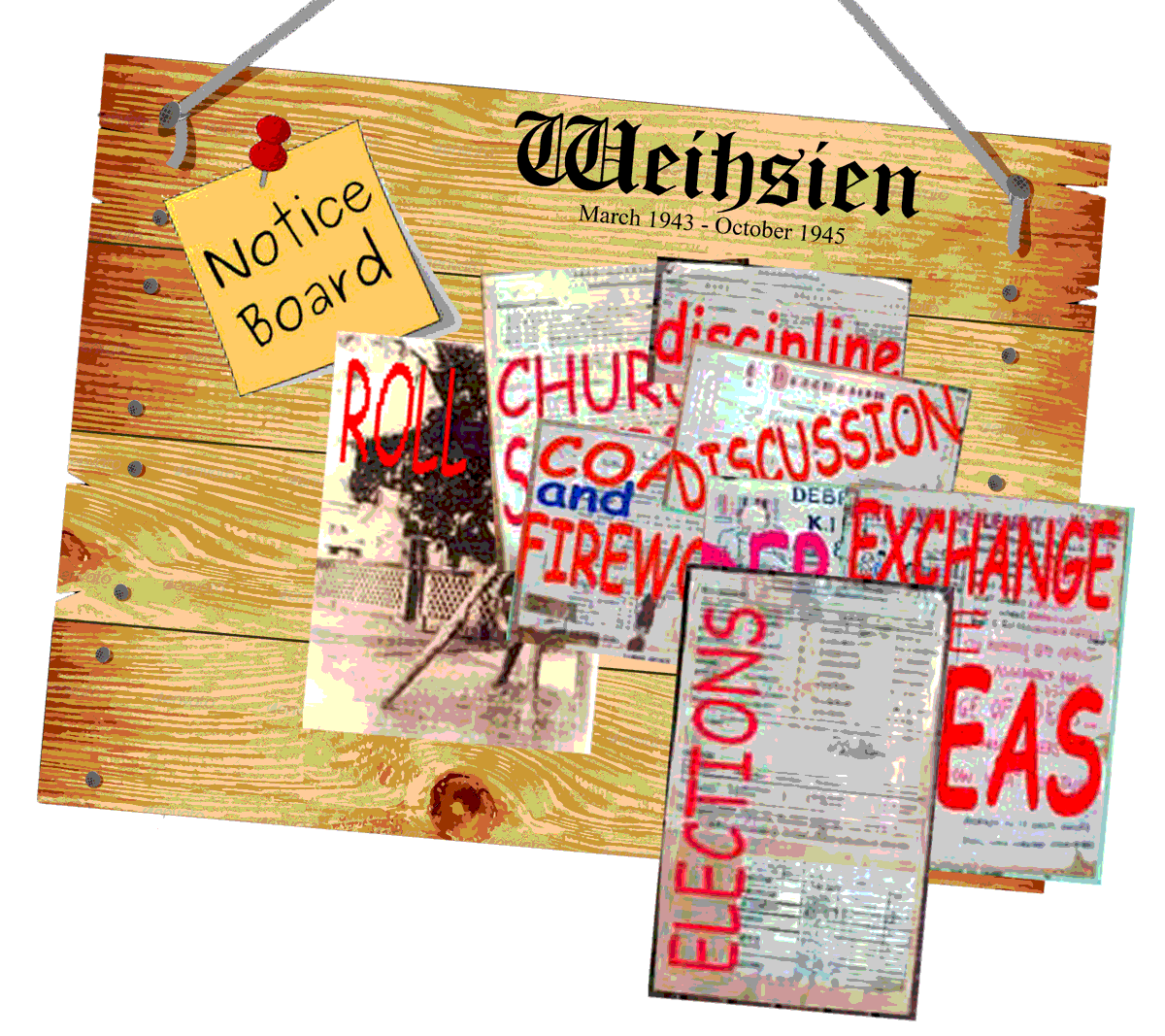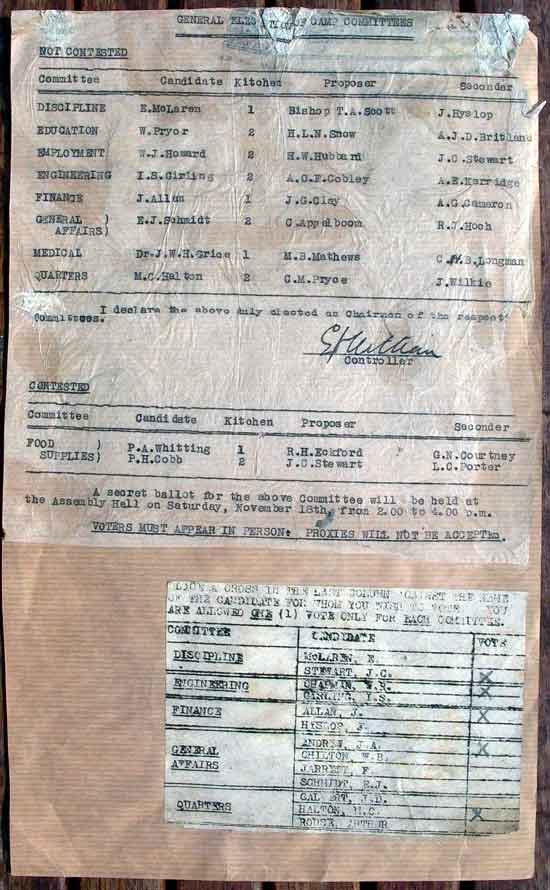 GENERAL ELECTIONS OF CAMP COMMITTEE
NOT CONTESTED
| Committee | Candidate | Kitchen | Proposer | Secondar |
| --- | --- | --- | --- | --- |
| DICIPLINE | E. McLaren | 1 | Bishop T.A. Scott | J. Hyslop |
| EDUCATION | W. Pryor | 2 | H.L.N. Snow | A.J.D. Britland |
| EMPLOYMENT | W.J. Howard | 2 | H.W. Hubbard | J.C. Stewart |
| ENGENEERING | I.B. Girling | 2 | A.O.F. Cobley | A.E. Karridge |
| FINANCE | J. Allun | 1 | J.G. Clay | A.G. Camaron |
| GENERAL AFFAIRS | E.J. Schmidt | 2 | C. Appelboom | R.J. Hoch |
| MEDICAL | Dr. J.W.H. Grice | 1 | M.B. Mathews | C.H.B. Longman |
| QUARTERS | M.C. Halton | 2 | C.M. Pryce | J. Wilkie |
I declare the above duly elected as chairman of the respecti (?) -[smudge]- Committees.
(signed) (?) E. McLaren.

CONTESTED:
| Committee | Candidate | Kitchen | Proposer | Secondar |
| --- | --- | --- | --- | --- |
| FOOD | P.A. Whitting | 1 | R.H. Eckford | G.N. Courteney |
| SUPPLIES | P.H. Cobb | 2 | J.C. Stewart | L.C. Porter |
A secret ballot for the above Committee will be held at the Assembly Hall on Saturday, November 18th, from 2.00 to 4.00 p.m.
VOTERS MUST APPEAR IN PERSON.
PROXIES WILL NOT BE ACCEPTED.

Place a Cross on the last column against the name of the candidate for whom you wish to vote. You are allowed ONE (1) vote only for EACH COMMITTEE.
| COMMITTEE | CANDIDATE | VOTE |
| --- | --- | --- |
| DISCIPLINE | McLAREN, E. | |
| | STEWART, J.C. | X |
| ENGENEERING | CHAPMAN, G.R. | X |
| | GIRLING, I.S. | |
| FINANCE | ALLAN, J. | X |
| | HISLOP, J. | |
| GENERAL AFFAIRS ... | ANDREW, J.A. | X |
| | CHILTON, W.B. | |
| | JARREET, F. | |
| | SCHMIDT, E.J. | |
| QUARTERS | GALLERT; J.D. | |
| | HALTON, M.C. | X |
| | ROUSE, ARTHUR ... | |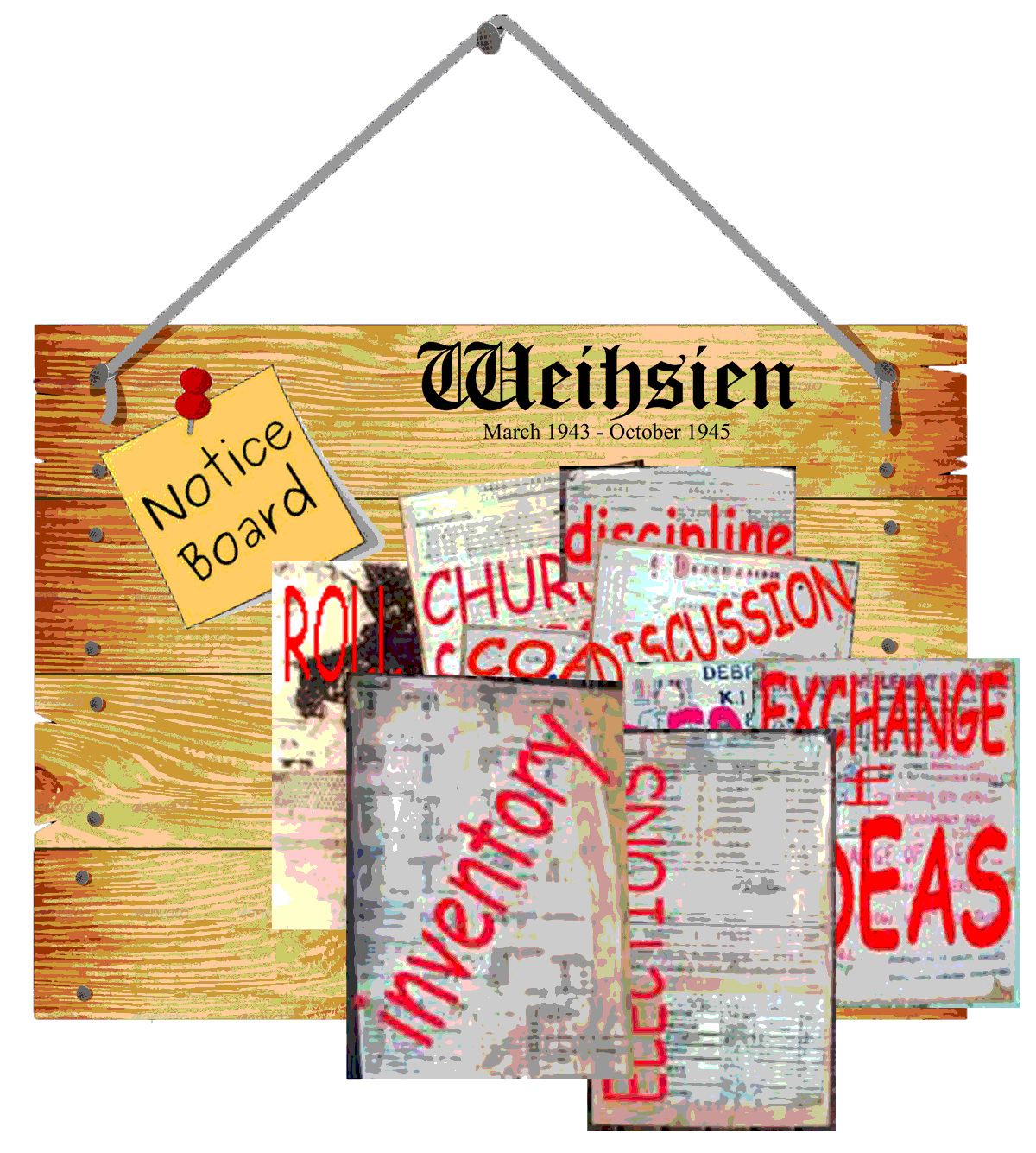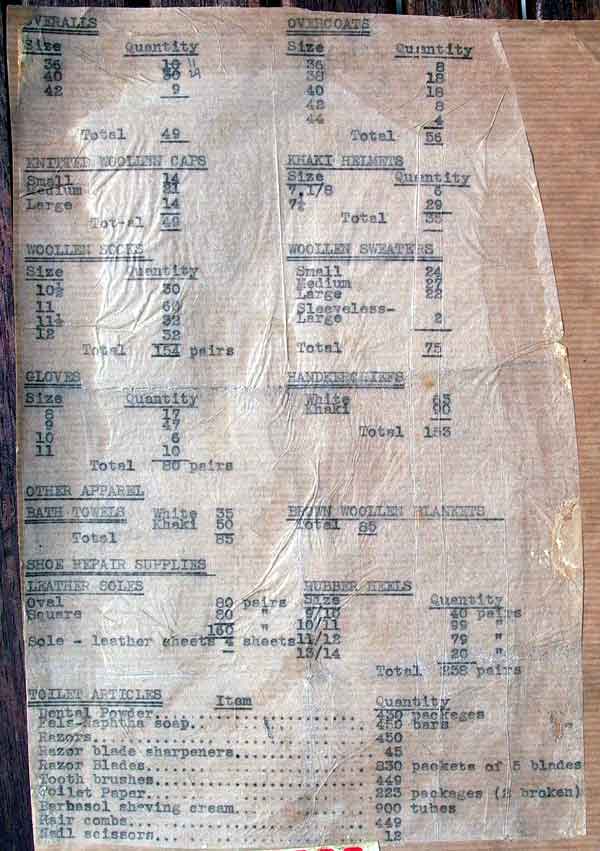 "White Elephant" Stock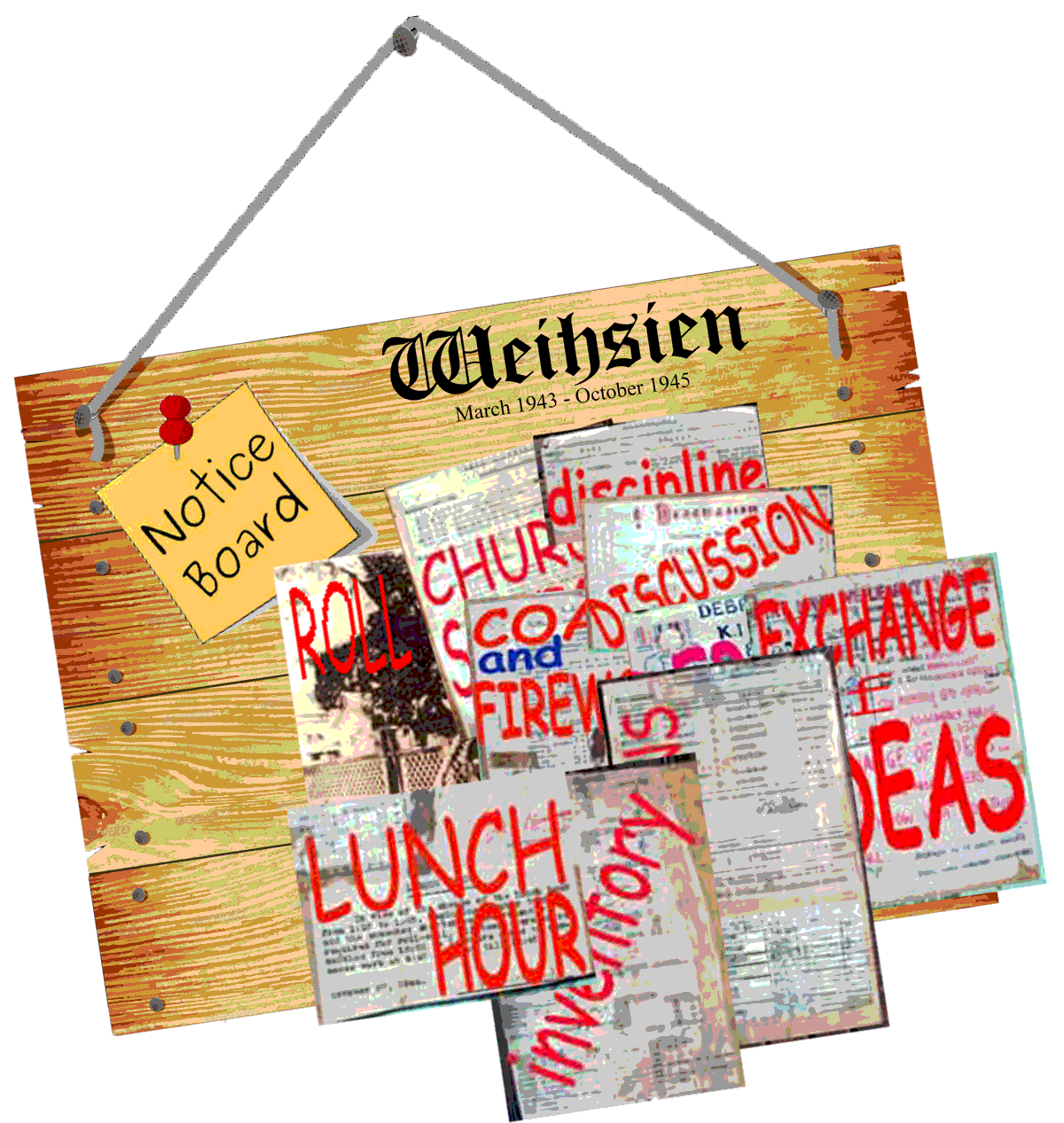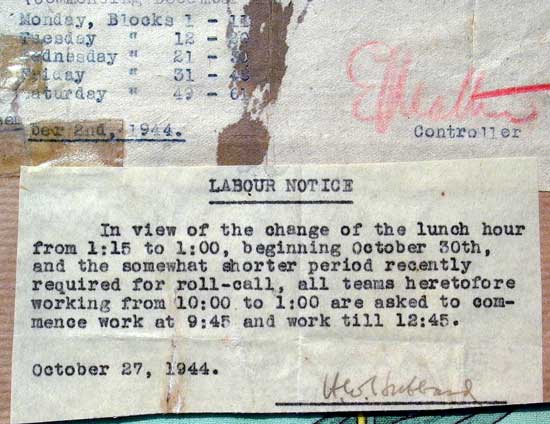 LABOUR NOTICE
in view of the change of the lunch hour from 1:15 to 1:00, beginning October 30th,and the somewhat shorter period recently required for roll-call, all teams heretofore working from 10:00 to 1:00 are asked to commence work at 9:45 and work till 12:45.
October 27, 1944.
(signed): (?) W.H. Hubbard.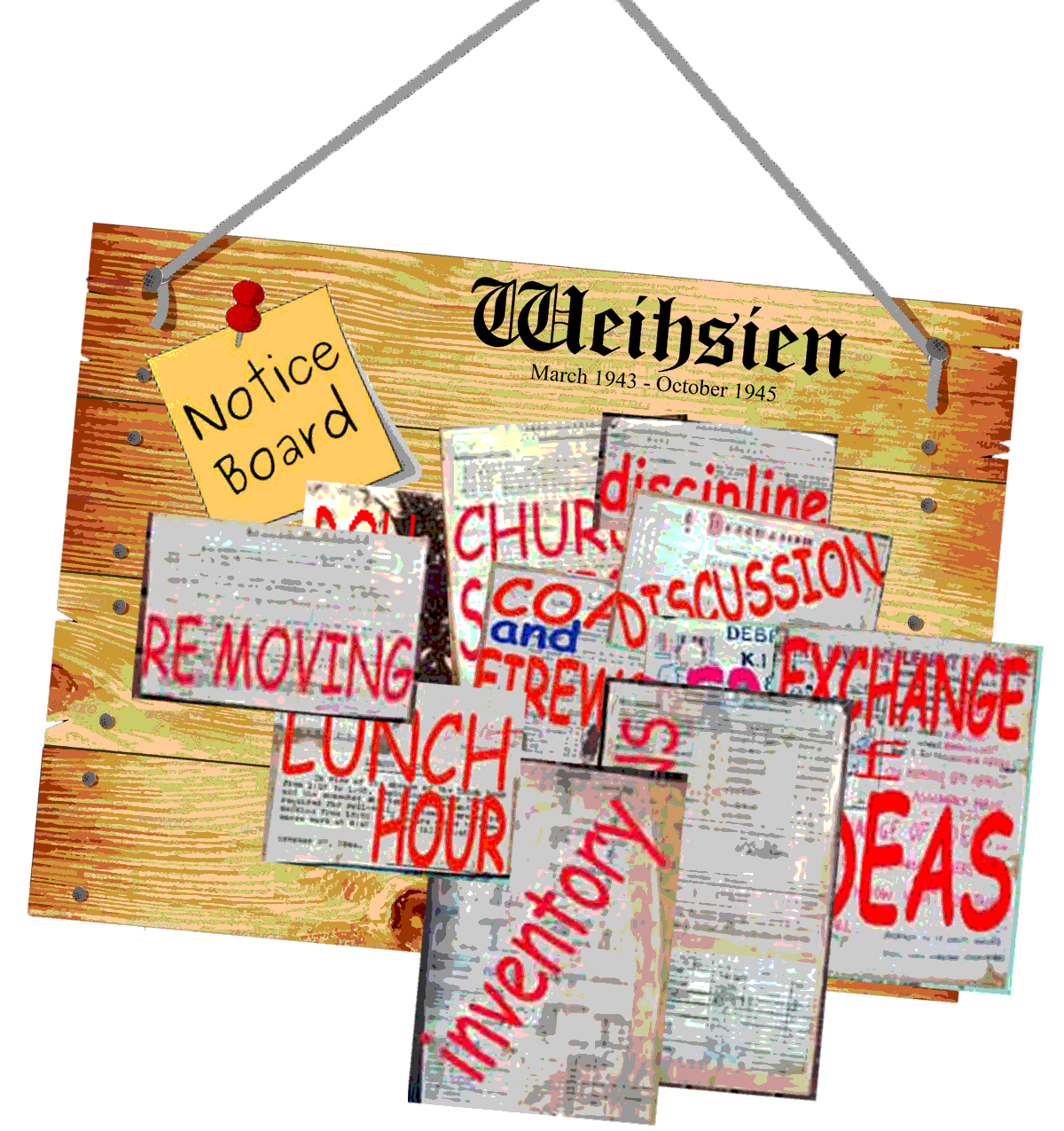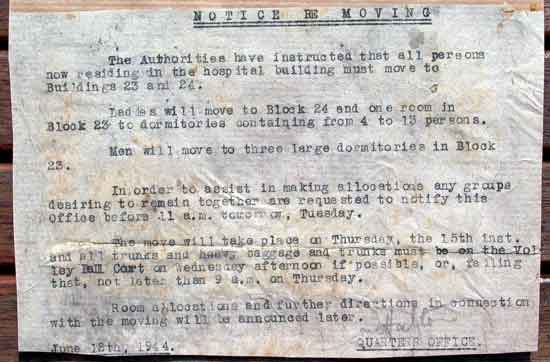 NOTICE RE MOVING

The Authorities have instructed that all persons now residing in the camp hospital building must move to Buildings 23 and 24.

Ladies will move to Block 24 and one room in Block-23 to dormitories containing from 4 to 12 persons.

Men will move to three large dormitories in Block-23.

In order to assist in making allocations any groups desiring to remain together are required to notify this office before 11 a.m. tomorrow, Tuesday.

The move will take place on Thrsday, the 15th inst. and all trunks and heavy baggage and trunks must be on the Volleyball Court on Wednesday afternoon if possible, or, failing that, not later than 9 a.m. on Thursday.

Room allocations and further directions in connection with the moving will be announced later.

June 18th, 1944
(signed): QUARTERS OFFICE. (?)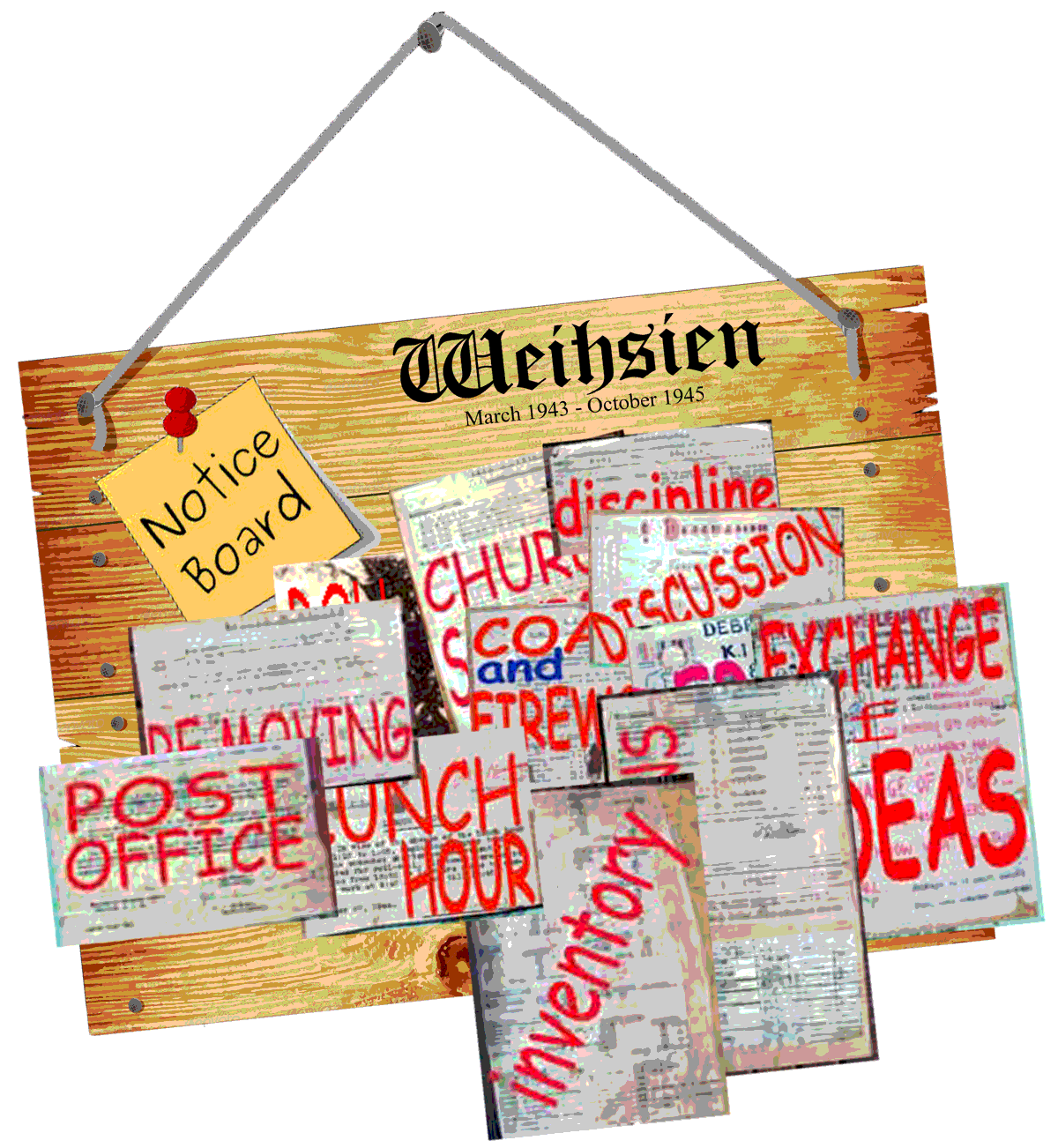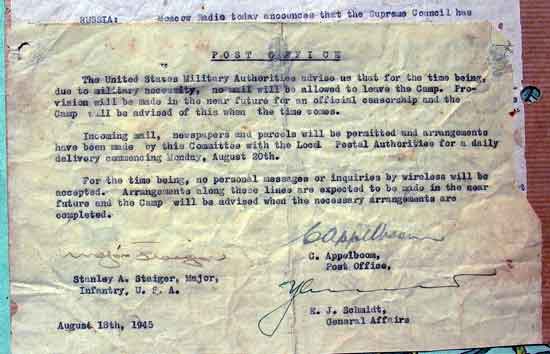 POST OFFICE

The United States Military Authorities advise us that for the time being, due to military necessity, no mail will be allowed to leave the Camp. Provision will be made in the near future for an official censorship and the Camp will be advised of this when the time comes.

Incoming mail, newspapers and parcels will be permitted and arrangements have been made by this Committee with the Local Postal Authorities for a daily delivery commencing Monday, August 20th.

For the time being, no personal message or inquiries by wireless will be accepted. Arrangements along these lines are expected to be made in the near future and the Camp will be advised when the necessary arrangements are completed.

(signed):
Stanley A. Staiger, Major, Infantry, U.S.A.
C. Appelboom, Post Office,
E.J. Schmidt, General Affairs,

August 18th, 1945.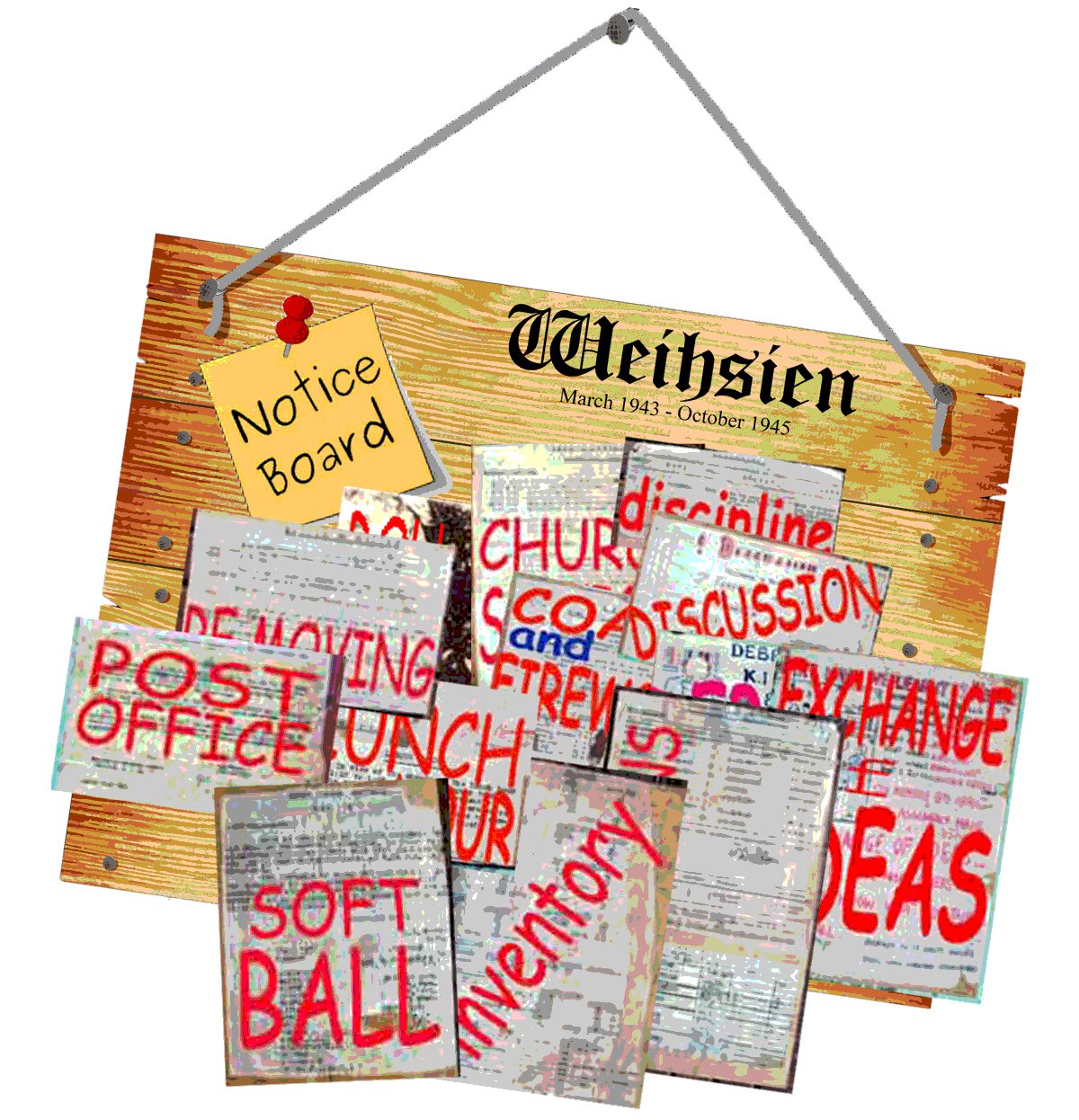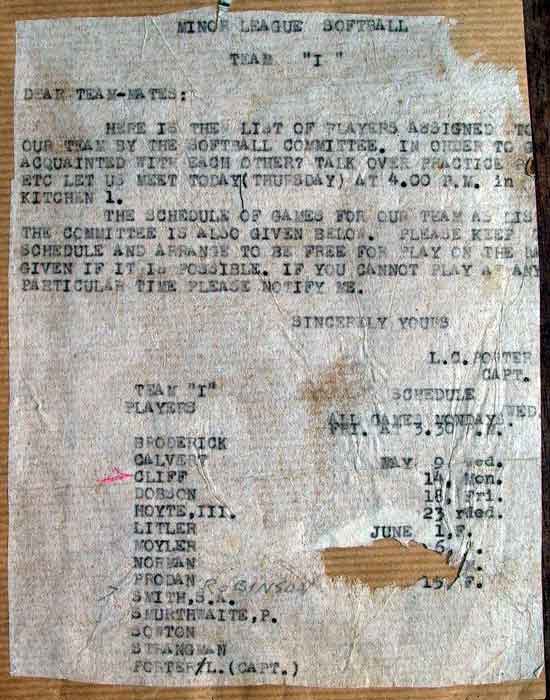 MINOR LEAGUE SOFTBALL
TEAM "I"

Dear Team-Mates:
Here is the list of players assigned to our team by the Softball Committee. In order to get acquainted with each other, talk over practice etc. let us meet today (Thursday) at 4.00 P.M. in Kitchen 1.

The schedule of games for our team as listed by the Committee is also given below. Please keep this schdule and arrange to be free for play on the date given if it is possible. If you cannot playu at any particular time please notify me.

Sincverely Yours,
L.C. Porter (Capt.)

TEAM "I" - PLAYERS

BRODERICK - CALVERT - CLIFF - DOBSON - HOYTE III - LITLER - MOYER - NORMAN - PRODAN - ROBINSON - SMITH S.A. - SMURTHWAITE, P. - SONTON - STRANGMAN - PORTER L. (CAPT.)

SCHEDULE
All Games: Monday, Wednesday, Friday at 3.30 P.M.
MAY 9, Wed. - 14, Mon. - 18, Fri. - JUNE - etc. (big smudge)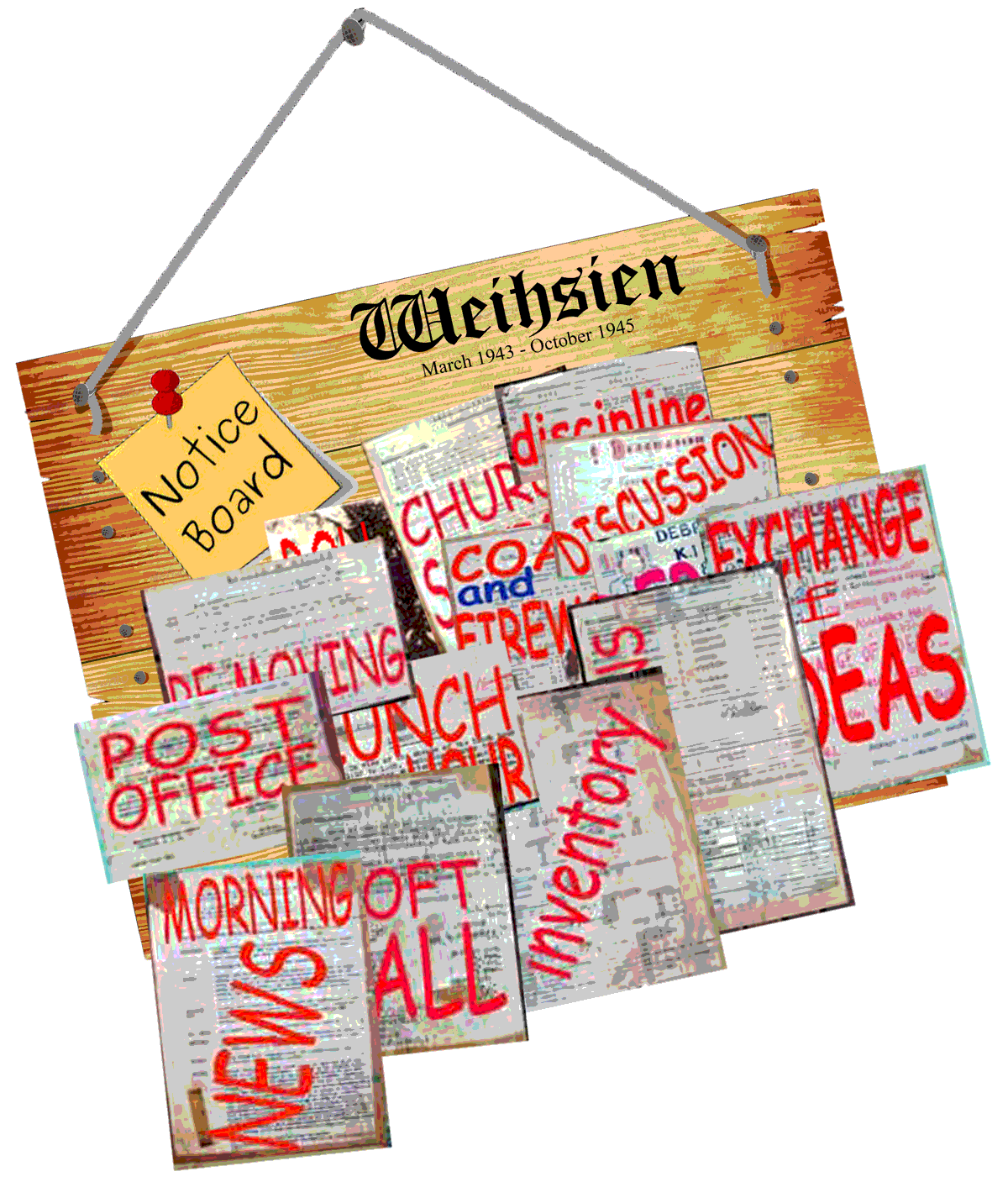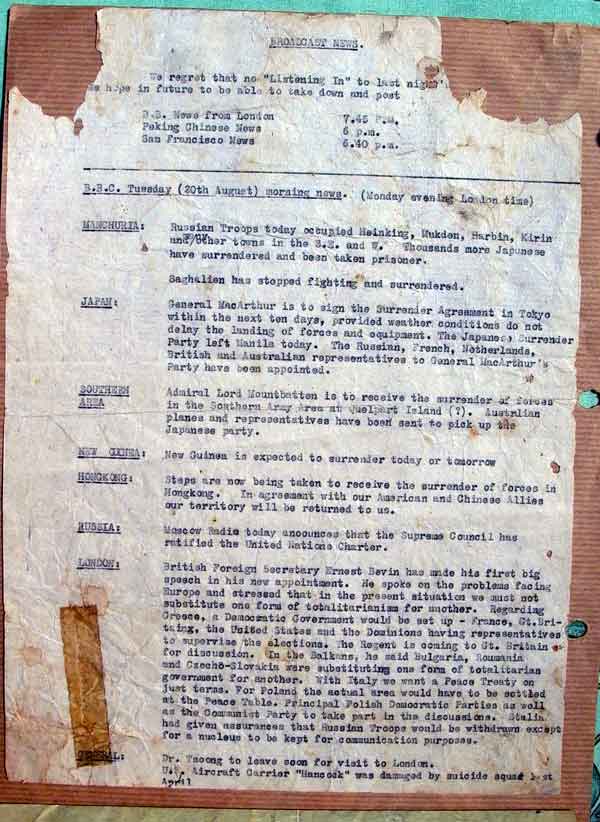 BROADCAST NEWS
We regret that no "Listening In" to last night [smudge] ...
We hope in future to be able to take down and post.
B.B. News from London ... 7.45 p.m.
Peking Chinese News ...... 6 p.m.
San Francisco News ........ 6.40 p.m.

B.B.C. Tuesday (20th August) morning news. (Monday evening London time).

MANCHURIA:
Russian Troops today occupied Heinking, Mulden, Harbin, Kirin and many other towns in the S.E. and W. Tousands more Japanese have surrendered and been taken prisoner.
Saghalien has stopped fighting and surrendered.

JAPAN:
General MacArthur is to sign the Surrender Agreement in Tokyo within the next ten days, provided weather conditions do not delay the landing of forces and equipment. The Japanese Surrender Party left Manila today. The Russian, French, Netherlands, British and Australian representatives to General MacArthur's Party have been appointed.

SOUTHERN AREA:
Admiral Lord Mountbatten is to receive the surrender of forces in the Southern Army Area at Quelquepart Island (?). Australian planes and representatives have been sent to pick up the Japanese party.

NEW GUINEA:
New Guinea is supposed to surrender today or tomorrow.

HONGKONG:
Steps are now being taken to receive the surrender of forces in Hongkong. In agreement with our American and Chinese Allies our territory will be returned to us.

RUSSIA:
Moscow Radio today announces that the Supreme Council has ratified the United Nations Charter.

LONDON:
British Foreign Secretary Ernest Bevin has made his first big speech in his new appointment. He spoke on the problem facing Europe and stressed that in the present situation we must not substitute one form of totalitarianism for another. Regarding Greece, a Democratic Government would be set up - France, Gt. Britain, the United States and the Dominions having representatives to supervise the elections. The Regent is coming to Gt. Britain for discussion. In the Balkans, he said Bulgaria, Romania and Czecho-Slovakia were substituting one form of totalitarian government for another. With Italy we want a Peace Treaty on just terms. For Poland the actual area would have to be settled at the Peace Table. Principal PolishDemocratic Parties as well as the Communist Party ti take part in the discussions. Stalin had given assurances that Russian Troops would be withdrawn except for a nucleus to be kept for communication purposes.

GENERAL:
Dr. Tsoong to leave soon for visit to London.
U.S. Aircraft Carrier "Hancock" was damaged by suicide squad 1st April.

#

End of page ...