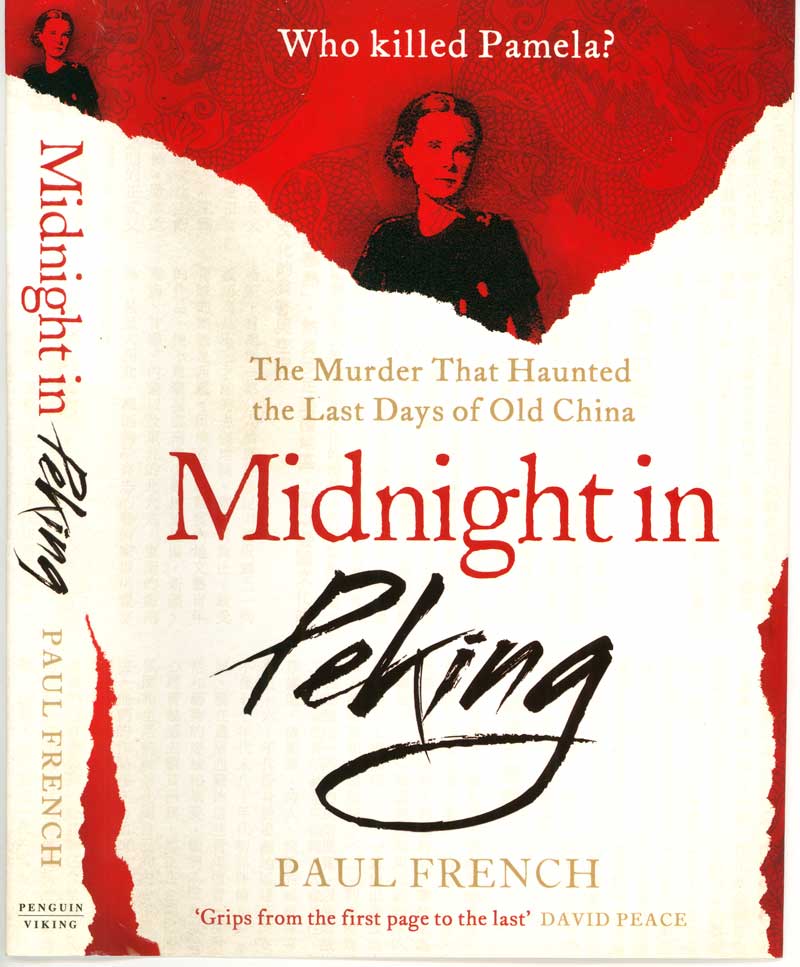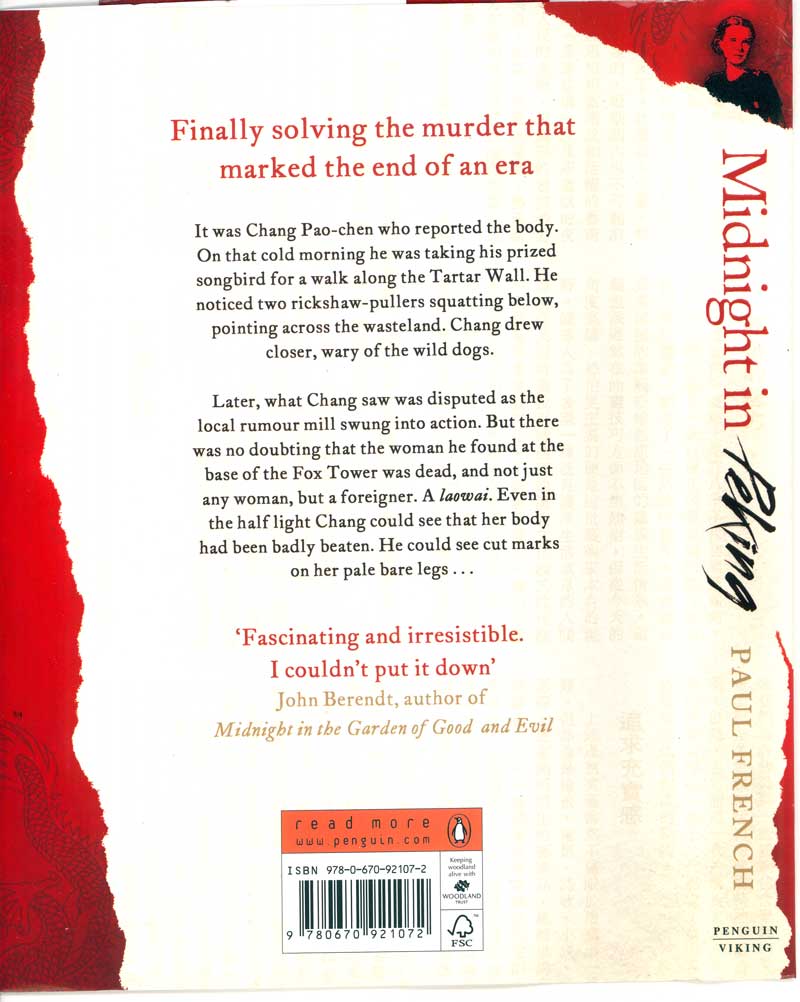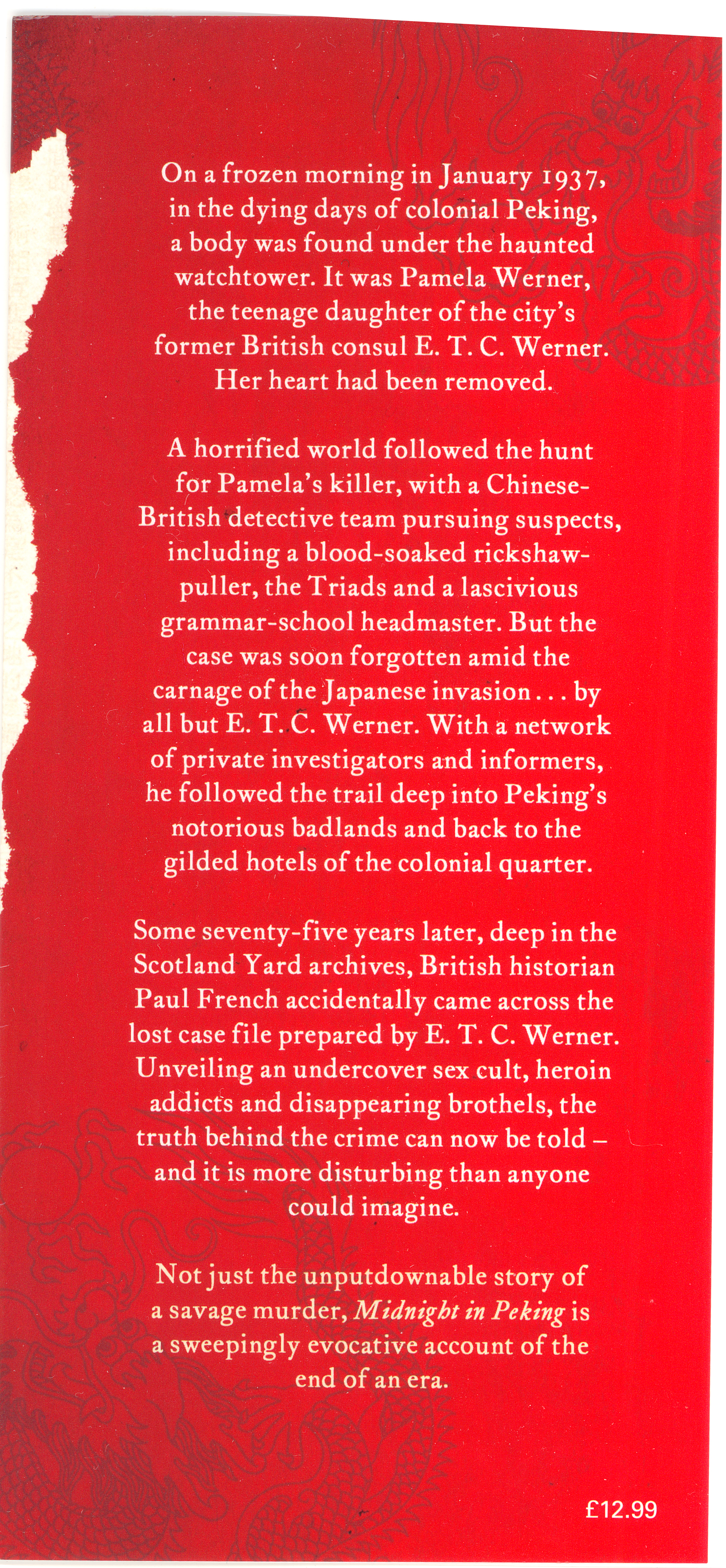 Midnight in Peking
`Midnight in Peking takes us back to 1937 and the brutal unsolved murder of an English schoolgirl in a city on the edge of an abyss ... Paul French wonderfully evokes that place in that time and, amazingly, brings some sense of closure to this long-forgotten mystery' David Peace, author of the Red Riding Quartet and The Damned United



`Clue by clue, Paul French uncovers the truth of the bizarre murder case that shocked Peking in 1937. In doing so, he draws a chilling portrait of the city's decadent, violent and overly privileged expatriate community. It is a feat comparable to that of White Mischief. Fascinating and irresistible. I couldn't put it down' John Berendt, author of Midnight in the Garden of Good and Evil

`A compelling mystery story set in a sweeping historical context, full of persuasive detail and strongly drawn characters. Keeps you enthralled to the end' Jonathan Fenby, author of The Penguin History of Modern China

`Terrific, engrossing ... a gruesome tale of a hitherto forgotten case, and of the sheer tenacity of a grieving father' Bookseller

`Paul French carries the reader on a journey through Peking's twisting streets and equally twisted politics. The result is a real-life story as suspenseful as any modern thriller' Deborah Blum, author of The Poisoner's Handbook

Riveting. As Paul French slowly unravels the clues, he reveals a crime more shocking than anyone had ever imagined. This is a difficult book to put down' Library Journal

`French is a talented storyteller, rolling out the plot step by step, to ensure that we must keep reading' South China Morning Post

`Midnight in Peking magically captures a strange, largely unknown time and place in modern history. It is not just a thrilling procedural. It is wise and compassionate and deeply human — an astonishing achievement' Douglas Perry, author of The Girls of Murder City

www.midnightinpeking.com

From TOPICA - Messages .....
September 2010
From: Jonathan Henshaw
Sent: Thursday, September 30, 2010 4:49 PM
Subject: WB Prentice

Thank you both to Mr Bridge and Ms Foster...it sounds quite possible that these are one and the same individual. Prentice's partner could well have been Dutch Indonesian, but I don't yet have information on that (still looking, though!).

Ms Foster, could you be any more specific about what he had a bad reputation for or how the staff at the Girls' School reacted? I would like to be a bit more certain it is the same individual before posting what I have found here on Topica. My email is jonathan.mylastname@ualberta.ca --I have written it that way to avoid spam.

Jonathan Henshaw
From: Kathleen Foster
Sent: Thursday, September 30, 2010 10:02 AM
Subject: RE: WB Prentice

Hello Jonathan,
Was there only one dentist? I certainly remember a dentist who had a surgery in part of the hospital. He took out one of my teeth and gave me some brandy when I fainted at the door. Not having asked permission, I arrived back at the girl's school smelling of brandy and minus a tooth. I was in trouble, since he and his partner (Dutch?) had a bad reputation. I thought they were from Indonesia.

Kathleen Foster (Strange)
From: Ron Bridge
Sent: Thursday, September 30, 2010 12:26 PM
Subject: RE: WB Prentice

Wentworth Baldwin PRENTICE b 1894 was in Weihsien Block 23 Room 10 his no was RK Prentice 69 Mills St Morristown NJ USA.
Quote Prior to internment in mid March 1943 he had practised in Peking ( Beijing) and to quote Internationall Red Cross Report.
All dental equipment is the personal property of WB Prentice and was brought by him from Peking Sufficient equipment was available for fillings and extractions but equipmnet for Crown, Bridge and prosthetic work are lacking. Unquote.
from this I would suspect that he had been in priavte practice in Peking.

Rgds
Ron


From: Jonathan Henshaw
Sent: Thursday, September 30, 2010 4:49 PM
Subject: WB Prentice

Thank you both to Mr Bridge and Ms Foster...it sounds quite possible that these are one and the same individual. Prentice's partner could well have been Dutch Indonesian, but I don't yet have information on that (still looking, though!).

Ms Foster, could you be any more specific about what he had a bad reputation for or how the staff at the Girls' School reacted? I would like to be a bit more certain it is the same individual before posting what I have found here on Topica. My email is jonathan.mylastname@ualberta.ca --I have written it that way to avoid spam.

Jonathan Henshaw


From: Ron Bridge
Sent: Friday, October 01, 2010 10:56 AM
Subject: RE: WB Prentice

I would say that it is certainly the same person dentists at that time in North China were about as plentiful as Hen's teeth. Also as the reprot says it his his own kit suggests that he was in private practice and not at one of the big medical centres.
Rgds
Ron Bridge


From: Jonathan Henshaw
Sent: Friday, October 01, 2010 7:39 PM
Subject: Re: WB Prentice
Hello Weihsieners,
I happened onto this issue with Dr Prentice while reading the memoirs of ETC Werner. There was very little, only a few sentences, that described Weihsien, but a very large report on his investigations about the murder of his daughter, Pamela Werner. After googling, I found the information below:
*****
From vagabond to journalist: Edgar Snow in Asia, 1928-1941 [click here]
During the months that Snow was writing Red Star over China he not only had to wrestle with a rush of significant historical events in China and in Europe, but also endured a host of personal distractions. Perhaps the most bizarre was a macabre murder that took place too close to the Snows' home for comfort.
On January 8 the mutilated body of nineteen-year-old Pamela Werner was found in a deep ditch along the road that ran by the ancient Tartar City Wall.
Foster Snow frequently road her bicycle along this road on her way home at night.
Pamela was the daughter of the deceased wife of E.T.C. Werner, seventy-two-year-old former member of the British Consular Service and now reclusive writer, and another man. Pamela's heart and lungs had been removed through a surgically neat circle cut in her diaphragm. There was evidence of recent sexual intercourse. She reportedly had an appointment with a dentist, Dr. Prentice, was was rumoured to belong to a love cult, and whom the elder Werner accused of the murder. Others suspected Werner himself. Still others noted the body carried the hallmarks of a ritual Chinese murder. The crime was never solved.
It did, however, generate a potent mix of gossip and speculation that made the Snows question their earlier decision to take advantage of the were-fox legend in moving into their home on Kuei Chia Chang and lose a little faith in the sense of secruity and privilege that Westerners characteristically enjoyed living in Peking. -- pg 275.
*****
From the Wall Street Journal (plugging a book that will be published next year):
On a freezing Beijing morning in early January 1937, with the Japanese Imperial Army poised to invade China, American journalist Helen Foster Snow stumbled across a horrible find under the city's ancient walls—the murdered, eviscerated body of 16-year-old English schoolgirl Pamela Werner. Down the street, Ms. Snow's husband, Edgar Snow, was writing his classic book, "Red Star Over China," a sympathetic account of Mao Zedong's guerilla army. Of similar height and build, Ms. Snow wondered: Had an anti-Communist killer meant to strike her?
Scotland Yard's suspects included an unknown psychopath; Ms. Werner's dentist, the American Dr. Prentice, who ran a swingers' club (a "love cult" in 1930s parlance) to which the schoolgirl belonged; and the victim's own father. The killer was never found.
*****
From the publisher's website:
A Peking Murder: Or Murder at Fox Tower by Paul French
: On a winter's night in 1930's Peking, as Japanese troops waited on the edges of the city, set to invade, the body of a 16 year old English girl, Pamela Werner was discovered. Dumped underneath the ancient FoxTower, she had been brutally murdered and disemboweled. The crime shocked and terrified an already nervous international community, who were anxiously living out a privileged colonial-era existence that was soon to come to an end.
British Embassy officials were keen to pin the blame on the local Triad mafia. Edgar Snow, the American writer with unique access to Mao's inner circle, believed anti-Communist elements may have in fact mistaken Pamela for his wife, Helen, as the body was found not far from his own courtyard house.
Joint investigations between dogged Chinese and British detectives soon uncovered the shady secrets of Peking's international society. By week, Pamela was a high school border in nearby Tiantsin and player on the hockey team; at weekends, however, she posed for glamour photographs and frequented a swingers club of older men and young women, run by an American dentist.
*****
Looking at the camp roster, I noticed that there was an American dentist by the name of Prentice at Weihsien, and he was sent there from Peking. Werner doesn't mention a specific name in his memoir, although he claims that the identity of the killers was an open secret, but it is hard to imagine that both he and the man he believed killed his daughter were in the camp without a certain amount of tension being generated. Does anyone else recall anything further on Prentice or his partner? or about Werner?
With thanks,
Jonathan
Yard's suspects included an unknown psychopath; Ms. Werner's dentist, the American Dr. Prentice, who ran a swingers' club (a "love cult" in 1930s parlance) to which the schoolgirl belonged; and the victim's own father. The killer was never found.
From: Pamela Masters
To: weihsien@topica.com
Sent: Monday, October 04, 2010 12:32 AM
Subject: Re: WB Prentice

This is in response to the several queries about Dr. Prentice...

There is a very macabre story wrapped around Dr. Prentice, but you have to remember I was possibly eight when I heard it – all in bits and pieces. At that time, 1934-35, my sister Margo was attending TGS and was an avid field hockey player. I recall being in awe of her and her friends when they came to our house, all hot and musty after a strenuous game. Among the girls was one I particularly liked because she was named Pamela (my first name, but one which my family refused to call me by) and if memory serves me right, she was a cute red-head with lots of freckles.

When the tragedy occurred, involving Prentice, I believe Pamela Werner was living in Peking with her father, and staying in Tientsin with friends while attending TGS. Dr Werner was an anthropologist involved in the famous Peking-Man digs and was away from home a lot of the time. Pamela's mother, a beautiful Russian woman, was brutally murdered several years earlier, and everyone was convinced that her father had killed her in a jealous rage. He was much older that she was, and every man who looked her way drove him into a fit of jealousy. The murder was horribly brutal: she was stabbed umpteen times, and filthy names were cut into her torso. That murder has never been solved.

Christmas 34-35, Pamela asked if she could stay with us as she didn't want to go home to Peking. Mother asked her why, and Pamela said she was scared, but she didn't elaborate. The decision was taken out of Mother's hands when Dr. Werner insisted Pamela go home, and reluctantly Mother and Margo took her to the train station. That was the last time they saw her alive.

It appears a day or so later, while she was walking home with her Russian boyfriend from an ice-skating date, she stopped to tie her shoe laces. She called to her friend to keep on going and that she'd catch up. A minute or so passed and her friend turned to see where she was, but she was nowhere to be seen. She had just vanished. He called and searched as best he could, and then in a panic ran to the police station and reported what had happened.

A massive manhunt ensued and ended with her body being found atop one of the inner city walls, hacked to death, just as her mother's had been. Her boyfriend was never a suspect as he'd done everything he could to help. But during the search, the chief of police had occasion to go up to Dr. Prentice's office (a tip-off, no doubt) and he found the place covered in blood. It was everywhere. When Prentice was interrogated, he insisted he'd worked on a Chinese laborer who needed an extraction, and that the man had panicked in the middle of the procedure, jumped up and ran, hemorrhaging all over the place looking for a way to escape. The police chief insisted there was much too much blood involved to have come from a tooth extraction, but they were never able to pin anything on the dentist. Another brutal murder was left unsolved …

Whatever his involvement, Prentice was one very frightened man when he came to WeiHsien, and rumor has it that there was at least one attempt on his life in the camp.

So there you have it, a real cold-case murder mystery waiting to be solved…

Pamela Masters-Flynn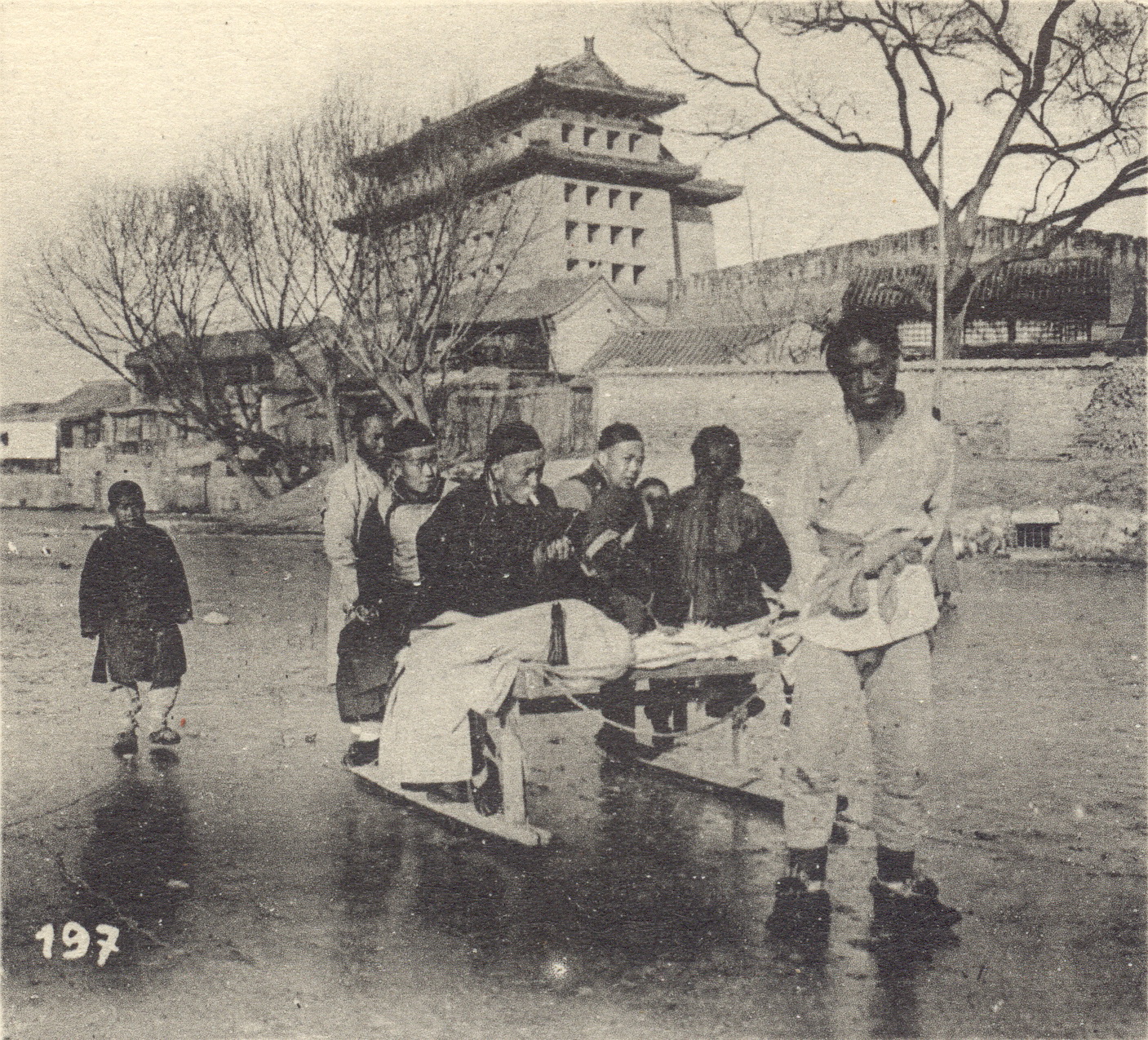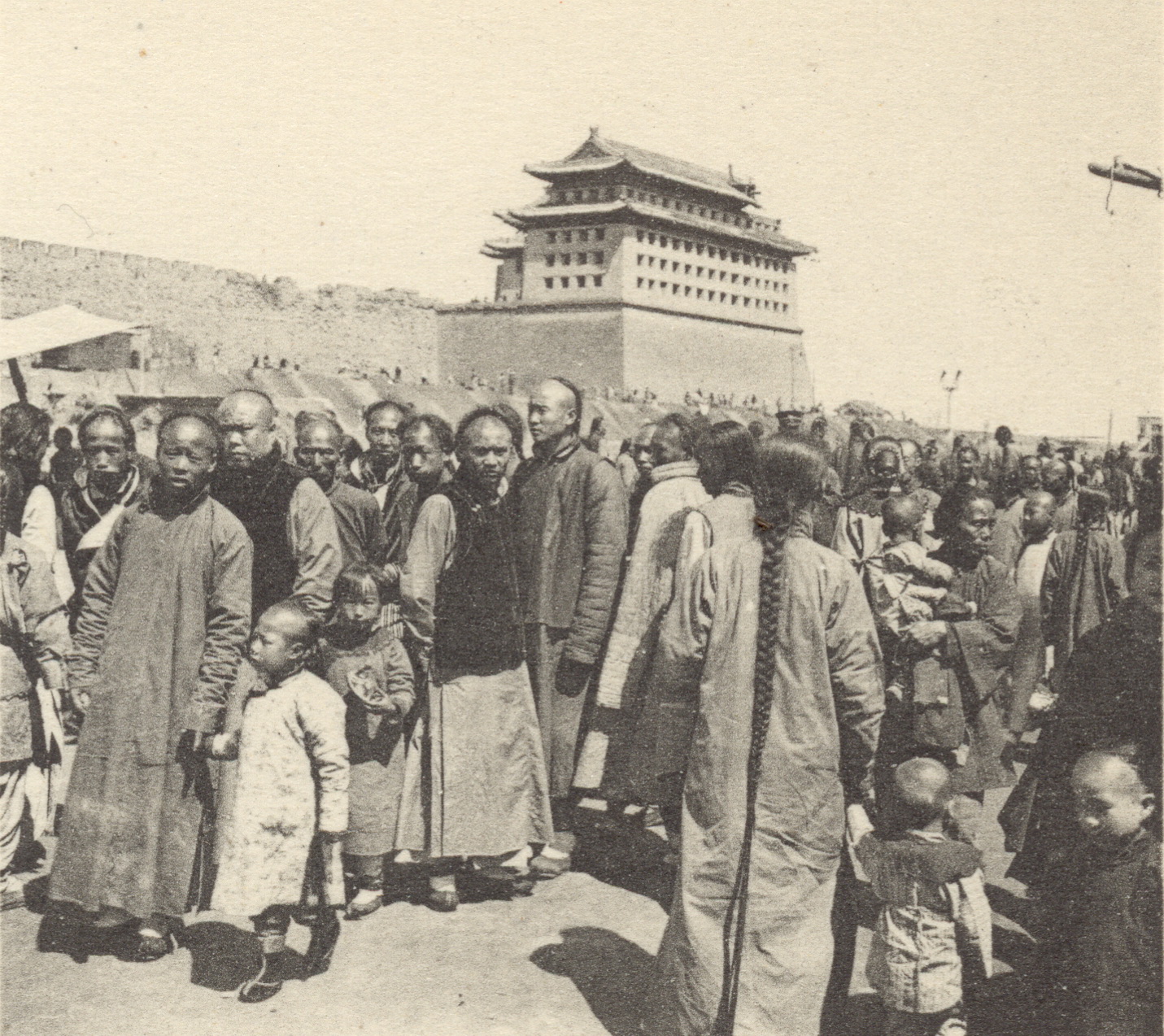 Although the murder and the evidence appertaining to it are extraneous to the camp, both Prentice and Werner were very much Weihsien inmates. The website's intention is to do them both justice by presenting the actual evidence in the case. Needles to say, the poor dentist, Prentice, appears to be entirely innocent of the awful crimes both Werner and Midnight in Peking accuse him of.
From: E4politzer@aol.com
Sent: Friday, February 14, 2014 3:43 AM
To: tapol@skynet.be

Subject: Midnight in Peking, by Paul French
Dear Mr. Pander,

I have written a brief critique of Midnight in Peking, which focuses on the geography of Peking as represented in the book. If you have time to look at it, I would be glad to send you a copy.

Sincerely,
Eric Politzer
(Brooklyn, New York)