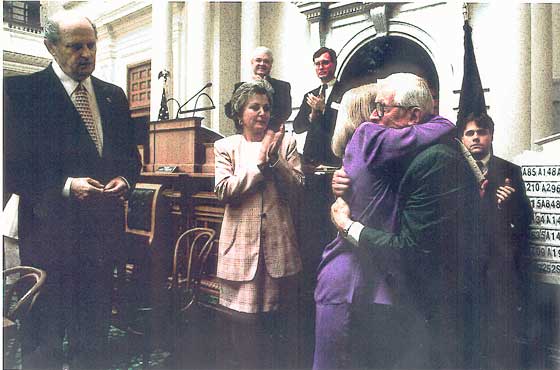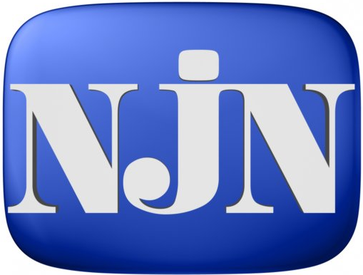 © by courtesy New Jersey Network.
Embracing Her Savior From WWII
© NJN
by courtesy of New Jersey Network (NJN)
Legislator was held in Japanese camp
By Michael Raphael STAR-LEDGER STAFF
It was the sound of an airplane that caught her attention.

She looked out the window and saw men falling from the belly of an American bomber. Like colorful pieces of poppies, she would later say, the soldiers parachuted to the edge of the camp and then promptly freed the 1,400 men, women and children inside.

Yesterday, more than half a decade late, little Mary Previte, now grown up to be Assemblywoman Mary Previte (D-Camden), finally got a chance to thank one of her saviors in person. Jim Moore, now a 78-year-old retired CIA agent, surprised her on the floor of the Statehouse.

It was a belated Memorial Day salute and it brought the room of legislators to their feet.



Navy Ensign James Moore in 1945 after the rescue of 1,400 men, women and children from the camp..

"I was dumbfounded," Previte, 65, said, a crumpled napkin in her hand, streaks of mascara on her cheeks. "I'm almost never speechless, but this time was close."

Assemblyman Peter Barnes (D Middlesex) arranged the reunion. He sits next to Previte in committee meetings and one day she told him her story.

It begins with Previte's parents, third generation missionaries for the Methodist Church. Instead of taking their four children into the depths of the country, they put them in a boarding school in Chefoo, a coastal town between Shanghai and Beijing.

While war broke out across Europe, the Japanese invaded China and rounded up foreigners. The international school was overrun. The children, teachers and the administrators were told to grab up what they could carry and march.

Eventually, they ended up at the Weihsien Civilian Assembly Center, a dirty, overcrowded concentration camp across the Yellow Sea from South Korea.

Previte slept on her steamer trunk, just inches from the other children. She was given a prison number. More than 200 guards patrolled the walls.

It was not a death camp, but little girls didn't know of things like that. Previte only knew what she saw.

"The (guards) practiced bayonet drills in front of us morning, noon and night," she said.



PHOTO BY FRANK DIGIACOMO
It was total surprise for Mary Previte when one of the men who rescued her as a child strode into the Statehouse to meet her five decades later.

The food was unforgettable. In the morning, the prisoners got watered-down animal feed. For lunch, it was a weak stew. Whatever was left over, that was dinner.

Previte was allowed to write 100 words a month to her parents. But they had to go through a censor first, and she rarely received letters back.

"You kept pictures of them in your head," Previte said. "I had a picture of my daddy in my head. But after five years, you kinda' forget."

To keep her spirits up, she sang the psalms her parents had made her memorize during their daily morning prayers. One of her favorites was Psalm 91. It was about the greatness of God and his protection, "And He shall give his angels charge over thee."

And when 12-year-old Mary Previte saw those men parachuting from above on Aug. 17, 1945, she believed they were sent by God to save her.

"How could I not think of these people as angels coming out of the sky? I had sung the song in my heart for five years. How couldn't I?"

Inside the B-24, Jim Moore was concentrating on the jump, one of his first since flight school. With the plane flying at just 400 feet off the ground, Moore knew he would have precious seconds to open his chute. Should it fail, there would be no time for the backup.



PHOTO BY FRANK DIGIACOMO
"I was dumbfounded. I'm almost never speechless, but this time was close."

Even if they did land okay, there was still the issue of the Japanese. Moore had just a .38-caliber revolver in his holster and there was considerable doubt whether word of the end of the war had made it to the camp.

"If anybody came out at us, we were dead ducks," Moore said. "If there had been any Japanese troops out to capture us, they wouldn't have had any trouble."

There was no trouble. The guards quickly surrendered and Moore and his six colleagues were swamped by the people of the camp. Gaunt, bony men lifted the soldiers on their shoulders. A camp band played the national anthem.

For Moore, there was double satisfaction. He had attended the same school just a few years before Previte and was able to help free his old teachers.

In the days that followed, American bombers dropped care packages near the camp, and the children skipped over to eat up the chocolate and canned meat contained inside. Twelve-year-old Mary ran to put her feet in the stream just beyond the gates.

"They gave us back our lives," she said. "They were our heroes."

Just a year ago, she began ;to search for the soldiers. She has located six. Two are dead. The others live in Texas, California, Nebraska and Nevada. Yesterday was her first reunion.

When she saw Moore walk out on to the Assembly Chamber floor, she gasped and threw her hand up before her mouth. Moore, a straight-walking man with the sounds of Dallas in his voice, slowly made his way over.

They hugged, and the Legislature applauded.

Later, Moore told of the importance of the mission to his life.

"I haven't done anything too exciting, " said the former Navy ensign who served with the Office of Strategic Services. "A lot of war is standing in line and waiting and having missions cancelled. This really made the war worthwhile to me."

They held hands and kidded over who was the real hero. He said she was for what she survived. She said he was for what he did.

They agreed to disagree.


© --- by coutesy of the NEW JERSEY NETWORK, ---
N.J. General Assembly,
Reunion with Jim Moore, May 1998


You'll see that near the end, the images break up, The cameraman told my legislative staff that he was weeping so much that he couldn't focus his camera. Use what you can. I don't think you need to post the ending when Jim Moore makes complimentary remarks about the Federal Bureau of Investigation (FBI) Let me mention that Jim Moore had been an agent of the FBI before going to China. The FBI creates a culture of passionate loyalty among its members. The surprise reunion was arranged by Assemblyman Peter Barnes, a retired member of the FBI Think of this: The retired FBI agents association paid to fly Jim Moore and his wife from Dallas, Texas, to New Jersey for this reunion.

One of the women on the platform with me is State Senator Barbara Buono. The other woman is the Clerk of the General Assembly and it was Assemblyman Peter Barnes who organized this reunion with Jim Moore and me.

Mary Taylor Previte.