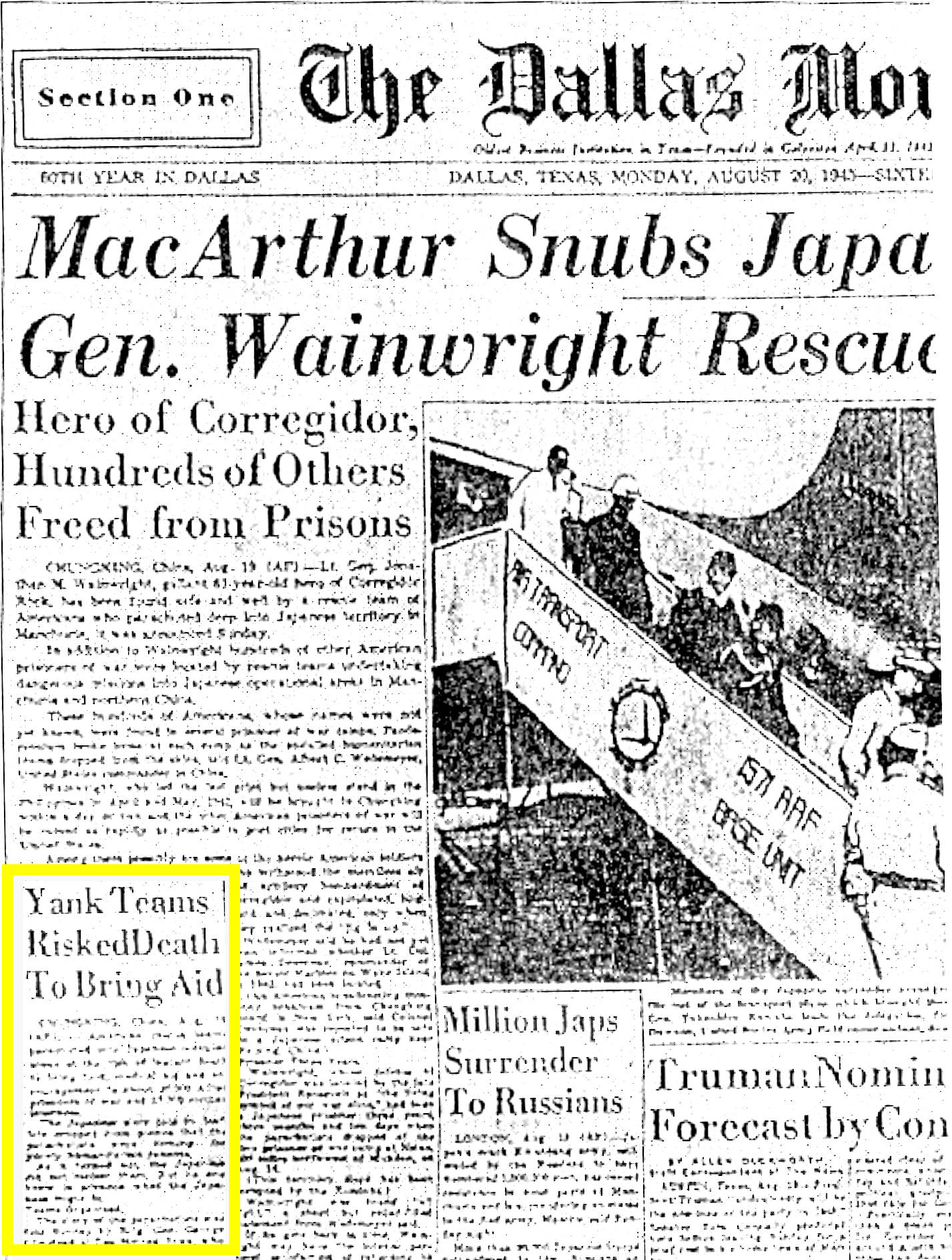 Former prisoner tracks down rescuers
Student held by Japanese tracks down her rescuers 52 years after liberation
By John McCoy
Staff Writer of The Dallas Morning News
Sunday, November 30, 1997
A half-century after seven men rescued 12-year-old Mary Taylor from a Japanese prison camp in World War II, she got the idea to say thank you once again. It took a bit of doing.

Beginning in May, the former prisoner - now New Jersey resident Mary Previte - used veterans' association newsletters, word of mouth, military documents and Internet searches to track down six of her seven liberators, one of whom lives in Dallas.

"It feels great," said James Moore, 78, a Lake Highlands resident who was second in command for the Aug. 17, 1945, paratrooper mission that liberated the Weihsien internment camp in northeast China. "It's nice to be appreciated. At my age, there are not too many things that are this exciting."

The mission's commander - Maj. Stanley Staiger, now living in Reno, Nev. - was also amazed at Ms. Previte's determination. The men for this particular mission, members of the espionage-centered Office of Strategic Services, were thrown together quickly for rescue missions after Japan surrendered, he said, and had not kept up with one another following their return to the U.S.

"It was quite a surprise - 52 years, you know," he said. "I don't know where she gets the time to look these people up."

The Japanese army captured Ms. Previte and her three siblings shortly after the bombing of Pearl Harbor in 1941. They were students at a missionary school in Chefoo, a coastal city in Shandong province that is now called Yantai.

Their parents were away working as Free Methodist missionaries in northwest China at the time, Ms. Previte said.

Later in 1942, the mostly British and American students and teachers were transferred about 130 miles to Weihsien (now Weifang) and held for the duration of the war along with a total of 1,400 prisoners.

Luckily, as civilian prisoners, they were spared the torture and extermination that marked other Japanese and German prisoner-of-war camps, but Ms. Previte spent three years separated from her parents and lived in difficult conditions, often with little to eat.



The Dallas Morning News: Beatriz Terrazas
Mr. Moore was second in command for the rescue mission.

Mr. Moore, himself a former student at the China Inland Mission schools, read about the internment in the school's alumni magazine, he said. He was working as a special agent with the Federal Bureau of Investigation until he felt called to join the war effort in 1944, when he joined the Office of Strategic Services as a Navy ensign and was sent to China.

"Growing up abroad, I may have felt more patriotic than if I had been raised in the U.S.," he said.

Japan surrendered on Aug. 14, 1945, but the first the Weihsien prisoners knew of it was the morning of Aug. 17 when they heard a low-flying B-24 circling overhead. With a modified bomb bay and quick-opening parachutes, the team of seven jumped from an altitude of less than 500 feet to minimize its exposure to Japanese gunfire, records show.



The Dallas Morning News: Beatriz Terrazas
James Moore, a Lake Highlands resident, says: "It's nice to be appreciated. At my age, there are not too many things that are this exciting."

"The belly of the plane was open and all these parachutes were coming out of the sky," Ms. Previte said. "Everyone in the camp went berserk."

Actually, the mission team had very sketchy reconnaissance and wasn't sure which compound held the prisoners, Mr. Staiger said. It was the prisoners' excited reactions on the ground that let the crew members know they'd found it.

Strangely enough, the Japanese guards did not fire on the paratroopers, Mr. Staiger said. The troop of about 200 soldiers retreated to its guardhouse and began talks with the Americans.

"They were stunned and didn't know what to do or what to say," he added.

After the war, Mr. Staiger went on to be a stockbroker in Oregon. Mr. Moore worked in Asia for the U.S. State Department. He later joined the Central Intelligence Agency, which brought him to Dallas in 1954 to monitor Texas companies' business dealings abroad.

Ms. Previte went on to run the Camden County Youth Center in New Jersey. This fall, she was elected to the New Jersey State Assembly and will take office in January.

Over the last several weeks, Ms. Previte has been collecting records and mementos of the camp's liberation and sharing them with the four living crew members and the others' widows. Several of them have talked about getting together at some point, but Mr. Staiger is not sure he can travel since he is still recovering from a broken hip lie suffered in August.

For Ms. Previte, the discovery of people and documents has been a great reward.

"I have had the most joyful time turning this group into family again," she said. "I was getting a piece of American history every time, I picked tip the Phone."