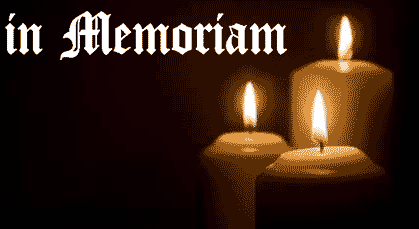 Stanley Haldor Nordmo
Most of the following was taken from the time line Stanley Nordmo wrote for his 75th birthday where he says at age 75 he is White Chinese by birth, Norwegian by nationality and American by adoption.

Sister Audrey has added a little here and there. I trust you enjoy reading the highlights of Stanley's life as well as the inserts about his siblings—Many of you will relate to the below time line of his life.

Any questions can be addressed to Audrey Horton at raks732@hotmail.com.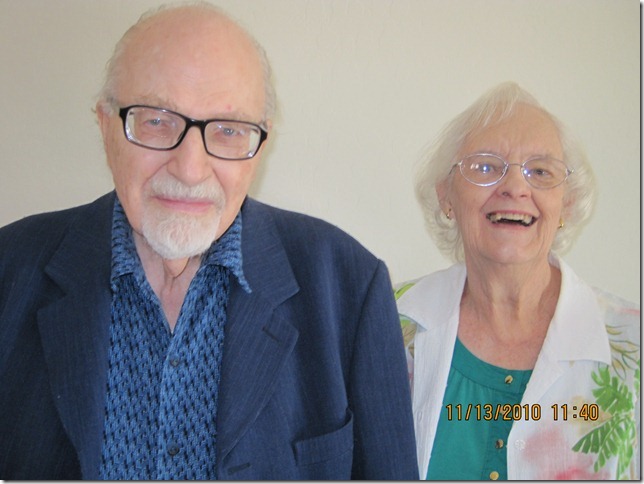 Stanley and Naomi Nordmo, November 13, 2010.
"Obituary ... "
Stanley Haldor Nordmo, November 28, 1927 – August 1, 2011. of Ahwatukee, Phoenix, Arizona, was 83 years of age when he entered his heavenly home having lost his battle with cancer.

Stanley Nordmo was born in Chefoo, Shantung, China to pioneer missionaries, Jacob Martin Nordmo and Esther Oberg Nordmo who were with the Mission Covenant Church of Norway. The Communists were coming down from the north and all missionaries were ordered to evacuate. His three year old sister Evelyn had died en route from malaria with black water fever and was hastily buried in a metal suitcase in a cemetery where 11 martyred missionaries were buried. (Stanley's oldest brother had died at age one in 1924 from meningitis. . His parents were travelling to the coast for their first furlough. Erling became violently ill — they travelled 11 days without finding a doctor. When they got to Hankow there was nothing the doctors at the hospital could do for him. He was buried in Hankow. They went on furlough with empty arms.)

The family returned to Shanyang, Shensi with Stanley after some order was restored by the government troops. Sister Kathleen joined the family on January 15, 1930.

The family went on furlough from 1933-1935. Stanley and Kathleen did not know that would be the last time they would see their home until 1997 when Stanley paid his three siblings' way for the four of them to visit their China roots. They found the churches flourishing that their parents had pioneered. They even met Chinese Christians who remembered them.

Sister Audrey joined the family in Farnam, Nebraska, her mother's home town, on August 21, 1933. Then the family finished their furlough in Norway, their Dad's native country. The parents had met and married in China. Stanley and Kathleen got scarlet fever. A Norwegian photographer won world wide acclaim for his picture of the serious 6 year old Stanley. 1935 the family returned to China with stopover in Chefoo for Stanley and Kathleen to start school.

Rowland was born on June 10, 1936 in Shangshien, Shensi. Parents visit Chefoo 1936-1937 for Rowland's health. (Kathleen had been hospitalized for 18 months with heart problems due to being born with a patent ductus.)

1939-1940 Parents came to spend Christmas together as a family. Stanley contracts pneumonia—Dr. Hess, a new missionary, has the latest medicine from the States. Audrey starts school. No escorts available for the children to travel to Shangshien from Chefoo. Stanley and Kathleen never went home in their ten years of school life. (5 years for Audrey.)

Stanley, Kathleen and Audrey were interned by the Japanese with the Chefoo schools in Chefoo and Weihsien. In Weihsien, Stanley's jobs were manning the pumps for what he said seemed like an eternity and for his last year he cleaned the hospital floors. He and Kathleen lived in the hospital. He had hepatitis in camp. He graduated from Chefoo Schools in April of 1945. Passed Oxford Matriculation Exemption Examination. Took adult education courses, including Greek and German. Read 142 books from camp library—somehow fitting that recreation in while cramming for exams and doing his chores. The list is on Weihsien Topica site under Stanley and Audrey Nordmo, Books I read--http://www.Weihsien-paintings.org/ He enjoyed playing tennis and had to roll the clay courts.

August 17, 1945 was Liberation Day in Weihsien when all were liberated by an American rescue team, which included Chefoo alumni James Moore. Stanley contracted Typhoid fever and was on a stretcher when left camp on rail to Tsingtao—taken to a German mission hospital in Tsingtao where he was treated with the new sulfa drug.

The Nordmo three were on the ship Tamaroa en route to Norway via England. At Ceylon, (Sri Lanka,) the Red Cross interrupts their voyage saying mother and younger brother are in Calcutta, India so they are to disembark via rope ladder to little boat which will take them to shore. They stayed in Ceylon for three days —and then on to Calcutta in a military plane to Calcutta. Kathleen and Audrey only girls among the soldiers. Stanley is suddenly solely responsible for two younger sisters. The experience left him saying he would never travel with them again (which later was thankfully retracted). It was a hair raising experience as he was grilled at a plane stop due to not having passports. Then In Calcutta the scenario was worse as no mother and brother at the airport. They had not been notified. So they were taken by military bus into Calcutta. India was in the midst of their rebellion to England so not safe to be on the streets. God miraculously brought the family together.—. Mrs. Nordmo did not recognize Stanley who was dressed in army khakis and was now a handsome 18 year old young man. Five years had been a long absence. She recognized his sisters who were in dresses she had sewn for them 5 years earlier—(don't know how that could be when our clothes were in rags). A sea plane, (which had brought English parliament members to India) took them to England with nightly stops in Bahrein, Cairo, Sicily and Marseille, France and then by ship from England to Norway.

Mrs. Nordmo had been the cow woman for the Chefoo School in Kiating. No one else could milk the cow who hated foreigners and it didn't help that mother was dressed in Chinese clothes. They had to tie the back legs of the cow, tie her snoot and somebody held the ropes on her legs. But mother fed the cow properly and then the cow produced much more milk for the children. Rowland was the one who would have died from lack of oxygen on the plane from Cheng Tu airport to Kunming. The plane had to go up to 17,000 feet elevation instead of the 6000-7000 ft. they were supposed to travel at-- to escape enemy fire. Rowland was dying from lack of oxygen, his face turning black, couldn't find his pulse and his eyes were rolled back in his head-- set. Miss Francis Williamson and mother worked at reviving him. If they hadn't landed when they did—he would have died. However, they landed at a field Yeaning[?], before the Hump which is right near the-Burma border with an empty gas tank—the pilot had lost his way— God had had them put in extra gas in the wings before the plane left. Miss Francis Williamson, principal, said they kissed terra firma as they were so grateful to have their feet on solid ground. According to Mother's notes there were 24 children and 6 adults besides the crew on the plane. Most of the children and the 4 other adults were sick and vomiting. There were no conveniences of any kind. Mother and Rowland had been in Kalimpong, India for a year with the Chefoo School. If you type in Rowland Nordmo, Billy Graham Archives in search the article will appear under Collection 187 - Eleanor Ruth Elliott. TN Transcript—and scroll down to where she is talking about the CIM school in Kaiting—and their escape to India.

Stanley spent a year in Norway becoming very fluent in Norwegian. His dad recommended that it would be therapeutic for him to write his memories of camp in a book which he did. It didn't get published due to people being tired of war and its stories. He taught English to missionary candidates. Christmas, 1946 Stanley's father came home from China after a term of 11 years without a furlough. The family was together for six weeks for the first time in 7 years. Then Stanley set sail all alone for the United States of America. He had learned to have a stiff upper lip from the Chefoo schools.

He entered the US on a non-quota student visa. His Norwegian passport did not place him in the Norwegian quota since he was born in China, and thus classified "White Chinese. As an alien living in this country Stanley had to notify immigration every time he moved between the years 1947 and 1962—which was 15 different places. Stanley had to get official clearance from Immigration to work during the summer. Year round work on a non-quota student visa meant deportation. He worked on a farm, Portland harbor dredge, Kennecott Copper open pit mine, Kennecott smelter, American Can Company assembly line, Bethlehem Steel company rolling mill, Morehodoff Caviar, selling Collier's encyclopedias, restaurant bus boy, delivering newspapers, work on a construction crew, laboratory technologist, clinical clerkship. During this time he translated a book by his father from Norwegian to English called "Demons Despoiled". It was published by C.I.M. in 1950 and sold for 2s 6d.

1947-1950 he finished his pre-med course in three years. Was salutatorian of his class at Northwest Nazarene College in Nampa, Idaho. A.B. 1950

1950-1951-Spent a year at the University of Washington Department of Psychology in Seattle, WA visited the Huebners who met in camp (Mrs. Evelyn Davey Huebner).

1951-1955-Boston University School of Medicine M.D. 1955. His wife was in the hospital having given birth to their first child so there was no family member watching him receive his hard earned medical degree. His parents were in Indonesia and his siblings were tied up with school on the west coast, plus having no money to travel.

!954 he married Naomi Taylor, a wonderful helpmeet. She had her degree in elementary education. She understood about being separated from missionary parents. Her parents were Nazarene missionaries in Bolivia and Stanley's parents had moved to Indonesia to work with the Chinese. Stanley's parents were in Indonesia from 1951 to 1962 without a furlough and without seeing family. Neither set of parents were there for the wedding.

1955-1956 rotating internship, Georgia Baptist Hospital in Atlanta.

1956-1957 Treated for tuberculosis in Rome, Georgia.

1957-1959-Pathology residency at Colorado State Hospital-the chairman of the pathology department was a graduate of John Hopkins University.

1959-1961 - Pathology residency Tacoma General Hospital.

1961-1966- Taught at the University of South Dakota School of Medicine Department of Pathology, Assistant to Associate Professor.

1962- Became US citizen.

1964—Certified by Pathology Board in Anatomic Pathology and Clinical Pathology.

1966-1990—staff Pathologist at Maricopa Medical Center. Teaching many residents in Pathology.

Stanley took his responsibilities as a pathologist very seriously knowing the chain of events that would follow his diagnosis. After retirement he had the time to relax. He donated his medical journals to Romania and his textbooks, pathology teaching sets and teaching fascicles on tumor pathology as they were issued by the American Registry of Pathology to West China University of Medical Science in Chengdu, Sichuan whose president is a pathologist.

1992-2000 Stanley taught survival English to wives of students from mainland China enrolled in Arizona State University. His sister Kathleen observed him and said he was in his element—such mutual respect and love. China and Chinese were dear to him.

Stanley took several overseas trips. Three times to China—first time with alumni group in 1989 to Chefoo and Weihsien; he kindly paid for his two sisters to accompany Naomi and him.

Second time in 1992 he went to teach English in summer school session at the August 1st Agricultural College in Urumqi, Xinjiang Autonomous Region with group from Grand Canyon University.

Third time in 1997 to mission stations in Shangzhuo and Shanyang, Shaanxi—his roots. He paid his three sibling's way—just the four siblings went.

Two trips to Norway. The first in 1972 with his family and second in 2004 for his 50th wedding anniversary, when he and Naomi went by boat along the coast of Norway to see all the places where his father had preached.

A trip to England in 1996 making contact with several of his schoolmates from China. He was very loyal to Chefoo and Chefusians – and Weihsien.

He was well versed in Mandarin, Norwegian, and Spanish, Latin and other languages. During his retirement he took on the task of translating his parents' letters from Norwegian to English which brought a deeper understanding of their lives. He was a Macintosh enthusiast and attended their weekly meetings. His hobbies included stamp and coin collecting and photography. He was an avid reader, a perpetual student. He was a long time member of the Bethany Community Church in Tempe, AZ.

In the words of his children and son-in-law (an army chaplain) Stanley had integrity, honesty, loyalty, was a hard worker, provided a good education for his children, and most of all he lived his life for his Lord and Saviour Jesus Christ.

He is survived by his wife of 57 years: Naomi Taylor Nordmo, Sisters: Kathleen Nordmo Rictor of Ocean Shores, WA, Audrey Nordmo Horton of Kamloops, B.C., and Brother Rowland Nordmo of Indianapolis, Indiana. Children: Eileen Neiford of Beaumont, Texas, Sylvia Schmitt of Tomah, Wisconsin, Edwin of Tempe, Arizona and Phyllis Hanna of Aurora, Colorado and 5 grandchildren including: Benjamin Schmitt of Henderson, Nevada, Sonja Shaver of Aurora, Colorado, Lauren Schmitt-Boyd of Nampa, Idaho, Bob Shaver of Aurora, Colorado and Kendra Schmitt of Anchorage, Alaska. Three of the five grandchildren are following him in medical fields, pharmacist, nurse, and doctor.

Stanley is already missed by his wife, children, grandchildren, siblings and many friends. To his sisters and brother he was their older brother who was very kind and helpful when in need of medical advice and knowledge of family history. He was buried at the City of Mesa Cemetery with a private graveyard service for the family followed by a memorial service at their church, Bethany Community Church in Tempe, AZ.

#