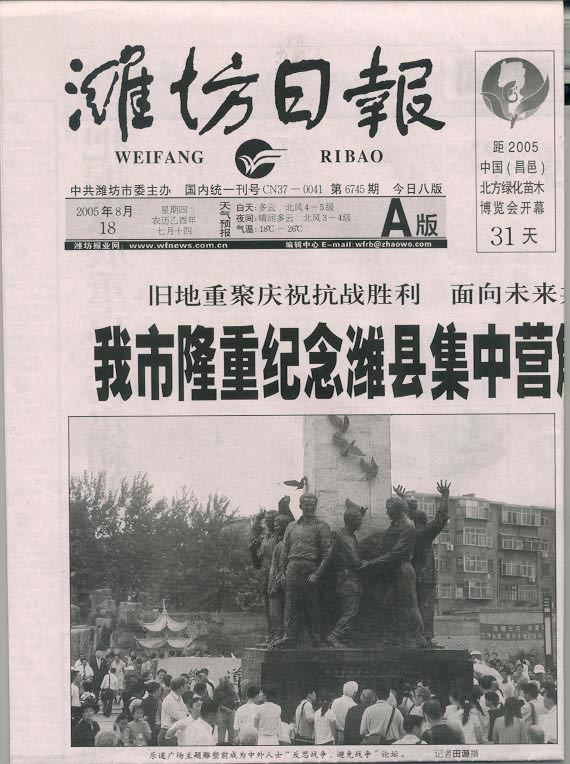 --- Monument to Heroes:
The front page of the Weifang Ribao, August 18, 2005, shows crowds swarming the monument to American liberators in the memorial park located near the hospital on the former concentration camp grounds. Names of 1500 former prisoners are engraved in marble at the base of this monument.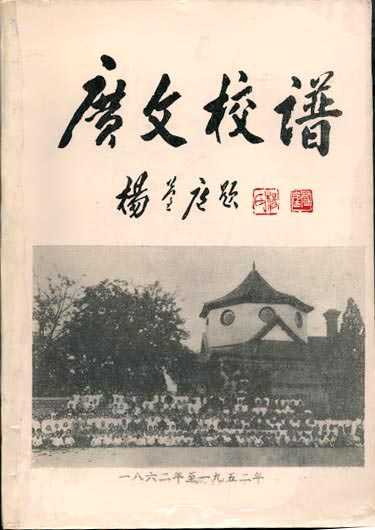 The church at Weishien's Le Dao Yuan compound before Japanese forces turned it into an internment camp for Allied internees. Pulitzer prize-winning author, Pearl Buck, and American publishing magnate, Henry Luce, once lived on this Presbyterian missionary compound.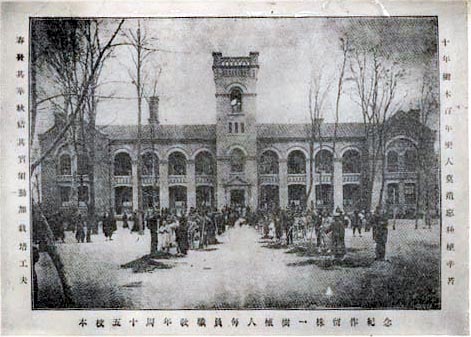 Before World War II, Block 23 was a school building on the Presbyterian missionary compound called Le Dao Yuan, Courtyard of the Happy Way, in Weihsien.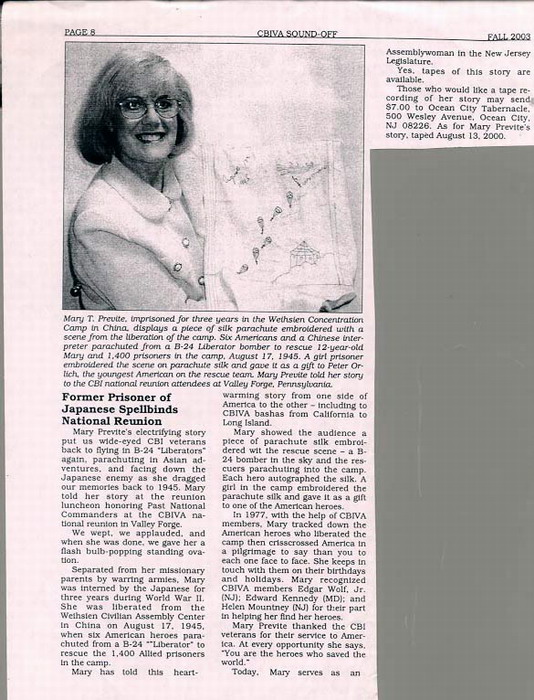 Mary T Previte. imprisoned for three years in the Weihsien Concentration Camp in China displays a piece of silk parachute embroidered with a scene from the liberation of the camp. Six Americans and a Chinese interpreter parachuted from a B-24 Liberator bomber to rescue 12-year-old Mary and 1.400 prisoners in the camp.
August 17. 1945. A girl prisoner embroidered the scene on parachute silk and gave it as a gift to Peter Orlick the youngest American on the rescue team. Mary Previte told her story to the CBI national reunion attendees at Valley Forge. Pennsylvania.
CBIVA SOUND-OFF ... FALL 2003
Former Prisoner of Japanese Spellbinds National Reunion
Mary Previte's electrifying story put us wide-eyed CBI veterans back to flying B-24 'Liberators' again. parachuting in Asian adventures and facing down the Japanese enemy as she dragged our memories back to 1945. Mary told her story at the reunion luncheon honoring Past National Commanders at the CBIVA national reunion in Valley Forge. We wept, we applauded, and when she was done, we gave her a flash bulb-popping standing ovation.

Separated from her missionary parents by warring armies. Mary was interned by the Japanese for three years during World War II. She was liberated from the Weihsien Civilian Assembly Center in China on August 17, 1945, when six American heroes parachuted from a B-24 'Liberator' to rescue the 1.400 Allied prisoners in the camp.

Mary has told this heart-warming story from one side of America to the other - Including to CBIVA bashas from California to Long Island.

Mary showed the audience a piece of parachute silk embroidered with the rescue scene - a B-24 bomber in the sky and the rescuers parachuting into the camp. Each hero autographed the silk. A girl In the camp embroidered the parachute silk and gave it as a gift to one of the American heroes.

In 1977, with the help of CBIVA members, Mary tracked down the American heroes who liberated the camp then crisscrossed America in a pilgrimage to say thank you to each one face to face. She keeps in touch with them on their birthdays and holidays. Mary recognized CBIVA members Edgar Wolf. Jr. (NJ): Edward Kennedy (MD); and Helen Mountney (NJ) for their part in helping her find her heroes.

Mary Previte thanked the CBI veterans for their service to America. At every opportunity she says. "You are the heroes who saved the world."

Today, Mary serves as an Assemblywoman in the New Jersey Legislature.

#
Yes, lapes of this story are available.
Those who would like a tape recording of her story may send.' $7.00 to Ocean City Tabernacle. 500 Wesley Avenue. Ocean City. NJ 08226.
Ask for Mary Previte's story. taped August 13, 2000.