A brief history of Weihsien,
by Norman Cliff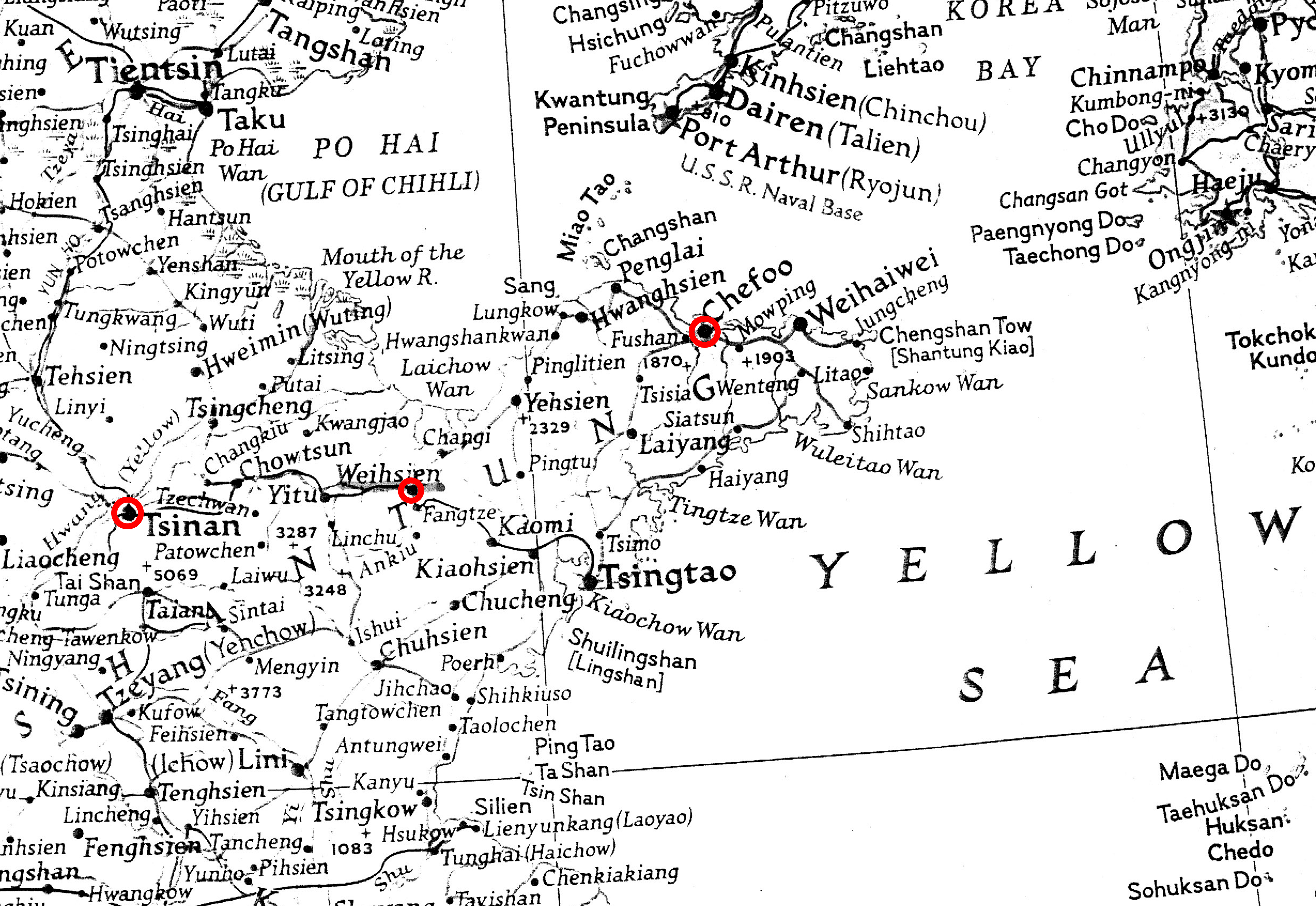 In 1883 the Shandong Mission of the American Presbyterian Church decided to open a new station at the important city of Weihsien, which had the advantage of being equidistant between Chefoo and Tsinan. Services were commenced in a rented room near Weihsien.

The work grew and a church and hospital were built, and houses for the missionaries. In 1900 the Boxers completely destroyed all the buildings. In 1904 larger premises were built with the help of compensation money from the Chinese government plus funds from the USA, and the Shantung Christian University was formed in conjunction with the British Baptists who also contributed to the costs.

In 1917 the university was moved to Tsinan, the capital of the province, where it became the Chilu University with 17 societies all co-operating.

The premises left behind in Weihsien became a training centre for Christian lay workers - with classrooms in "Block 23" and married quarters for the trainees in the small rooms in blocks later used in the camp as accommodation for married internees.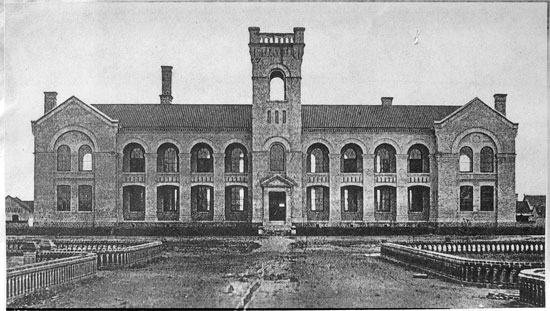 Block-23, as it was in 1900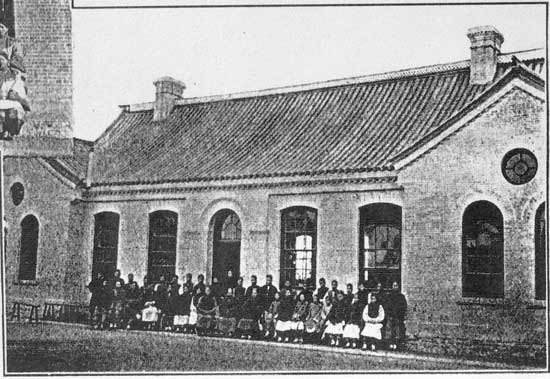 Boys' School in Weihsien, as it was in 1900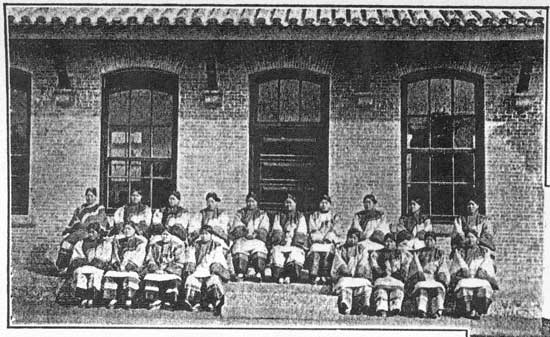 Girls' School in Weihsien, as it was in 1900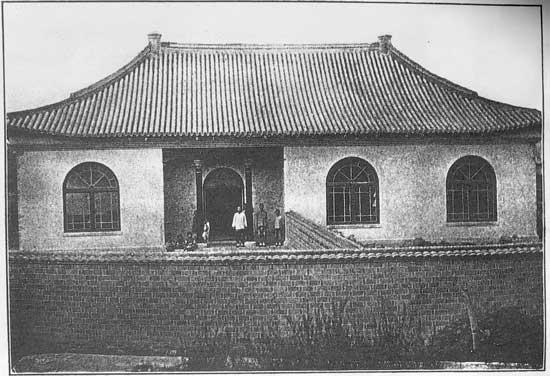 Mens' Dispensary in Weihsien, as it was in 1900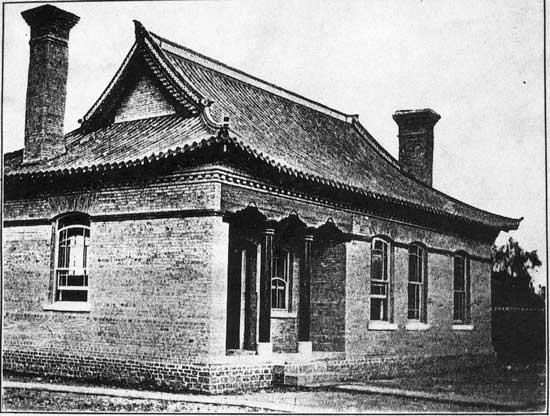 Womens' Dispensary in Weihsien, as it was in 1900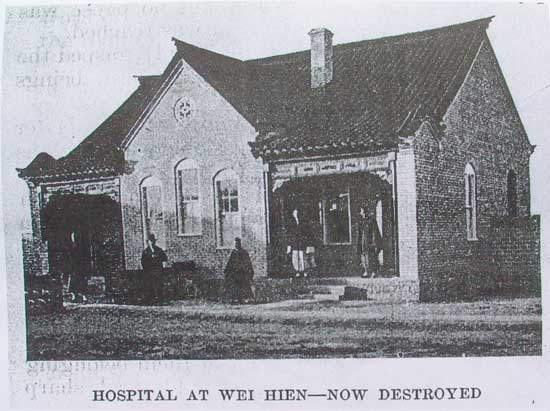 The Hospital, as it was in 1900
© Norman Cliff's Scrap Books


- 翼报 eBaoMonthly.com -
第 18 期 ( 2006年 1月)
... and scroll down for the English version.
AN ORAL HISTORY CASE STUDY ON THE CO-CONSTRUCTION OF SCHOOLING AT THE CHEFOO SCHOOL AND IN WEIHSIEN INTERNMENT CAMP

by Christina D. SPINK
Center for Education
June, 2000. .... [click here]
R W Bridge, AFC FRAeS FRIN,
... a child internee of the Japanese in Weihsien, spent a career in aviation first in the Royal Air Force and then civil. He is now Chairman of The Association of British Civilian Internees Far East Region. He is a member of the Society of Genealogists and may be contacted at Chillies Oast, Chillies Lane, Crowborough, East Sussex TN6 3TB.
Email: rwbridge@freeuk.com.
What did Weihsien Camp look like in 1943-1945?
Japanese Presence in China
By Christina D. Spink. 2000.

A continued Japanese presence in China began at the end of the nineteenth Century. In the Sino-Japanese War of 1894-95, Japan invaded Shantung and Manchuria in its dispute with China over the control of Korea. Following its decisive victory, Japan ... etc.