FATHER SCANLAN
By Ethel Churchill
Weihsien, 8/8/1945

Into our Weihsien routine, and during the period of our greatest depression, Father Scanlan burst into our midst and made things lots easier for us.

Plucked from his solitary Trappist monastery in the mountains, one would expect his retirement in this camp, as far as possible from this heterogeneous humanity among whom he was thrown, but not Father Scanlan !!

With untiring energy and with great personal risk, he conducted a black market, supplying the camp with many essentials and comforts of living, and also helped to distract us from our sorry state of mind, as his nightly adventures were our daily entertainment.

He was apprehended and put into solitary confinement, by the Japanese, which did not daunt him, as he returned the hero of the camp and continued his activities as before.

The most popular member of the community, he was invited everywhere, and no tea party, dinner or ball game was complete without him.

His leaving us was truly a great loss to the camp, and we have certainly missed him.

More power to you, Father Scanlan !!

Ethel Churchill
Weihsien, 8/8/45.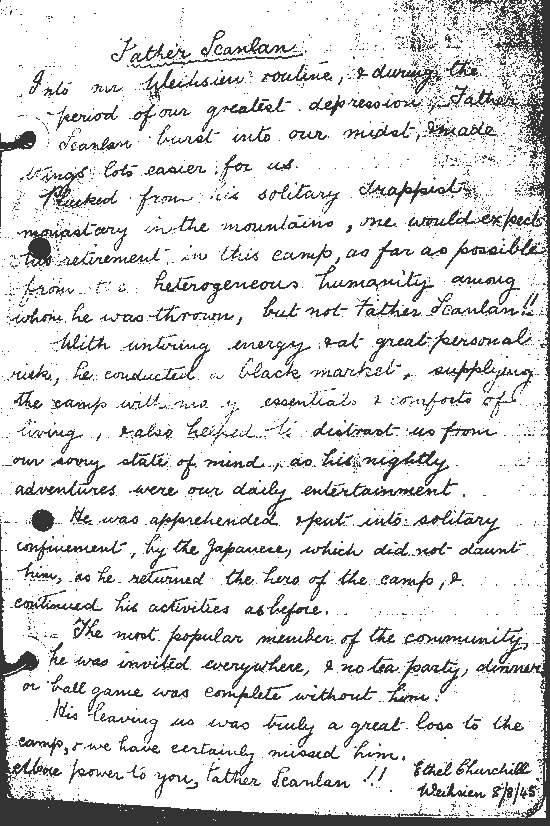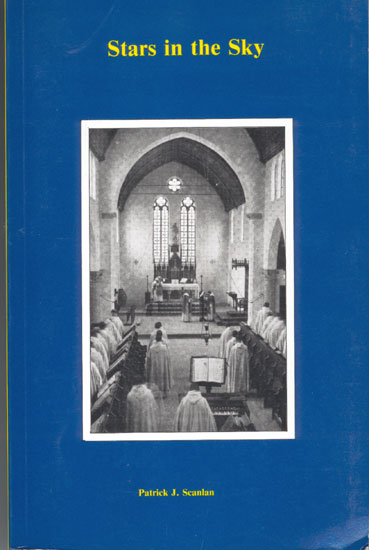 Read the chapter about Weihsien as written by Father Scanlan in his book.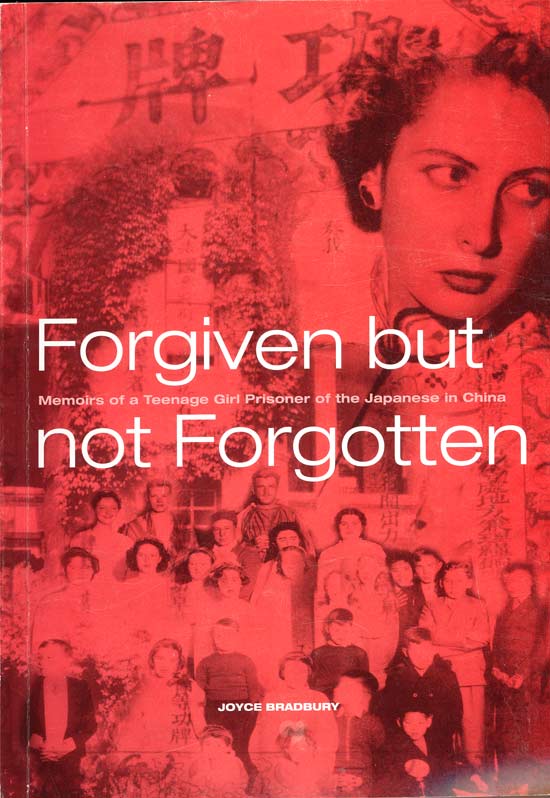 ... most of the books ...
[click here] about Weihsien written by ex-prisoners all mention Father Scanlan with respect. Click on the picture to read Joyce Bradbury's book and make a search for "Scanlan"
[Ctrl-F] and enter: "Scanlan"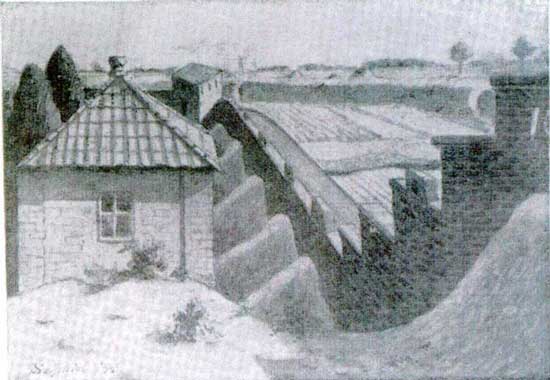 BLACK MARKET WALL (EAST)
Norman Cliff remembers:

"The building in the picture would be the morgue, and was also the place where the trappist monk, Father Scanlan, was confined after he was caught buying eggs in a "black market" operation. At the time of his confinement there was a funeral for a priest who had died of cancer, and I was assigned the task of sneaking down from the burial ground (the vantage point of the artist) to the small building and passing a flask of water to Father Scanlan. The feat was successfully accomplished."
#