First impressions of Weihsien, or Wayseen! 1943
After a journey which would require ten volumes to describe, we found ourselves 2 stations from Weihsien.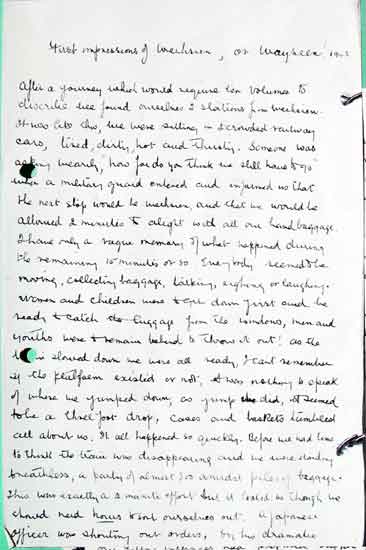 It was like this, we were sitting in 2 crowded railway cars, tired, dirty, hot and thirsty. Someone was asking wearily, "how far do you think we shall have to go" when a military guard entered and informed us that the next stop would be Weihsien, and that we would be allowed 2 minutes to alight with all our hand-baggage. I have only a vague memory of what happened during the remaining 15 minutes or so. Everybody seemed to be moving, collecting baggage, talking, sighing or laughing. Women and children were to get down first and be ready to catch the luggage from the windows, men and youths were to remain behind to throw it out! As the train slowed down we were all ready, I can't remember if the platform existed or not, it was nothing to speak of where we jumped down, as jump we did, it seemed to be a three foot drop, cases and baskets tumbled all about us. It all happened so quickly. Before we had time to think the train was disappearing and we were standing breathless, a party of almost 300 amidst piles of baggage. This was exactly a 2 minute effort but it looked as though we should need hours to sort ourselves out. A Japanese officer was shouting out orders, but no dramatic performance. We interpreted his meaning to be of the "hurry along" without the "please"! We were loaded into buses some of the boys sat on top of the luggage truck, we overtook them on the road to the camp, their engine broken down, but that was nothing, it happened every trip.
It seemed as if the whole camp were lined up to welcome us. Kindliness and cheeriness helped to revive our spirits, "cheer up, it's not so bad here when you get used to it." We started to chat straight away. We were herded into the main yard in front of the officer where we stood while the Camp rules and regulations were read to us. From there we were escorted in parties to our preliminary quarters, my family was divided, the boys went off with a party of boys, while Jean and I were in a group of women, our room was an unused hospital ward – we had the cement floor for a bed. What kindness was shown to us! Rugs and coats and covers of all kinds were brought along and lent to us for the next three weeks to lie on until our own bedding arrived, or didn't! It was three weeks before we were to see it again and find how much of it remained, literally how little. One fellow internees had prepared supper for us, Leek soup, Cornflower and water custard, dry bread and tea (no sugar or milk, such luxuries don't exist!). I remember I had an awful headache and the attempt to eat that first meal nearly choked me, all I wanted was my cement bed. There were 20 of us in that ward and how we groaned on that hard floor! We laughed at ourselves and at each other in our attempts to be cheerful!
Daylight brought many fresh impressions but I must stop – Amongst those which stand out most clearly in my mind the Lavatories and Showers come first – "What impossible Lavatories" I thought, and what revolting cesspools. I still feel sick at the sight of them. I shall never forget the thrill I had upon being told there were showers, I hurried along, delighted at the thought of a wash, but what a let down to walk inside and see about ten women all standing in a row, washing in public! This was too much, I could have shed enough tears to give myself a good wash up. Never will I get used to it, and I have, but I walked away dirty that first day! I think we all touched bottom of dirt and shocks during the first three weeks, we had only the clothes we arrived in and it was still hot weather.
Well Cheerio, the end is near and we are looking forward now to homes, rooms, food, baths, new clothes, real shoes, and above all the welcome smiles of loved ones. Then we shall smile and say, "Goodbye Weihsien"!
Beatrice Lack
July 1946.
From Ron Bridge's Listings ...

| Surname | Initials | Status | Nationality | DoB | Sex | Profession | Blk/Room |
| --- | --- | --- | --- | --- | --- | --- | --- |
| Lack | Beatrice | Mrs. | Australian | 27/04/1896 | F | Missionary | Room: 15/1 |