« Enemy Aliens » An Appreciation.
By G. W. Chilton.
September 1945
During the early spring of '43, after a too long period of inactivity in Tientsin I was asked to propose various schemes to cover the possible internment of Enemy Nationals residing in the port city. Internment was, at that time, only a possible alternative to repatriation and not a certainty, however in March we were informed that many "EAs" would be interned and to make arrangements to move to a destination which would be announced later.

It fell to me to take charge of the first group of Tientsin residents to be interned in Weihsien and although the greater number of those destined for this centre were surrendering their businesses, their homes, their comforts and associations they did so in a manner which filled all, who were in contact with them, with admiration. They were sad but determined to live it through and always confidant that they would return to claim their property and other possessions and to live again as free citizens of a democratic country.

Having issued instructions to those members of my group regarding their assembly point, and initial inspection of baggage, route to the station, entrainment, etc., there happily proved to be little else for me to do as all included in the move did everything possible to see that there was no hitch in the arrangements. The first group came down to this centre in four sections; the sections being in charge of Messrs. Appleboom, Bird, Cameron and Darling. All credit for the detail of organisation of the sections and the carrying through of the move is due to these gentlemen. Details of the first assembly in Tientsin, baggage inspection etc. would fill pages but I will mention only our "hour of humiliation" when all the able bodied males marched under escort of Japanese Consular Police from the H. Q., Tientsin Volunteers, to the East Station and accompanied by the elder men, women and children of our group in rickshaws. The route to the station was lined with, chiefly, a friendly and sympathetic, but curious crowd.

The entrainment at Tientsin, the journey to Weihsien, which took approximately 16 hours, in third class day coaches, our arrival here and transfer from station to camp was carried through without a hitch and the manner in which one and all settled down to their new life in cramped quarters, with poor food and generally unsanitary conditions prevailing at the time calls for the highest praise.

Having in turn met and settled in the two remaining groups of Tientsin residents which followed the first group I was also struck by the goodwill and cheerfulness which was displayed by all arrivals. The way in which everyone accepted the position went far to ensure a good working team for an indefinite period of internment.

As anticipated, all went well with the internal affairs of the camp and folk cheerfully accepted and carried out their respective camp assignments.

With the departure of many able bodied men in September 1943 when the second American repatriation ship left Shanghai, the camp found it difficult to fill all vacancies existing in the labour market as we had shortly before the American repatriation lost a large group of Fathers, etc. from this centre. However the labour situation was more than compensated for it's lost by the timely arrival of what proved to be the best organized and most efficient group of all i.e. the Chefoo School group.

Coming from Chefoo as seasoned internees, this group made light of our many labour problems and under their most capable H.M. and his excellent staff. They quickly and cheerfully took over more than their share of the essential camp assignments.

Looking on from the "side lines" I have, day after day, month after month, come to understand and appreciate the outstanding qualities of Mr. Bruce and all members of C.I.M. The responsibilities which they have shouldered so ably and cheerfully and with such tact are deserving of the highest praise it is possible to express.

The camp ends with the same spirit in which it started for with the arrival on August 17th of Major Staiger and his airborne group every man, woman and child turned out to assist the party in and to afford a welcome which would warm the heart of any combat soldier fresh from a world at war.
G. W. Chilton
Weihsien, September 10th 1945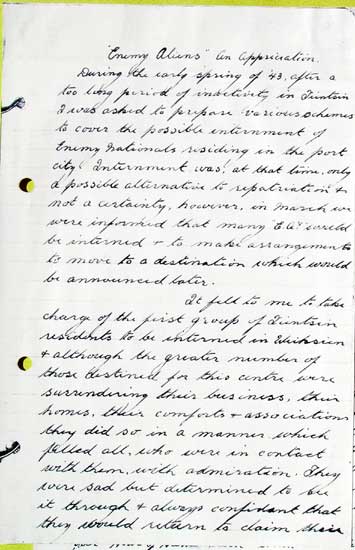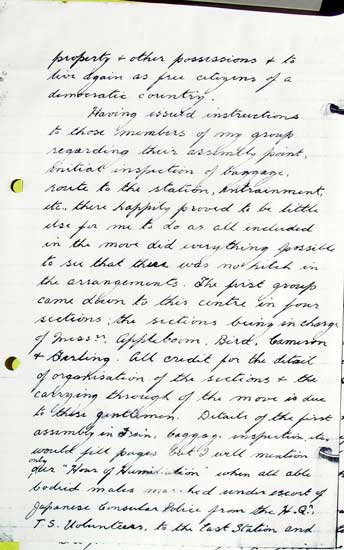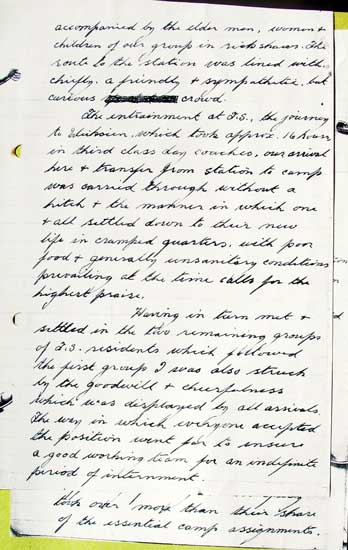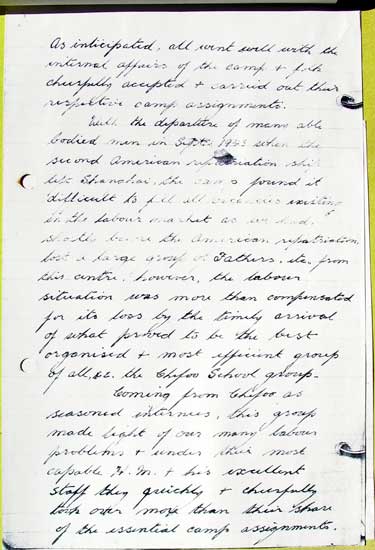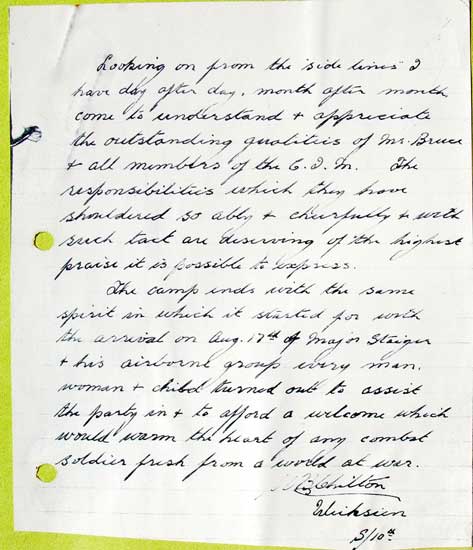 ABOUT THE BOOK
This is a unique book, in that for the first time a description has been given of all the Japanese civilian internment camps in China and Hong Kong. Here the story is told of the major events affecting Allied personnel in China following the raid on Pearl Harbor. A brief history is given of each of the internment camps ― the food, the accommodation and experiences of the inmates. Certain conclusions are formed about the failure of the Japanese government to make adequate provisions for the 11,000 prisoners, half of whom were women and children. The defeat of the Japanese could have ended in the wholesale killing of prisoners, but providentially they were released after the Japanese surrender without any such incidents.

Meredith and Christine HELSBY:
How ironic that the "Happy Way Courtyard" became an emblem of oppression under the heel of Japanese militarists! That which had formerly been a stronghold of conservative Christianity was drastically changed. For three decades these walls had housed a hospital, with nurses training school and doctors' residences, a Bible women's training school with dormitories, elementary and middle schools, as well as living quarters (single storied), row upon row. In a prominent place, near the main entrance, was the sturdily built brick church with a seating capacity of 300.

But in 1943 this community became the prison home for 1800 civilians from Allied nations. Malnutrition, disease and suffering made a mockery of the name, "Happy Way." Guard towers manned by Japanese soldiers, searchlights and machine guns became symbols of death and destruction. Yet, the sudden dawn of the atomic age dramatically changed all, and the glorious moment of liberty finally came. At last, the loathsome bars of confinement were broken.

Memoirs of a Teenage Girl Prisoner of the Japanese in China,
Joyce Bradbury (nee Cooke) was born 1928 in China with British citizenship. Following the declaration of war by the Allies on Japan after the Japanese bombing of Pearl Harbor in 1941, she was interned by the Japanese Army at Wei-Hsien (now called Weifang) northern China with 2000 other Allied nationals for almost four years.

In this book she tells the amazing story of her family's long involvement in China, her life growing up in China, the disturbing experiences of the Japanese internment camp, liberation from the camp by the US military, post-war China, migration to Australia, and then employment with the Singaporean police.

She describes her later life in Australia, her return to China to visit the former Japanese camp and reflects on the approach of the Japanese to the barbarities its wartime regime visited on the many peoples it subjugated.

As her story ends, she pays a moving tribute to an extraordinary Australian who was the hero of her Japanese prison camp.

The Mushroom Years by Pamela Masters. Published by Henderson House Publishing, Placerville, California. Reports on the experiences of three British sisters and their parents during their internment after a period of house arrest in Tientsin. Uses, at some times, incorrect names. For instance: Father Scanlan becomes an American Trappist brother called O'Hanlon. Author came to the camp in early 1943. In camp at liberation.

#