ALARM AT WEIHSIEN
Incident of 5th May, 1945
The camp lights had been extinguished at the usual hours, 10-p.m., and most internees soundly sleeping.
Just before 11-p.m. the startling sound of a rolling bell customarily used as the signal for roll-call, broke the stillness of the night and aroused the sleeping community. This was followed at a short interval by scurrying feet racing round the alleys, and the raucous sound of agitated Japanese voices and then the wail of a siren.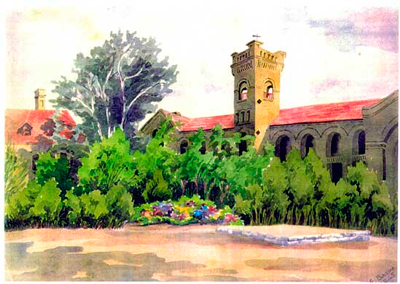 What could it all mean was the somnolent enquiry of many so rudely awakened from their slumbers: not the usual roll-call signal and surely not parade at such an hour. Perhaps an outbreak of fire or escaped internees!
Voices in semi wakefulness were raised in protest against the speculative suggestions of those prepared for "a bit of fun". "Let people sleep" was the angry retort of many, weary with a day's heavy labour. Those anticipating an early call to duty next morning.
But sleep was not to be, for an order from the police chief was quickly conveyed to internees through the chief discipline officer for a roll-call outside blocks at once.
More grousing from sleepy voices, but eager anticipation from those with the mood for sound excitement. A weary wait for more than an hour in the cold of the early morning whilst the guards checked numbers only aroused further speculation and discussion of the alarming incident, ending in no more satisfaction than the hope of an early resumption of sleep.
"Did YOU ring the bell" was the query one met with throughout the camp the next day, and the usual discussion of the war news contained in the newspapers issued the previous day was completely over-shadowed by the night's events.
The mystery was still not solved until a threat of punishment by the authorities brought for the following confession:-
"The bell was rung by me last Saturday night as an expression of joy & thanksgiving for peace in Europe. I regret any unforeseen inconvenience caused to anyone."
PEACE! Not yet for us but still the great joy and happiness of knowing that the Old Folks at home are at last released from the miseries and horrors of war and for us –
NOT LONG NOW.
16/5/1945